Why watch Chilling Adventures of Sabrina?
Netflix just released Chilling Adventures of Sabrina Part 3, and we are dying to find out what our favourite Herald of Hell is up to this season! Dying being the operative word...

If the trailer hasn't convinced you, below are Freesat's top 5 reasons to watch Chilling Adventures of Sabrina Part 3. But be warned, there are SPOILERS for parts 1 and 2! 
---
1. Sabrina's going to Hell...
We've seen many interpretations of Hell before, but we've never seen it appear to us in the form of a beach?! In an innovative upside-down Wizard of Oz trope to quote 'get her boyfriend back', Sabrina embarks on terrifying quests to find Pandemonium (the capital of Hell) as she follows the appropriately named Blood Red Road. 
The visuals of the episode are exceptionally innovative, bringing back characters from previous seasons that have wound up in the underworld in different forms, such as Harvey's brother Tommy Kinkle, who appears to him as a terrifying Tin Man.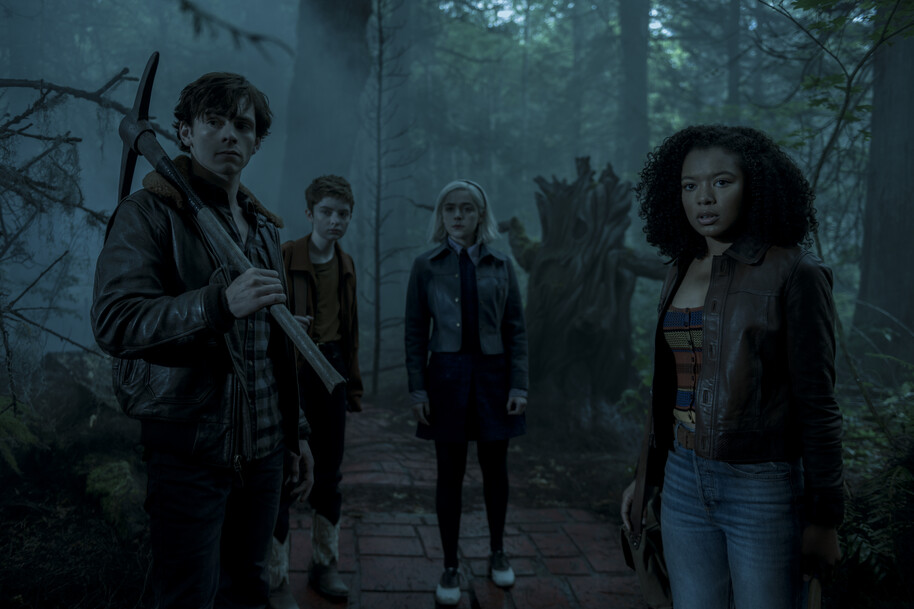 ---
2. The show radiates female power
One of the things we've always loved about CAOS is its fantastic representation of strong women. From Prudence Blackwood (Tati Gabrielle) to Zelda and Hilda Spellman, the show continuously dismisses the Femme Fatale. 
Sabrina, probably a little before her time, is a teenager with far more pressing issues than whether she'll make it onto the cheer squad or not. Juggling Queen of Hell and boyfriend troubles just isn't an option. She can't be in two places at once, can she? 👀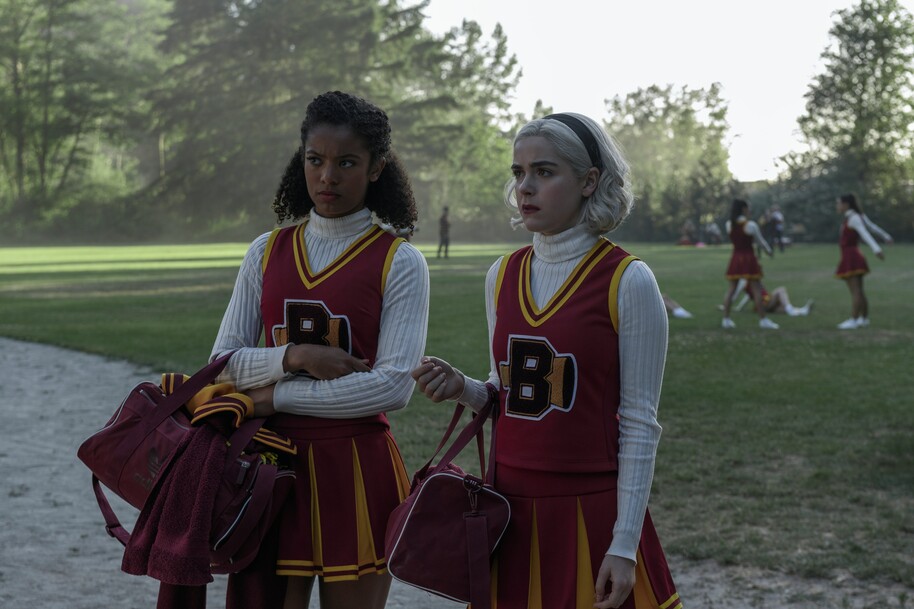 ---
3. It parallels cult classics like Dracula
The Weird Sisters are clearly inspired by the witches of the same name from Shakespeare's Macbeth, but there's an undeniable similarity to Dracula's three brides, too.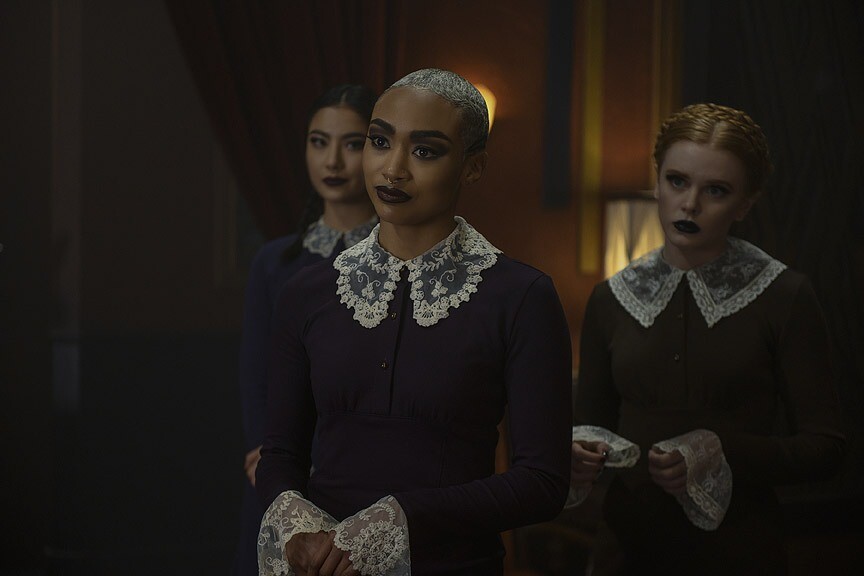 The girls' worship of Lucifer sets them on a path of destruction during the first two series, convincing them to use their powers for the wrong reasons. Similarly, Dracula's brides are bound to his house, acting as a siren to lure Jonathan Harker to his death. CAOS part 3 explores character development for the Weird Sisters, so hopefully we'll see them break away from Lucifer's bonds. Plus, with Roberto Aguirre-Sacasa creating 'The Brides', could this mean a potential crossover for the two shows? 🧛‍♂️
---
4. We're living for the diversity  🙌
For years, supernatural shows and movies tended to lack a diverse representation of characters. But times are changing, and Chilling Adventures of Sabrina does not disappoint in that field.
The show explores the difficulties of gender dysphoria, something Theo Putnam (Lachlan Watson) struggles with throughout the first and second series, Rosalind's emotional journey as she tragically loses her eyesight, and a vast representation of racially diverse and queer characters.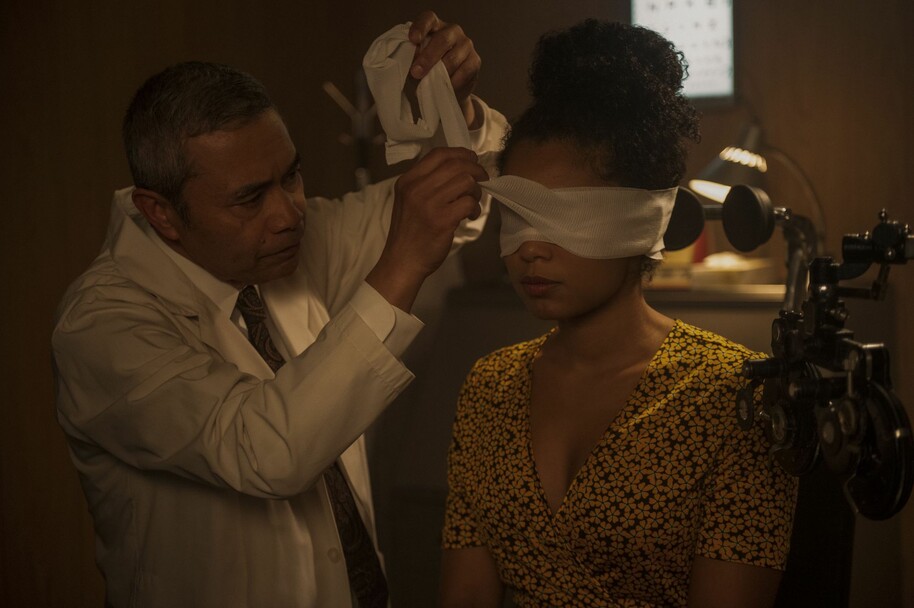 ---
5. Not another teen series...
Although CAOS is technically set in Sabrina's high school years, the Fright Club spends less time in school and more time battling evil in a myriad of settings, from Sabrina's wonderfully Gothic mansion to the Kinkle Mines leading to the gates of Hell. But part 3 is set to explore even more of the universe in the form of a new Carnival coming to town 🎪 
It isn't all about the teens either, and our favourite characters from the show are the dark reimagining's of Sabrina's aunts from the original sitcom, Sabrina the Teenage Witch. Played by Lord of the Rings actress Miranda Otto, Zelda Spellman is the slightly less conventional of Sabrina's aunts. When her sister gets in her way, her best course of action? To kill her and bury her in the back yard. Standard.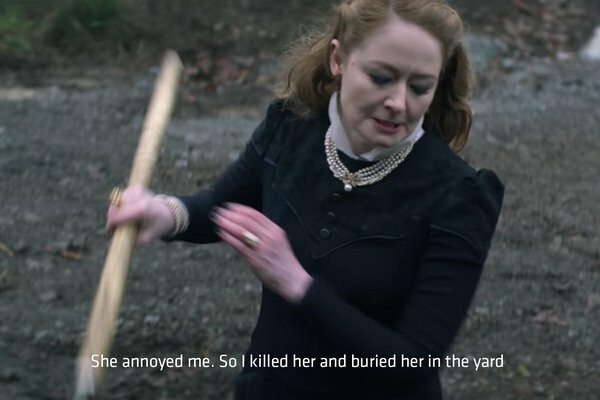 Her sister, Hilda Spellman (Lucy Davis, UK Office), offers a unique take on the character. Her polite, friendly guise always gives her the upper hand against her opponents, and there's no telling how far she'll go for her family. But will she finally get the happy ending she deserves?
The Netflix app can be accessed through the On Demand section of your set-top box. Find out what else is new to Netflix and get ready for a telly binge! 🍿