What's new on Netflix?
Find out the top shows and movies coming to Netflix this month from the TV experts!
OUR TOP PICKS THIS MONTH...
Dolly Parton: A MusiCares Tribute 
7th April 

This Dolly good tribute is everything we need right now during the pandemic – relive Dolly Parton's masterful and heart-warming performances hosted by Little Big Town and catch featured performances from big Hollywood names like Katy Perry, Leon Bridges, Miley Cyrus, Shawn Mendes, Yolanda Adams and plenty more.  
---
Prank Encounters 
1st April 

Stranger Things star Gaten Matarazzo is hosting a brand-new prank show, and in each episode two complete strangers are on the surprise ride of a lifetime. This is what happens when fear meets funny – Prank Encounters is the most elaborate hidden camera prank show ever devised! 
---
Worn Stories 
1st April 

Ever wondered what the meaning was behind your favourite clothes? Find out now in Netflix's Worn Stories, which opens the closets of a diverse group of people to reveal a treasure-trove of tales about clothing. From a pair of boots that symbolise survival or a uniform that reaffirms an identity, this series is funny, tragic, poignant and celebratory, and features interviews from cultural figures and storytellers. 
---
Madame Claude 
2nd April 

Check out the trailer for this 1960s Paris story which tells the story of Madame Claude, France's most famous brothel owner, and a young woman who threatens to change everything in the world of sex work.  
---
The Wedding Coach 
7th April 

Into Say Yes to the Dress? Love a bit of reality TV? The Wedding Coach is a big yes for you! Get ready for a host of wedding planning to help ease the stress for the happy couple – comedian Jamie Lee barely made it down the aisle herself, so she's making sure nobody else has the same stress – leave it all to her.  
---
Snabba Cash 
7th April 

This brand new Swedish language reboot is set in Stockholm ten years after the events of the film trilogy of the same name which began in 2010, and in the centre of the story is Leya, a young single mother trying to make it within the startup-scene. But when the entrepreneurial and criminal world collide, there's no telling whether friendships and business partners will make it out alive... 
---
This Is a Robbery: The World's Biggest Art Heist 
7th April  

Want to know more about the nitty gritty world of art theft? Check out This is a Robbery: The World's Biggest Art Heist, which takes a look at the biggest art heist in history back in 1990 during St. Patrick's Day weekend – legendary works by Rembrandt, Vermeer and others worth over half a billion dollars today were stolen from the Isabella Stewart Gardner Museum in Boston. With the mystery still unsolved, this is the biggest whodunnit on our minds right now.  
---
Thunder Force 
9th April 

Thunder Force is the new female-power superhero comedy starring Melissa McCarthy and Octavia Spencer in world where supervillains are commonplace, and they're the only ones that can protect the city with their newfound powers. 
---
My Love: Six Stories of True Love 
13th April 

My Love: Six Stories of True Love is a documentary about a year in the lives of elderly couples who've been together for anywhere from 43-60 years. From the Korean seaside to a Rio favela; the suburbs of Tokyo to rural farmland in India, Spain, and the U.S.; couples share the stories and the secrets of their long-lasting love. 
---
The Circle USA 
14th April 

If you love The Circle on Channel 4, check out The Circle USA, which is currently streaming season 1 on Netflix, and season 2 is coming on 14th April! The new season is said to be bigger and better, with more twists and turns and plenty of shade being thrown! So get ready as eight new contestants enter The Circle... 
---
Dad Stop Embarrassing Me! 
14th April 

Starring Jamie Foxx and Kyla-Drew as father and daughter, this hilarious new multi-cam sitcom is based on Foxx's real-life relationship with his daughter Corinne Foxx, who is also executive producing the show, and sees Foxx reunite with showrunner Bentley Kyle Evans (The Jamie Foxx Show).  
---
Why Did You Kill Me? 
14th April 

This true crime story about a killer found on MySpace is about a daughter who was murdered, and a mother who uses the social networking site to track down the people she believes are responsible, which eventually results in reverberations for multiple families. Check out the trailer below... 
---
Ride or Die 
15th April 

Ride or Die is about a girl called Rei (Kiko Mizuhara) who has been raised in a wealthy family and has lived her life without need. But one day, she hears from Nanae (Honami Sato), who she had feelings for in high school, and the two women are reunited for the first time in ten years. When Rei discovers Nanae's troubling secret about her abusive husband, she takes matters into her own hands to resolve the issue. 
---
Shadow and Bone 
23rd April 

Shadow and Bone is based on Leigh Bardugo's worldwide bestselling Grishaverse novels, and the story takes us to a war-torn world where lowly soldier and orphan Alina Starkov has just unleashed an extraordinary power that could be the key to setting her country free. With plenty of supernatural elements and good vs evil, this is a great story for fans of The Maze Runner, Divergent and The Hunger Games.  
---
Yasuke 
29th April 

Another war-torn supernatural story, this one set in Japan, Yasuke is the greatest ronin ever known, who struggles to maintain a peaceful existence after a violent past. But when a dark power threatens a local village, Yasuke must pick his sword up once again and take a mysterious child who is the target of dark forces and bloodthirsty warlords.  
---
Things Heard & Seen 
29th April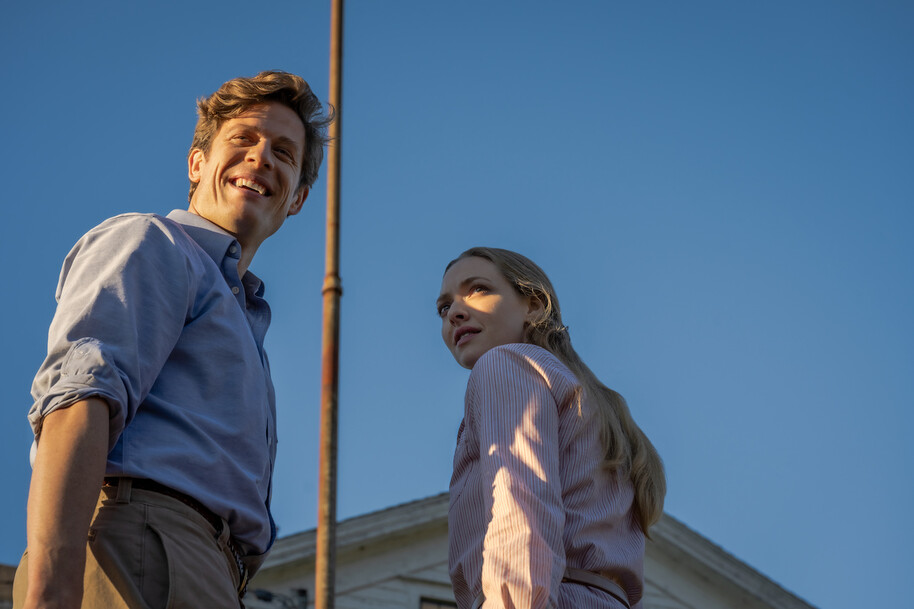 Things Heard & Seen is about a Manhattan couple who move into a historic hamlet in the Hudson Valley who soon discover that their marriage has a sinister darkness, and rivals their new home's history. Will their marriage make it out alive? And more importantly, will they make it out alive? Stars Amanda Seyfried, James Norton and Natalia Dyer (Stranger Things, Yes God Yes).  
---
LAST MONTH'S WINNER
---
Formula 1: Drive to Survive 
19th March 
From the producer of Senna and Amy, Formula 1: Drive to Survive is back with the most dramatic season to date, as fans are taken behind the scenes once again to witness how the drivers and the teams battle for victory in a year like no other. 
Why should you watch it? 
If you're big into sport documentaries, Formula 1: Drive to Survive is a fascinating watch, and you'll get unprecedented behind the scenes access to the 2020 season which saw sport dramatically halted in Australia due to the COVID-19 pandemic. See how this was overcome, and watch Lewis Hamilton win his seventh world title.  
---
Stay up to date with new Netflix picks tailored to you each month by signing up to our newsletter below, PLUS for all your on-demand news, check out the on-demand section of our site. Want more of the latest TV news and updates? Be sure to follow our Twitter, Facebook and Instagram accounts.