Switch to Freesat Easily for Great Telly | Freesat
Switching to Freesat has never been easier
Watch all your favourite telly without the monthly bills
---
Watch all your favourite shows
Switch to Freesat today and enjoy more than 160 channels with 25 in HD1, plus On Demand apps2 at your fingertips!
---
You're just 4 steps away from all of this...

Great reception
Get 100% channel coverage across the UK3, plus new satellite channels are added automatically so there is no need to retune.

Record 4 shows at once
Record up to 4 things at the same time4 plus Pause, Rewind and Restart live TV5 with our Recordable 4K TV Boxes.

No sky-high bills
Being subscription free means no monthly TV bills, contracts or price hikes6.
---
How to get started with Freesat in 4 easy steps: 
---
Ready to get started?
Find the right Freesat 4K TV Box for you to discover a world of free entertainment

The Recordable 4K TV Box
Stream On Demand content, record unmissable programmes or pause live TV so you can make yourself a cup of tea. Available in 500GB (approx. 250 SD hours), 1TB (approx. 500 SD hours) and 2TB (approx. 1000 SD hours) models.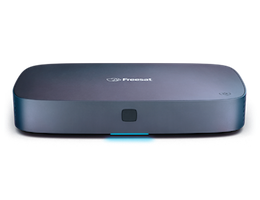 Non-recordable 4K TV Box
Perfect for anyone who loves free to air TV but also has a thirst for great On Demand content.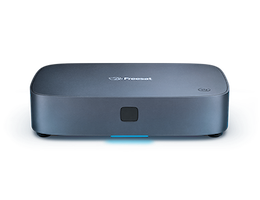 If you are currently a pay TV customer and you wish to discontinue your pay TV service, remember to contact your existing provider to cancel your contract7.
Frequently Asked Questions
1. 160 channels: Number correct March 2023, including SD, HD and regional TV variants and radio channels. 2. On Demand players: On Demand players are broadband speed dependent and 4K/UHD streaming requires faster broadband connection speeds – see service providers' recommendations for details. Some optional On Demand content or services (such as Netflix) may cost extra and require paid subscription. 3. Great reception: Receive all satellite TV channels available on Freesat with a correctly installed, unobscured satellite dish and a HD TV. Weather conditions may affect your satellite reception temporarily. 4. Recording capabilities: Record up to 4 shows at the same time if your satellite dish has a wideband LNB – for more information on cabling, LNB type and how many shows you can record visit freesat.co.uk/help. 5. Pause and rewind and Restart Live TV: Recordable 4K TV Box required. Live restart is broadband speed dependent and available on certain BBC channels only. 6. No monthly TV Bills, no price hikes: Freesat is a free-to-air satellite TV service. There are no monthly fees (and so no price hikes) for satellite TV only. 7. Your existing provider should be able to advise you of any applicable notice periods, cancellation charges or other terms or fees which may be payable by you in accordance with your existing contract. Freesat is not responsible for any fees, costs or charges associated with cancelling your contract, nor can Freesat contact your existing provider on your behalf regarding your contract.