Everything we know about the Queen Charlotte Bridgerton spin-off
Netflix and Shondaland have announced that Bridgerton fan-favourite Queen Charlotte is getting her very own spin-off series on Netflix, expanding the Bridgerton universe by exploring the Queen's rise to power and how her romance with the King changed the ton.
What is the Bridgerton prequel about?  
All hail Queen Charlotte!
For her next series, Lady @ShondaRhimes will chronicle Her Majesty's rise to prominence and esteemed power in a prequel that shall witness Golda Rosheuvel reprise her role and India Amarteifio join the Ton as young Queen Charlotte. pic.twitter.com/SELpiMdnDc

— Bridgerton (@bridgerton) March 30, 2022
The new series will apparenrtly be about Queen Charlotte's "rise to prominence and esteemed power", showing the Queen's origins and romance with the King ❤️  
Played by Golda Rosheuvel, Queen Charlotte is a key player hit Bridgerton series, the gossip-hungry Queen ruling over the ton. But behind her glamorous balls, devious schemes and gravity-defying hair, the Queen's story with King George is integral to the whole story of Bridgerton, their romance the foundation of the diverse society which is a big part of what gives the series its refreshing flair.  
Shonda Rhimes will be writing the new series, charting the Queen's rise to power. As well as looking at the young Queen, we will also see a young Violet Bridgerton finding her feet before becoming the  Bridgerton matriarch that we know today, and the fearsome (but wonderful) Lady Danbury in her young married life.  
---
The cast of the Queen Charlotte spin-off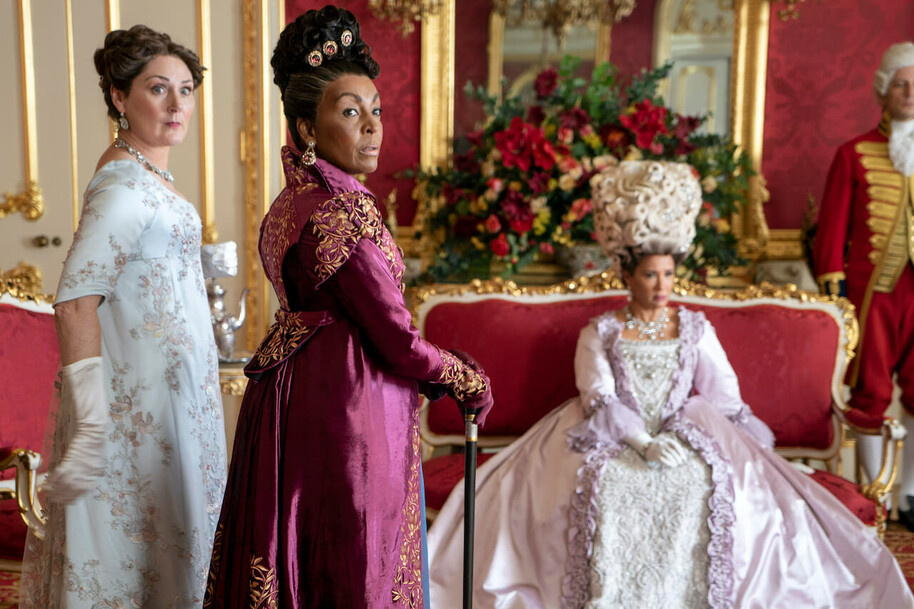 A few key cast members have been announced for the Bridgerton spin off, including who will play the younger Queen Charlotte... You'll also spot a few familiar faces from Bridgerton who will also be reprising their roles! 
India Amarteifio as young Queen Charlotte, who captures the heart of the King as his unlikely bride, changing the British Royal Family and the entire ton.  

Golda Rosheuvel will reprise her iconic role as Queen Charlotte 

Arsema Thomas will play the younger Agatha Danbury, giving us a glimpse at another key character's origin story 

Adjoa Andoh will also be back as Lady Agatha Danbury, yay!  

Cyril Nri will appear as Lord Danbury, giving us a look at young Lady Danbury's marriage 

Ruth Gemmell will play Violet, Dowager Countess Bridgerton, though her younger counterpart has not yet been announced 

Corey Mylchreest will take up the role of young King George III, Queen Charlotte's suitor who we have only seen glimpses of in the current Bridgerton series 

James Fleet will continue to play the elder King George III, who famously "went mad" in his later years  

Michelle Fairley as Dowager Princess Augusta 

Hugh Sachs as Brimsley 

Sam Clemmett as young Brimsley  
---
When is the Queen Charlotte prequel release date?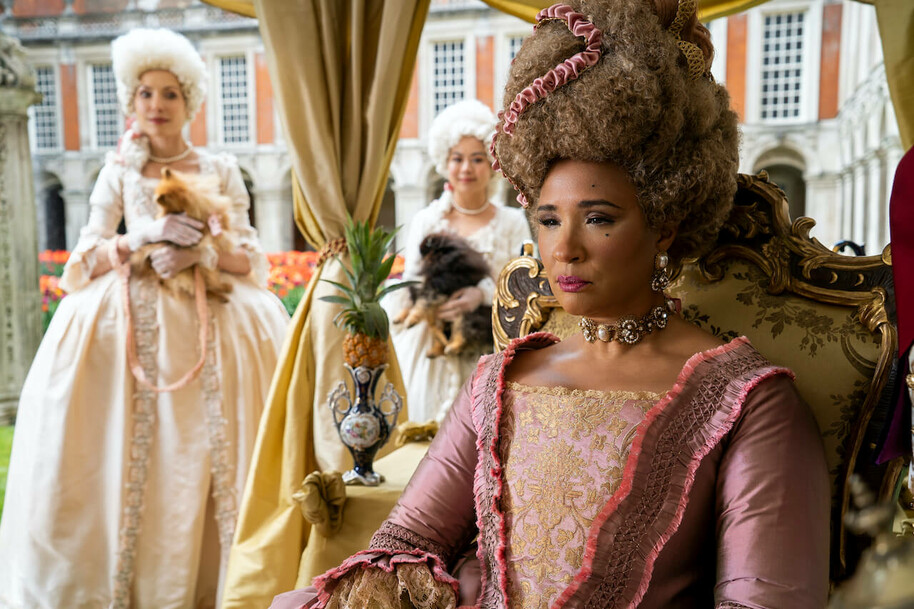 Although the spin-off was announced in 2021, we still don't have an estimated release date, or even a title for the Bridgerton prequel.  
However, Netflix did confirm that filming of the Bridgerton spin-off began in January 2022, and is scheduled to finish in May 2022, so we may not have long to wait for an update... We're hoping for a Christmas 2022 release, but maybe we're just being optimistic!  
Keep checking back for more news... 
---
The real Queen Charlotte 
In Bridgerton, Queen Charlotte's reimagined character is the first Black monarch, uniting all different races of the ton for a more diverse society than we've seen before in Regency romances. Lady Danbury confirmed this when she said in season 1 that it is because of the King and Queen's love that she and the Duke of Hastings have their prestigious positions.  
The question of the real Queen Charlotte's heritage has come under debate in recent years by historians, with many wondering if she may have had Black ancestory given historic descriptions of her and her portraits, which some have said have "African" features. While nothing has been officially proven on the Queen's heritage, it's definitely a fascinating theory that captured the imaginations of the show creators. Showrunner Chris Van Dusen has said, 
"Our take on race in the series is an example of how we mixed history within a fictional world... Bridgerton is not a colourblind world. That would imply race isn't considered. Race is considered, and there are many historians who believe that Queen Charlotte was England's first mixed-race queen. That theory resonated with us hugely. 

What if Queen Charlotte was recognized as being of mixed-race in 1813? What would that look like? What would happen? What if this Queen of England used her power to elevate other people of colour in that society? And that's where the fictional part came in." 
In fact, Queen Charlotte didn't feature in Julia Quinn's Bridgerton novels. It was a decision from Shonda Rhimes to add her into the show, giving more depth to the diverse Regency reimagining. And with good reason - the real Queen Charlotte, aka Charlotte of Mecklenburg-Strelitz, was as much of a character as Bridgerton's reimagining. The real German princess was one of the first to see the talent of a young Mozart, a keen botanist and anti-slavery advocate. The royal couple also had 15 children, suggesting a pretty happy marriage...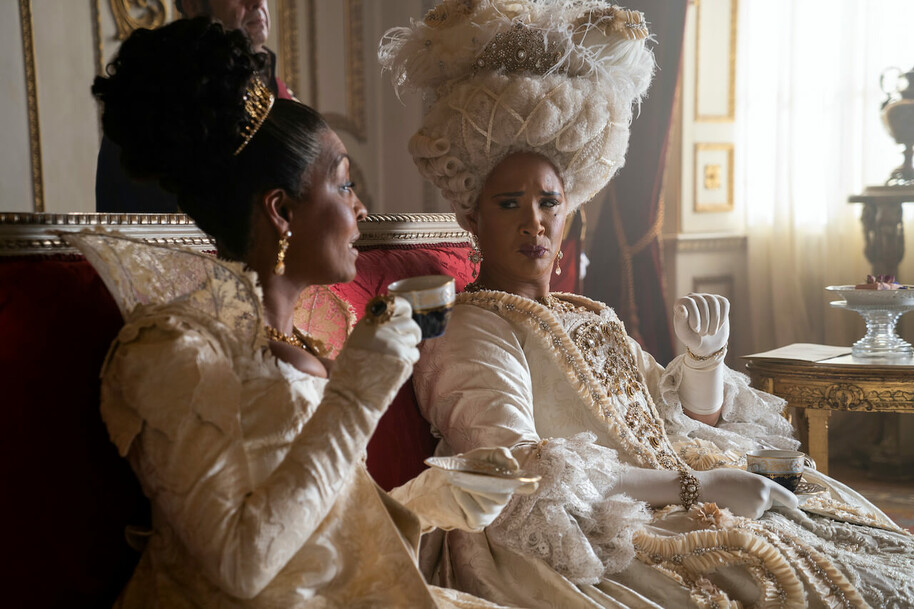 However, King George III suffered from bouts of severe mental illness which meant he was considered unfit to rule in his later life. Now, historians believe these mental health issues could have been caused by porphyria, a hereditary physical disorder. We see just glimpses of the King and Queen's relationship in the show due to this illness, but hints of their affection for each other are still evident, so we're excited to see the origins of their love and romance when the King was in his right mind.  
Bridgerton showrunner Chris Van Dusen has clarified that "Bridgerton isn't a history lesson. Our show is for a modern audience, featuring modern themes and characters, so we took liberties in our re-imagining." 
Indeed, it's the modern additions that make the show different from classic Regency romance. Everything from the racy modernised fashion to the classical covers of modern pop hits and steamy scenes gives Bridgerton a fresh feel to a story we all recognise from Jane Austen classics – love and romance in "polite" Regency society. The diverse cast is a huge part of this, seen again in season 2 as the Sharmas travel from India to the ton.  
To see the origins of the ton based on the love of one young couple will expand the Bridgerton universe and give us some backstory to some of our favourite characters, who so far have only hinted at their young lives and loves. We can't wait to see the early beginnings of Queen Charlotte, Lady Danbury and Violet Bridgerton, so stay tuned for more updates!  
---
| | | |
| --- | --- | --- |
|   |   |   |
| Get the best TV picks of the week from our team of telly experts |   | Find out what's coming up this week on Freesat's TV Guide |
---
Follow us
Get the latest telly news and updates PLUS access to competitions and exclusive content