5 reasons we're excited for Bridgerton season 2
After we all fell head over heels for Bridgerton in late 2020, we've all been waiting eagerly for a second series. After all, there's sure to be plenty more scandal and romance in the ton next season...So, let's take a look at what we know about the new season and what questions we're hoping are answered.
When does Bridgerton season 2 start? 
You can watch the second season of Bridgerton on Netflix from Friday 25th March 2022. More romance, more gossip, more scandal... Be honest, will you be binging through it all that weekend? We know we will. 
---
Who's in the cast of Bridgerton season 2?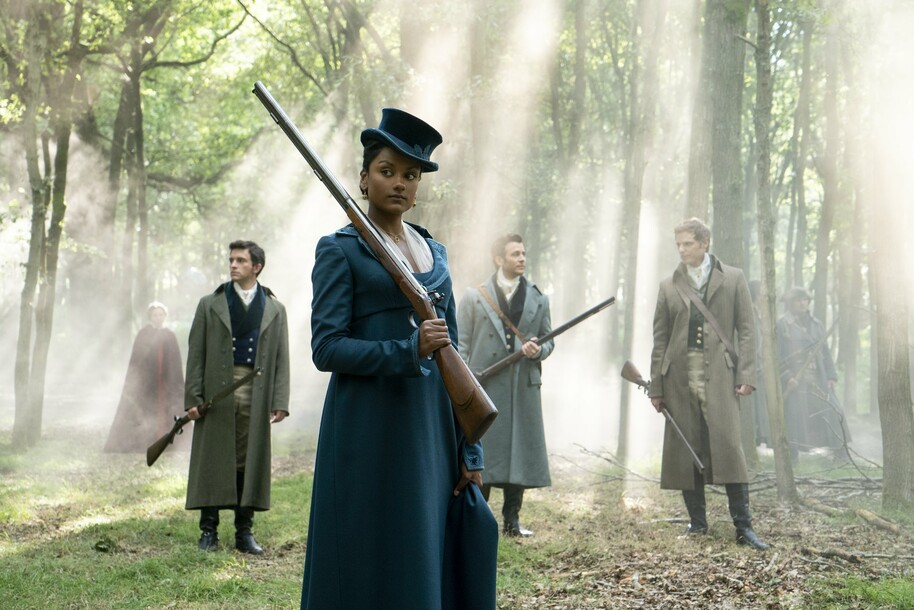 New additions to the cast: 
Simone Ashley (Sex Education) will play Anthony's love interest, despite being the sister of the woman he originally planned to marry, but as she tries to guard her sister from Anthony, who she considers an unsuitable rake, sparks fly between the pair...We know where this is going.  

Newcomer Charithra Chandran will play Edwina Sharma, Simone's younger sister and another key player in Anthony's romance this season.  

Shelley Conn (Love Sarah) will play Lady Mary Sharma, the Sharma sister's scandalous mother 

Calam Lynch (Black Beauty, Mrs Wilson) will feature as Theo Sharpe, a printer's assistant. 

Rupert Young (Merlin) will also be joining the ton as Jack, though Jack's role is still unknown. Perhaps a new eligible bachelor...  
Familiar faces from season 1: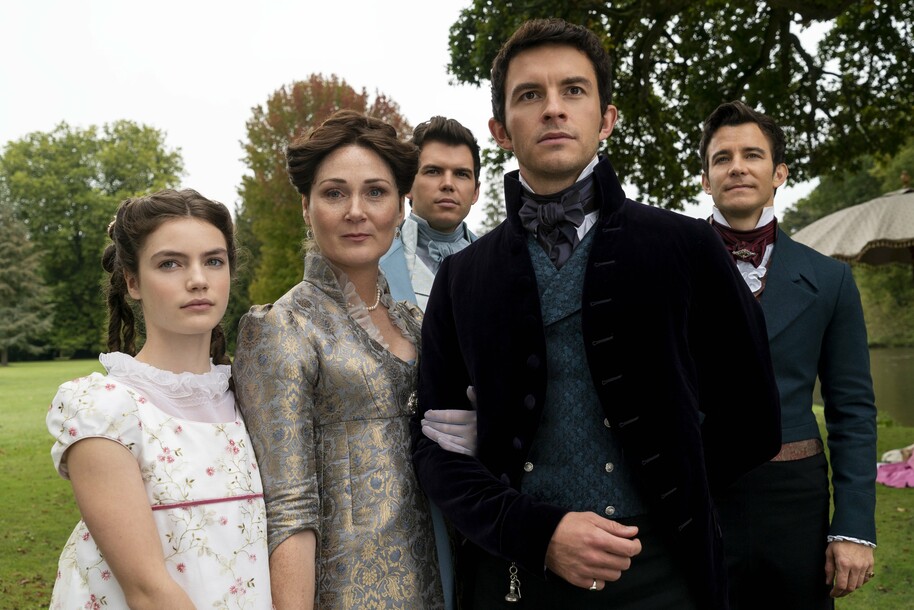 Jonathan Bailey (Crashing, Broadchurch, Chewing Gum) will play the leading man of Viscount Anthony Bridgerton, the conflicted rake who is now determined to find a wife after his failed relationship with opera singer Siena.  

Nicola Coughlan (Derry Girls) will of course be back as Penelope Featherington, whose role is likely to get even more complex now we know her secret identity... 

Julie Andrews (The Sound of Music, Mary Poppins) will continue to voice Lady Whistledown, narrating the scandal gripping the ton 

Claudia Jessie (Vanity Fair) will be back as Eloise Bridgerton, the rebellious sister who saved Lady Whistledown's identity from being revealed last season.  

Luke Thompson returns as Benedict Bridgerton, the second eldest Bridgerton with artistic ambitions.  

Luke Newton will also be back as Colin Bridgerton, the third son who almost married Marina last season without knowing she was secretly pregnant. Will Penelope's crush on Colin continue in season 2?  

Adjoa Andoh (The Witcher, Invictus) as the formidable Lady Danbury  

Ruth Gemmell (Fever Pitch) as Lady Violet Bridgerton, the kind and canny matriarch of the Bridgerton household.  

Phoebe Dynevor (The Colour Room, Waterloo Road) returns as Daphne, despite her and Simon's story being sidelined now they're happily married and having children – but at least we'll still see the Duchess as a supporting player  

Golda Rosheuvel (Death in Paradise, Dune) will be back as the fearsome Queen Charlotte. It's also been announced Queen Charlotte will get her very own spin-off prequel series looking back at the Queen's romance with the King and how their love changed the country, so that's something else to look forward to!  

Polly Walker (Enchanted April) as Lady Portia Featherington, the vibrantly dressed neighbour of the Bridgertons who is determined to marry her daughters off, and whose fortunes are now left uncertain following the death of her husband Baron Featherington (Ben Miller).  
As well as these key players, the other Bridgerton and Featherington children will return to continue their stories. It's not been confirmed whether Ruby Barker will return as Marina Thompson after the rebellious young cousin of the Featherington's left to marry her dead lover's brother. 
---
What is Bridgerton season 2 about? *POTENTIAL SPOILERS*  
Based on Julia Quinn's Bridgerton series of novels, season 1 looked at chiefly at Daphne Bridgerton's story following Quinn's The Duke and I storyline. The historic romantic drama with bright modern flair quickly became Netflix's most-watched episodic television series ever, with millions binge-watching the compulsive period drama.  
Quinn's original novel series followed the lives of each of the seven Bridgerton children, although it started with Daphne, the fourth child, rather than Anthony, the oldest. However, this season will focus on Anthony, who we saw battle his desire to do his duty to the family with his love of opera singer Siena, with whom he'd been having a passionate affair.  
Following Quinn's Bridgerton books, the 2nd book is called The Viscount Who Loved Me, so it looks like they're following her original structure pretty closely. At the end of season 1, we saw Anthony heartbroken over losing Siena but deciding resolutely to find a wife and not let "love get in the way", focusing instead on a sensible match...very romantic.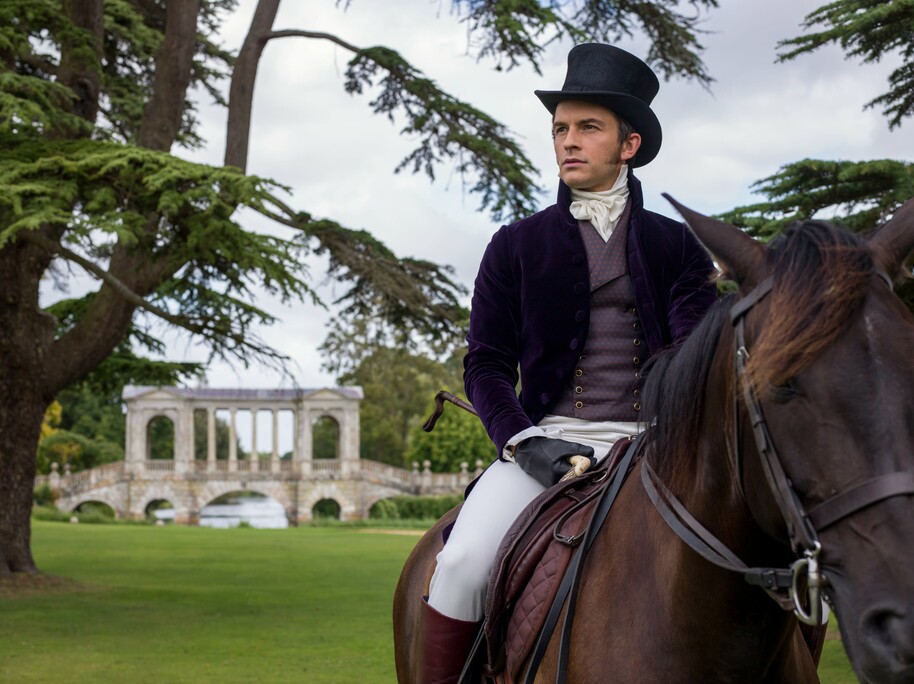 However, as ever, the road to love never runs smooth, and even if Anthony is determined to take love out of the equation, it sounds like he'll still run into plenty of obstacles along the way. If fact, if we go off Quinn's book summary, it sounds like the woman Anthony is trying to marry has an older sister who is determined to keep Anthony, who has gained something of a reputation, away from her beloved sister. And yet, as their battle goes on, it seems it's the older sister who is becoming the star of Anthony's dreams... 
"Anthony Bridgerton hasn't just decided to marry — he's even chosen a wife! The only obstacle is his intended's older sister, Kate Sheffield — the most meddlesome woman ever to grace a London ballroom. The spirited schemer is driving Anthony mad with her determination to stop the betrothal, but when he closes his eyes at night, Kate's the woman haunting his increasingly erotic dreams… 
Contrary to popular belief, Kate is quite sure that reformed rakes do not make the best husbands — and Anthony Bridgerton is the most wicked rogue of them all. Kate's determined to protect her sister — but she fears her own heart is vulnerable. And when Anthony's lips touch hers, she's suddenly afraid she might not be able to resist the reprehensible rake herself…" 
But as in the first season, it won't just be Anthony whose life we'll be following. We'll also get glimpses into the lives of the other Bridgerton children, as well as their neighbours the Featheringtons, and other members of the ton. So here are some of our burning questions... 
---
5 things we're excited to find out in Bridgerton season 2: 
Who is Anthony's new love interest?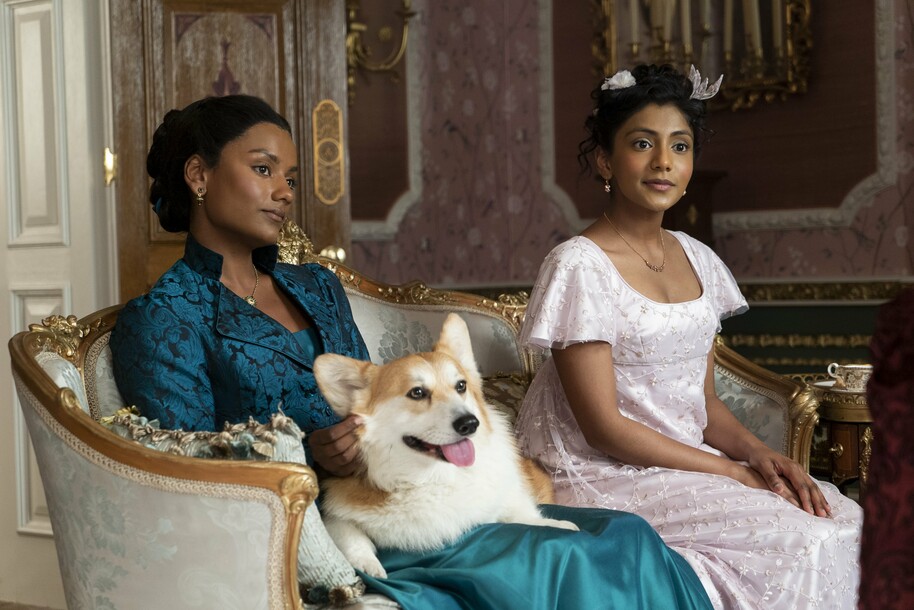 We all loved Simone Ashley in Sex Education where she played popular girl Olivia Hanan, so we were thrilled to see her in the new season trailer playing what looks to be a strong and formidable match for Anthony. Creator Van Dusen said on the romance, 
"Anthony and his new love interest Kate Sharma are such a force to be reckoned with: magnetic, you cannot take your eyes off them when they're together." 
Kate Sharma was originally known as Kate Sheffield in Quinn's original book, but Netflix opted to change her surname. What we know about Kate is she is 21, but new to the marriage market, along with her younger half-sister, Edwina, who catches Anthony's eye early in the marriage season. Kate's mother passed away when she was young, but her father remarried, giving her both a loving mother and a beloved younger sister. However, Kate's father also sadly passed away, leaving his daughters without much inheritance, making their search for a husband even more important, but also difficult without dowrys. However, despite her lack of fortune, it seems that Kate has personality and looks to spare, and has no intention of letting her or her sister settle for someone she considers unsuitable.  
Its clear sparks are flying from the trailer alone (hello white shirt moment), but with a love triangle with Anthony, Kate, and her younger sister Edwina (Charithra Chandran), what will happen between the two sisters as Kate pulls Anthony away from Edwina...?
---
Will Lady Whistledown still be up to her old tricks? *MAJOR SEASON 1 SPOILERS*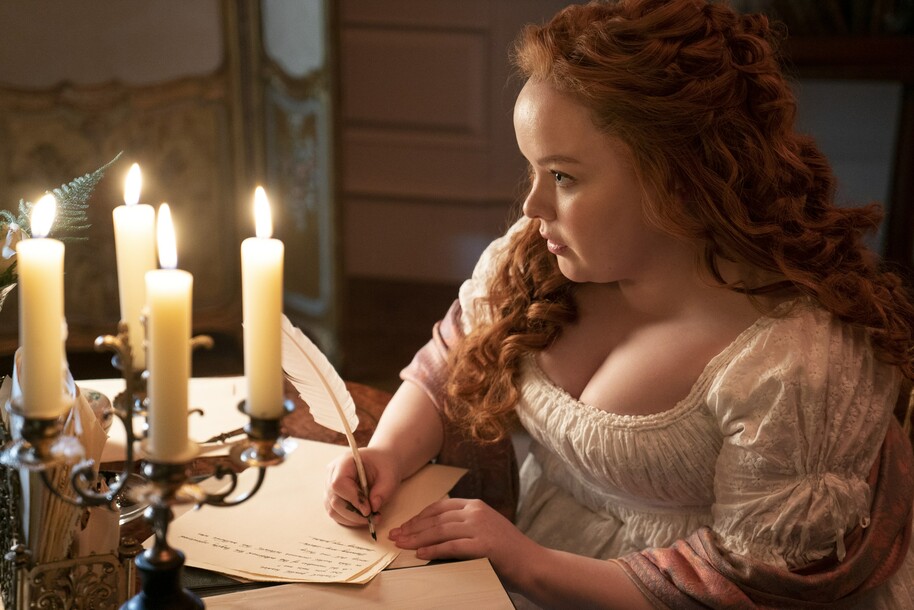 Sure enough, Lady Whistledown's voice is all over the trailers, and Penelope can be seen writing, showing that Whistledown has not been put off after almost being unmasked by the Queen.  
We were all shocked when Penelope was revealed to be the notorious gossip at the end of season 1, the shy wallflower turning out to be the writer who knew the whole ton's secrets. However, Nicola Coughlan, who plays Penelope, has warned that "repercussions" are in store for Penelope, telling RadioTimes.com,  
"I think you know, she's certainly been lying to literally everyone in her life and I think you'll see the repercussions of that and I think you'll see she's not – I always say it's like a Britney Spears year, she's 'not a girl, not yet a woman'. She definitely matures from series one. And I think she thinks she's much more a woman of the world than she actually is." 
As well as the Queen, who is clearly still intent on unmasking the scribbler, Penelope's best friend, Eloise, has also been trying to track down Lady Whistledown's identity. Will Eloise work out her friend's double identity? And if she does, will she keep it a secret?  
---
Will the Duke make a reappearance?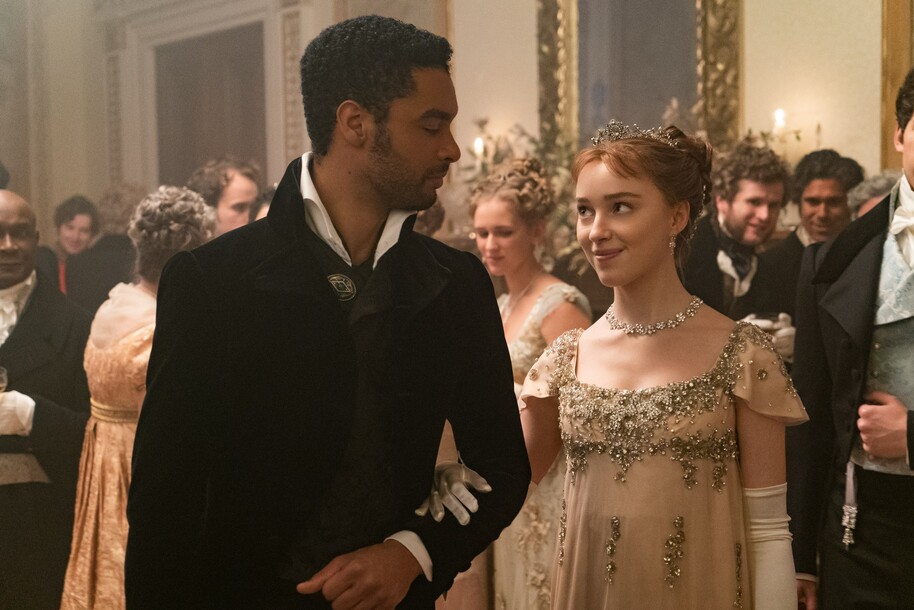 Sadly, it was confirmed in April 2021 that Regé-Jean Page, who played the dashing but troubled Duke of Hastings Simon Basset will not be returning in season two.
Page said he considered Bridgerton a "one-season arc" and that "it felt like a limited series. I get to come in, I get to contribute my bit, and then the Bridgerton family rolls on." 
Yeah, we're heart-broken too. While in the books each novel jumps from one sibling to the next, we were still hoping the Duke would at least make an appearance... 
However, his duchess, Phoebe Dynevor, will be returning. Dynevor has commented, 
"We're very much passing on the baton to the lovely Jonathan [Bailey], who plays Anthony. And that will be the main storyline of season 2 and the story arc of season 2...Obviously, it's sad to see [Regé-Jean Page] go but I'm looking forward to being reunited with my family." 
---
Who will inherit the Featherington estate?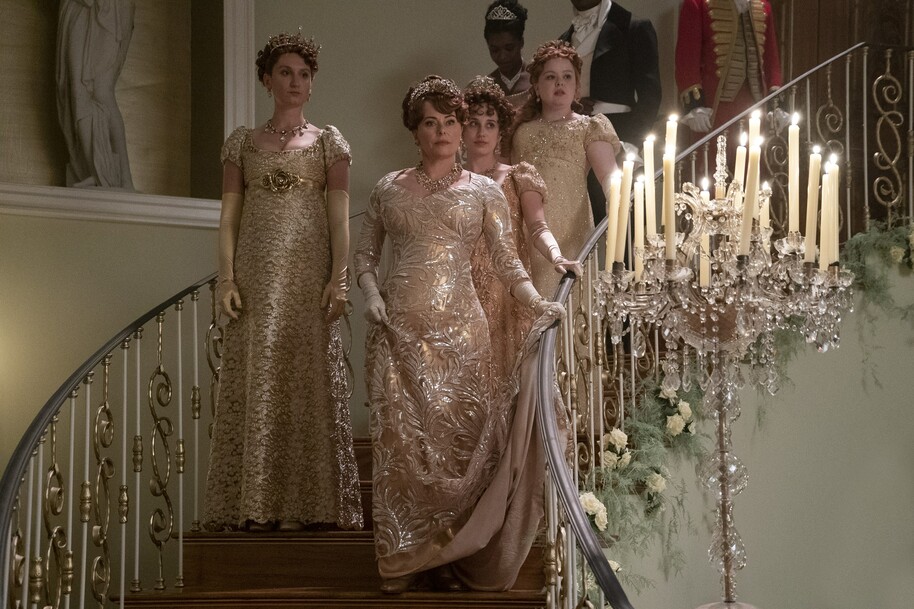 Another shock at the end of season 1 was Baron Featherington's sudden demise. The Featheringtons faced plenty of struggles in season 1: a hidden pregnancy, three daughters on the marriage market with no prospects, and Baron Archibald Featherington's significant money troubles due to his gambling. He managed to reclaim his fortune by fixing a boxing match, but the men he conned caught up with him, taking their revenge by killing him and leaving the Featherington women's future uncertain.   
In the last shot of Portia Featherington, we see her reading the name of the new Featherington heir – but who will it be? Their fate lies wholly in his hands.  
It's clear that the name is a familiar one to Lady Featherington and Mrs. Varley. When asked if they've found out who the new heir is, Mrs. Varley responds:  
"Oh, we located him, ma'am. The man who will inherit the Featherington Estate. Only – well – look." 
We can't even look to the books for answers here as this is a new and original storyline, so we'll just have to wait and see... 
---
Will Eloise form a romantic attachment now she's debuted?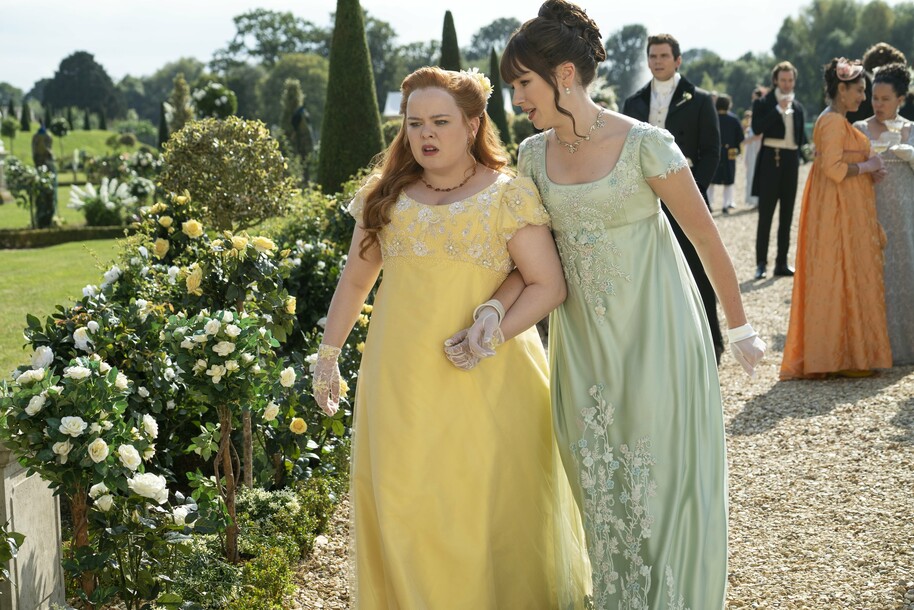 In the first season, Eloise spent most of her time battling against societal expectations that a woman's only role is to get married and have children – in fact, she seemed terrified of this fate and kept trying to avoid being put on the marriage market. Sadly, it looks like she lost this battle as season 2 pictures and trailers show her dressed in clothes which suggests she's made her debut. 
But does that mean she's likely to find love, or will she continue to push against the status quo, instead continuing her quest to discover who Lady Whistledown is?  
In the books, Eloise eventually has a romance with Phillip Crane – but in Bridgerton season 1, we see Phillip Crane marry Marina, suggesting that Netflix is making some changes for Eloise's character on the show versus the books. So, for now at least, Eloise will hopefully remain the independent free spirit we saw in season 1.  
For all our other questions, including Colin and Penelope's romance and the consequences of throwing the boxing match for Will, we'll have to wait and see... 
Watch Bridgerton season 2 on Netflix from Friday 25th March. Or, if you just can't wait, find more shows like Bridgerton for you to dive into.
---
| | | |
| --- | --- | --- |
|   |   |   |
| Get the best TV picks of the week from our team of telly experts |   | Find out what's coming up this week on Freesat's TV Guide |
---
Follow us
Get the latest telly news and updates PLUS access to competitions and exclusive content