Interview with Emmett J. Scanlan and Emily Reid on The Deceived
The Deceived: Interview with Emmett J. Scanlan and Emily Reid
We talked with Emmett J. Scanlan (Gangs of London, Peaky Blinders, Hollyoaks) and Emily Reid (Belgravia, The Trouble with Maggie Cole) about their roles in Channel 5's The Deceived. Sporting an all-star cast, written by acclaimed Derry Girls writer Lisa McGee, this hotly anticipated new drama has all the hallmarks of a smash hit. From tackling gaslighting on screen to grooving along to Cher, we got an exclusive look behind the scenes with the stars of the show.  
The Deceived is coming to Channel 5 on Monday 3rd August at 9pm, and you can watch the whole season every night that week at the same time, so get ready to be on the edge of your seat.  
---
About The Deceived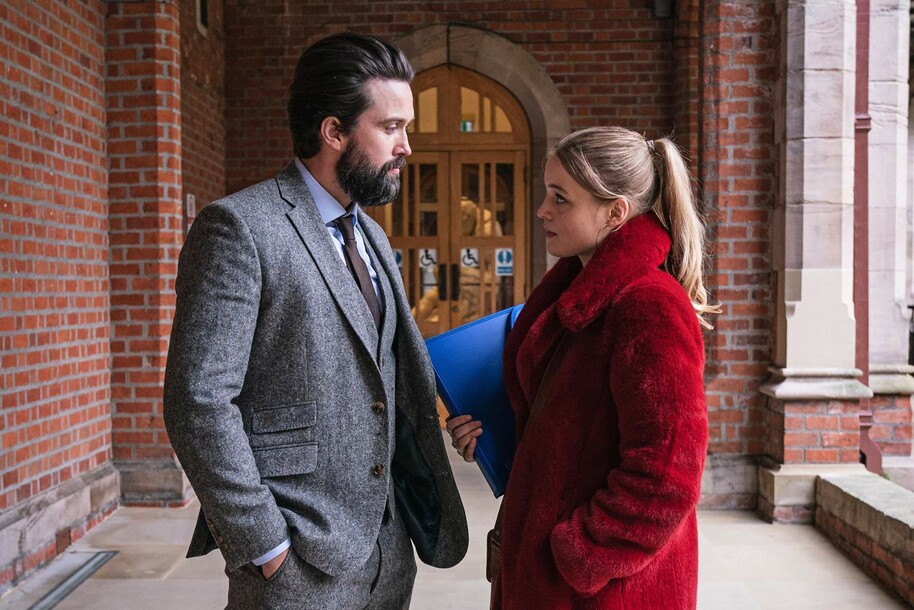 When a young English student Ophelia (Emily Reid) falls in love with her lecturer Michael (Emmett J Scanlan), their lives are suddenly changed when Michael's wife suddenly dies in mysterious circumstances.
Ophelia follows Michael from Cambridge to a small village in Northern Ireland and quickly finds herself feeling suspicious and unable to trust anyone around her, or even her own mind. But let's hear it from the stars... 
How would you describe The Deceived to anyone thinking about watching?
Emmett: The Deceived is a psychological thriller. Definitely not a comedy. If you're looking for a laugh, this isn't it. If you're looking for suspense and mystery then you've come to the right place. It's essentially about a young Cambridge student who falls head over heels for her English professor. It's about their somewhat complicated relationship and the domino effect it has on all those around them, and themselves. It's about that and much more.  

Emily: It's a contemporary psychological thriller about a university student Ophelia who falls in love with her married lecturer. As the series develops, the audience are drawn into an unsettling world. It becomes more and more difficult to know which characters are worthy of our trust, and which have ulterior motives. It's very Hitchcockian and suspenseful. Thematically, I would prefer not to impose what I took away from it onto the audience. I think it's exciting when you leave each individual to interpret it in their own way. Hopefully there will be particularities about the show that resonate differently with different people. All I would say is that it delves deep into the psychological aspect of a romantic relationship, and how it can become very destructive. 
What was it that first drew you to the script and your characters? 
Emmett: What attracted me to this initially was Lisa McGee. I've been a fan of hers for years. London Irish, Being Human, Raw and most recently Derry Girls, which is genius. She's a remarkable talent and a principle reason I took the job without hesitation. If you ain't seen her work, find it. 

Emily: It was one of those scripts that I just couldn't put down once I started reading it. A page turner would be an understatement. Since the majority of the show is seen through the lens of Ophelia's mind, I became absolutely fascinated with her. The bravery, vulnerability and the intensity of what she experiences throughout the course of the show, I was hooked! 
What was it like to land the part? 
Emmett: Profound gratitude as always. But honestly, apart from having a glass of fizz, I don't really celebrate when I get a job. I celebrate when I get the job done.  

Emily: The final stage of the audition process was a chemistry read with Emmett and I do remember leaving having really enjoyed how playful he was as an actor. A couple days later I was at home and my agent called me to say they were offering me the part, I was over the moon. 
How would you describe Michael and Ophelia's relationship? 
Emmett: In a word, complicated. It's the classic tale of a Professor falling for his student. Or a Student falling for her professor. It's too easy to say Ophelia is infatuated with Michael or Michael with her. It's not wrong to a certain degree, but it's too easy. Fact is, it's much more complicated than that. There will be twists and turns along the way. There's always a twist. 

Emily: It's such a complex relationship in one sense and then in another sense it is not so different to most other romantic relationships. I do think they are drawn to each other on an intellectual level but also they are both fascinated by each other. They are able to challenge and test one another, which is why the relationship starts to become so thrilling. 
What do you think motivates your characters?  
Emmett: Michael's an incredibly ambitious intelligent charming and manipulating man. Recognition, attention, adoration, respect and women are just some of the things that motivate him. 

Emily: I felt that Ophelia was motivated by all sorts of things that changed and shifted as her story progressed. To begin with, I thought it was important to tap into a feeling of loneliness, as certainly one of the reasons she is so drawn to Michael initially. As an actor you end up using so many things which start to merge together that it becomes quite a holistic process. There were certainly things I could relate to on a personal level and then other times I had to use my imagination to understand a specific experience. I enjoy doing both. 
Ian McElhinney described the show as a lesson in gaslighting - do you feel there's a lesson to be learnt from The Deceived?  
Emmett: The actual term "gaslighting" wasn't something I was familiar with. But I've known of it for some time.... Ian's right of course. For those who don't know what it is, gaslighting is the psychological manipulation of an individual. It's the sometimes very subtle and sometimes not so subtle kind of vicious abuse, where the victim begins to question themselves and question their own sanity, their own judgement, by being fed misinformation, misdirection among other things. It's something that probably isn't discussed as much as it should be. And it should be. 

Emily: Again, I wouldn't want to dictate what audiences should and shouldn't take away from it. I think the beauty of a show often lies in its ambiguity. Having said that, I think female driven stories are still in the minority of things we watch, so I feel there is enormous value already in seeing a story told from a largely female perspective. 
Lisa McGee and Tobias Beer said they ended up with their "dream cast" - what was it like working with the other actors and the director Chloë Thomas?  

Emmett: Very kind of them. Well Lisa and Tobias were dream collaborators. Chloë was constantly on tap with beautiful notes to direct me in one direction or another. Time was not on our side, so it wasn't easy, but she cared deeply and had a really chilled energy regardless. 
Emily: All the actors were fabulous. I loved working with all of them for differing reasons. I learnt a huge amount from seeing all their processes. Everyone offered something so unique which was wonderful. For me, feeling so comfortable with Chloë and like I could ask her anything was hugely important. She became a great friend and confidant during the shoot which was wonderful. 
How does this role compare to the previous work you've done? 
Emmett: The process is the same. I devour the scripts. I do my homework. I make my playlist. I study and prepare. I make sure that by the time I'm on set I'm ready. But not so much that I can't play or dance or see where the scene naturally goes, I'm ready enough to allow me to let go of all the homework and just go with the flow.... I treat every job like it's my last. It's always the most important thing I'm doing at any one time. It's either all or nothing and it's never nothing. The scripts, the characters, the people may all be different from project to project, but the process stays the same. 

Emily: It was the first time I had been a lead part in a series so that was a new experience in itself. I had also never played a character that was so intelligent on an academic level. We meet Ophelia as when she is an English student at Cambridge. Subsequently, as a character I felt that she valued her intellect to such an extent, that when she can no longer make sense of the situations she finds herself in, it is all the more terrifying for her. The emotional demands became much more intense than anything I had done previously in my professional work. 
Do you have any fun memories you'd like to share from your time filming with the cast? 
Emmett: So many good memories. Top of my head, I remember one night getting a text off Emily asking if I wanted to see Cher who happened to be playing in an arena beside our apartments. Always game for an experience, I said yes. I'd never have gone otherwise. It was pretty f**king great... 

The cast on the other hand were horrible bastards. I'm kidding. Sensational human beings. We hung out on and off set. That's the sign of a good family, however brief it may last....  

Emily: I had such a wonderful time I could recount stories for hours! The one that certainly springs to mind was when on a Sunday evening I was in a taxi on the way back to my apartment in Belfast (where we were filming), when the taxi driver asked me whether I was going to see the Cher concert in town that night. I immediately called Emmett and we bought tickets and less than thirty minutes later, there we were in a huge arena with thousands of people watching Cher dance around the stage. Needless to say, we both came into work the following day singing Cher songs. The best part was that Emmett kept getting recognized when we were there, I think people couldn't believe an actor like Emmett J. Scanlan would be at a Cher concert.       
What's your favourite TV or film genre? What have you been watching lately during lockdown?  
Emmett: That's tough. I just love stories. if it's a good story regardless of genre and it's well done, I'm in. 

I just finished Little Fires Everywhere. I thought Kerry Washington was amazing in that. Can't recommend The Last Dance and 13th Enough...Ozark, Succession and Normal People are great also.  

Emily: I actually like nearly all genres and am a bit of a film nerd. I watched a ton of old classic movies. I usually get obsessed with an actor, watch almost everything they've done and then move on to the next. Jack Lemmon was my lock down obsession. I also watched Normal People, Paul had just finished it when we were doing The Deceived so I was eagerly awaiting its release. I thought it was just beautiful and completely flawless. 
Can we expect a second season of The Deceived? 
Emily: I don't think there are any plans for a second series as of yet, but never say never! I would love to work with this team again. 
 What other projects are you working on right now or in the future? 
Emmett: I had a few lined up that was gonna take me through to 2021 but then obviously the lockdown happened and everything was shut down, and rightly so. They ain't gone, they're just in a holding pattern. Another gig landed during lockdown which I'm very excited about. Hopefully we'll be back at It when everything is safe to do so. I miss it. 

Emily: I'm about to start on a project called Copper and Nickel which is the first project one of my best friends has written, directed and produced so I'm really excited to be helping him out with that. 
We just can't wait to watch what sounds like a perfect, sinister summer thriller. As well as the fantastic Emmett J. Scanlan and Emily Reid, The Deceived also stars Catherine Walker (Shetland, Versailles), Ian McElhinney (Game of Thrones, Derry Girls) and Paul Mescal (Normal People.) With so much great talent on board, we're expecting great things from this thrilling new drama.  
Watch The Deceived on Channel 5 on Freesat (channel 105) from Monday 3rd August at 9pm, every night until Thursday 6th August.
While you're here, why not check out our interview with historian Bettany Hughes for her Channel 5 show A Greek Odyssey with Bettany Hughes, or for more drama see what the cast of Penance had to say in another exclusive interview. Don't forget to sign up to our newsletter to stay up to date with the latest telly scoops.