Tim Dunn on series 3 of The Architecture the Railways Built
Calling all train lovers - The Architecture the Railways Built is returning to Yesterday (Freesat channel 159) on Mondays at 8pm, starting Monday 13th September. Railway expert and train historian Tim Dunn is back to explore some of the most striking architecture on the railway network across the UK and Europe. From awe-inspiring viaducts to grand hotels and showstopping railway stations, Tim will uncover each destination's unique history and stories.
Freesat is so excited about the new series of The Architecture the Railways Built that we're giving you the chance to go on your own railways adventure across Europe! Read on to find out how you could WIN a £200 Eurostar e-Voucher... 
But first, we caught up with Tim to find out more about what to look forward to on series 3, so let's hand over to the expert.  
First of all, can you tell us a bit about The Architecture the Railways Built and some of the places you'll be heading this series? 
I love railways – and I've been given the keys to show you inside some of the most incredible, beautiful, weird and wonderful buildings along their routes. The series is packed with history, engineering and art; each episode has at least three locations to unlock and explore, so we've got a huge range of passionate and enthusiastic experts to show us around. 

The variety of our locations is fab; even the first episode ranges from Newcastle Central station to a piggyback style funicular in Germany, and Ballochmyle Viaduct, Britain's tallest railway viaduct. There are about 40 locations in all including London Charing Cross, Bramhope Tunnel and the whole town of Saltburn-by-the-Sea in Yorkshire, Stockholm station, Alnwick station in Northumberland (now a vast bookshop), a steam railway in Staffordshire, Mail Rail in London, Porto station, Curzon Street in Birmingham and even Bekonscot Model Village, where I designed some mini architecture myself. 
---
Do you personally have a building or structure which really stood out to you this series? 
All of them! No, seriously – we only put the very best stuff in, and when you've got tens of thousands of buildings to choose from, decisions are hard. I loved exploring Saltburn-by-the-Sea though a town built by the railways: just because of its variety. A pier, funicular station, hotel, shops and houses. Even a sea wall built from recycled bits of the old Stockton & Darlington Railway.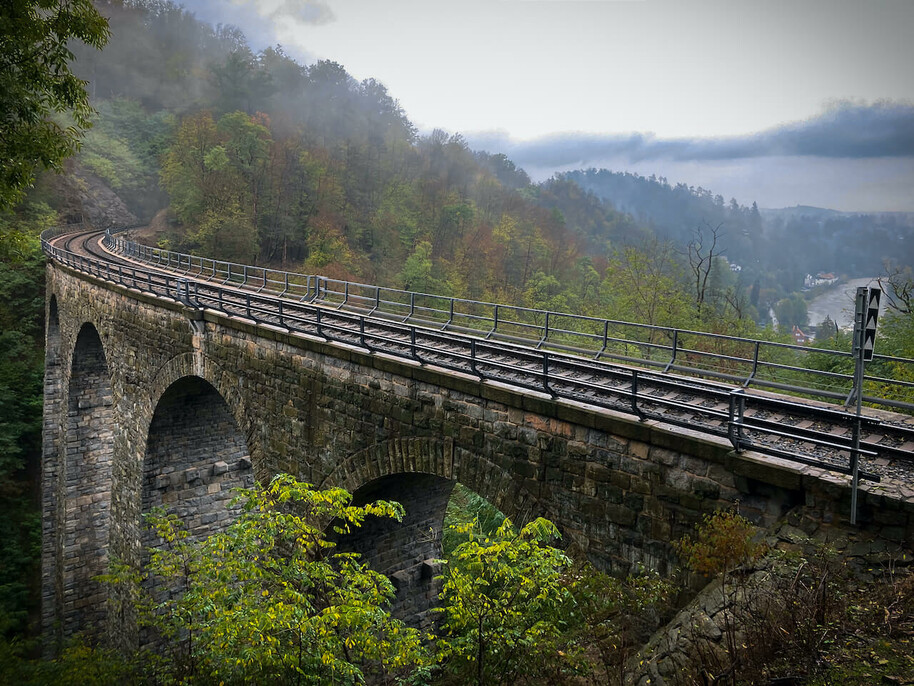 ---
Was there anything which really surprised you or will surprise watchers? 
There's at least one surprise for me at every location; that's three an episode. And I'm supposed to be an expert here! I think what surprises us all are the little fact nuggets we stuff every programme with. Like Bishopstone station in Sussex: it's got two camouflaged WW2 pillboxes built on to the roof. Or that Britain's longest rail viaduct is in south London; or the boat-lifting canal railway in Poland, or the abandoned trains of the Post Office's Mail Rail… 
---
How about outside of the show – do you have a favourite railway building or station? If so, why that one? 
Shrewsbury's Severn Bridge Junction signal box! It is the largest operating mechanical signal box in the world, with 180 levers to control points and signals in it. it's still staffed by a crew of two at all times, and they stand on top of what is effectively a giant mechanical brain: the interlocking system. Trains are whizzing past these guys at this triangular junction all day… to spend an hour in there is to experience history, mechanical wizardry and human skill all in one. 

Rail travel has obviously gone through many different phases through history, and is still changing today. If you had to choose, which era of railway architecture would you say is the most interesting or exciting to you? 

Whilst I love the customer-focused approach we have today of building stations, I love the 1850s to 1870s. It's when Railway Mania swept Britain: there was mind-boggling experimentation of style, form and function. Nobody really knew (as nobody really knows now) what the correct solution was – so everything is a full-sized experiment. And I love how so many of those buildings survive.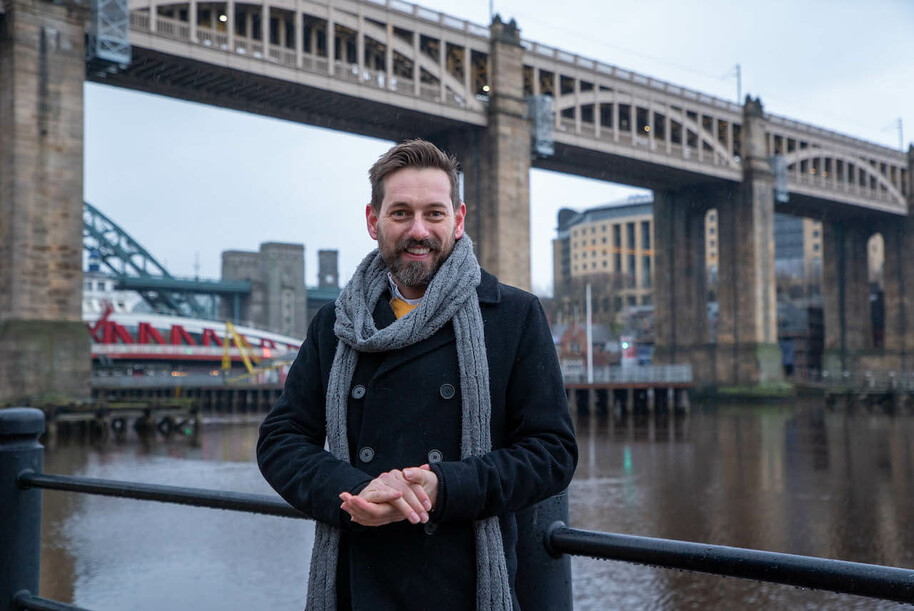 ---
What was it about trains and railways which made you want to study their history? 
I'd always loved geography and history at school. So I studied geography at university but quickly realised how much of our towns, cities, industry and even family life today is down to the railways. That's what I love: that there's a web of two parallel strips of steel that criss-crosses our world, unifying us, moving us, and changing us. And the history of how and why they've been laid down, is the story of us all. 
---
Is there a railway journey, either in the UK or abroad, which you'd really recommend for train enthusiasts? 
Oh, I have LISTS! But I have never been happier than a weekend I spent standing on the open balcony verandahs of railway carriages on the Chemin de Fer de la Baie de Somme, just over an hour from Calais. Tiny steam engines, little carriages, friendly faces and frankly, a trip back in time.  
---
Which country do you think has the best trains/train journeys? 
Japan. Japan probably has the most effective and efficient railway journeys of a modern network, but if we're talking interest, nothing can beat the historic trains of Britain's heritage railways. 
---
In your opinion, what's the most iconic train of all time? 
Stephenson's Rocket, hands down: anyone can name that. I even wear it as a pin-badge on my jacket; it was given to me by someone inspirational in the museum sector and it reminds me of my good luck every day.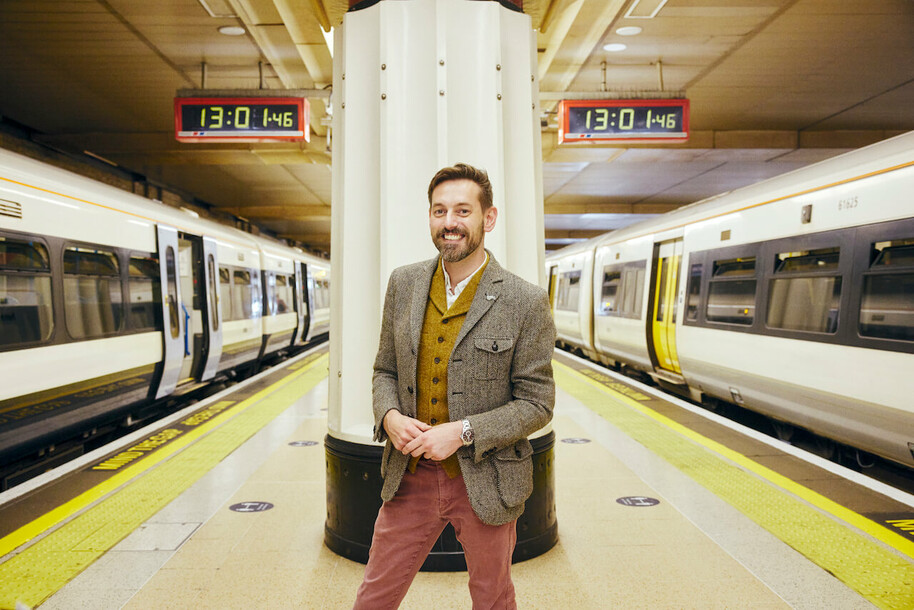 ---
Was any of this season filmed during lockdown? Did that change the experience for you at all? 
This entire season was filmed in lockdown: it was extraordinary. We were allowed to make trips for work, but we minimised movement and everything was shut. We'd often be the only people in a railway station, or on a train, apart from the staff. And no socializing after shoots, either: we'd sit by ourselves in our hotel rooms eating a takeaway. As someone who adores the railways, I found it heartbreaking; but the railway staff and experts' enthusiasm, passion and care for these places they love was genuinely inspiring. 

Some planned locations were cancelled with just hours to go because of local lockdowns: so the researchers and I brainstormed, found new places to film on a very tight schedule, developed a story and went filming. The crew described it as like filming for news at times, not a documentary. Yet you watch it back now – and it's calm, beautiful, and fascinating. I am so proud of everybody who made this series. 
---
You've also been presenting Secrets of the London Underground on Yesterday – is there anything else you're working on which we should look out for? 
There are always things in the pipeline! I have a full-time day job as a travel editor for a train ticket company as well as TV presenting, so I have a few things to juggle! But if you're keen on railways, I'll be hosting the live social media broadcasts for Steam Railway magazine from the North Yorkshire Moors Railway (as seen on Yorkshire Steam Railway, Channel 5) at their steam gala in September. It's the biggest heritage railway event since the pandemic. Me, a camera, five friends and ten steam locos: what could possibly go wrong. Plus, you can always re-watch Secrets of the London Underground, or the first two series of The Architecture the Railways Built back on UKTV Play! 
---
What telly have you been watching lately? 
I've just binge-watched Sean Lock's 15 Storeys High, and King Gary on iPlayer but I'm already missing Fake or Fortune on BBC Two which just finished. I love telly, and I still cannot believe my luck that I have been able to be a very little part of it. 
Thanks so much Tim, we can't wait to watch! Tune into series 3 of The Architecture the Railways Built on Mondays at 8pm on Yesterday, starting 13th September.  
---


For everyone who has been desperate to hit the rails and go somewhere new, this is your chance! From Paris to Amsterdam, the Eurostar has plenty of European destinations for you to travel to by rail. 
For your chance to WIN a £200 Eurostar e-Voucher, simply submit your first name, last name and email address on our entry page between Friday 10th September at 13:00 and 23:59 on Friday 17th September 2021. Bon voyage!  
---
| | | |
| --- | --- | --- |
|   |   |   |
| Get the best TV picks of the week from our team of telly experts |   | Find out what's on on your favourite channels with our TV guide |
---
Follow us
Get the latest telly news and updates PLUS access to competitions and exclusive content