Viral rapper Lil Dicky takes on BBC Two
You may be watching it already on BBC Two each week, or you may have spotted it on BBC iPlayer. Who is Dave? Well, the first thing you should know is that Dave is a rapper, and his stage name is Lil Dicky. Doesn't that tell you everything? Not even close.
About new comedy series 'Dave'
The suburban neurotic rapper Lil Dicky (Dave Burd) tells his story of how he rose to fame, and how he plans to convince the world that he is one of the greatest rappers of all time. His desire to be up there with the greats like Tupac, Biggie Smalls, Eminem, Jay-Z etc., is so strong that it starts to affect his real life relationships. But more importantly, how does he plan to be a rapper if he can't face one of his biggest insecurities - rapping in front of people? 
Throughout the beginning of the series Dave refuses chances to rap to those closest to him, but as the season progresses, so does the man behind the persona: Dave. With numerous dark realisations and meetings with people he never thought he'd meet, the professional rapper sets out on a journey of self discovery and acceptance, all the while making crude jokes and being forced into hilariously awkward interactions. 
The show was executive produced by Dave Burd, Scooter Braun, Jeff Schaffer, Saladin Patterson, Greg Mottola and Kevin Hart, and features a number of big celebrities including Justin Bieber, Young Thug, Kourtney Kardashian, YG, Benny Blanco, Macklemore, Trippie Redd, Marshmello (who deservedly headbutts Dave's DJ) and many more.
Mild spoilers below
Dave and his girlfriend Ally are having trouble in the bedroom, and Dave's insecurities are at an all time high. The show opens with Dave getting his Lil Dicky checked out by a doctor (pun not excused), who he later questions about his backne, only the doctor tells Dave this isn't his forte. Dave doesn't understand that at all, insisting it's the doctor's job, and that surely he knows better than the guy on Reddit. This opening scene pretty much outlines the entire tone of season 1. Dave is big, not only because of his undeniable talent, but because he's asking all the bold questions.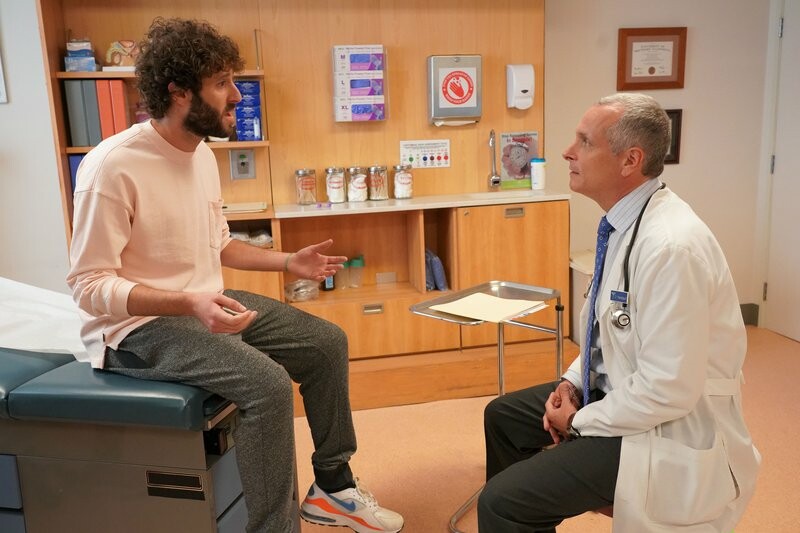 When he meets Benny Blanco later in the season, he isn't afraid to be upfront about singing to a label:
Dave: "Speaking of Universal, I'm trying to decide if I should sign with a label or not, do you have any, like, advice there?"
Benny: "Look there are pros and cons, it just depends on the artist."
Dave: "Well I'm the artist man, I'm obviously asking for that reason, I'd love to get into my new s*** with you"
While Blanco makes a joke about this initially, it obviously leaves a lasting impression, because he sits down with him later in the series to listen to more of Lil Dicky's music and gives him some bold advice. Although Dave doesn't go through with that particular advice, it opens the door to something even better.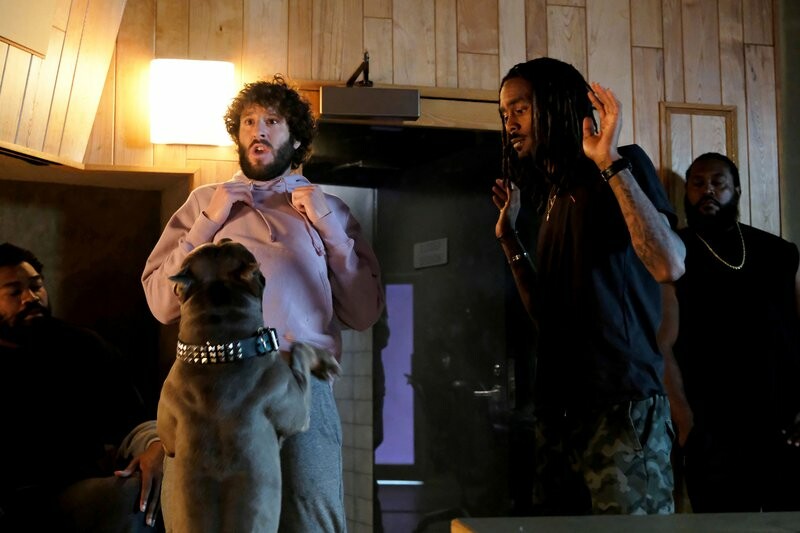 The rapper for people who don't like rappers
We've created a playlist to introduce Lil Dicky's unique spin on traditional rapping, let us know what you think on Facebook, Twitter and Instagram!