What Freesat TV Box should I get?
If you've made the wise decision to get a Freesat box, you'll want to make sure you're buying one that can do everything you want – and more! 
Although all Freesat TV boxes offer Freesat channels via a satellite and with no monthly TV bills1, it's the added set-top box features and functions that can take your viewing experience to the next level. So, let's take a closer look at all the models on the market right now and what they can offer you.
Freesat Recordable 4K TV Box
Built-in hard disk for recording content  

Record up to 4 programmes at once2  

Pause and rewind live TV3  

Remote record via app  

On Demand players including Prime Video and Netflix  
Good for:  
The full package 
If you're going to invest in a Freesat set-top box, then you may as well get one that has all the bells and whistles going. The Recordable 4K TV Box gives you the full Freesat viewing experience while also allowing you to record your favourite shows and watch a wide selection of On Demand content. 
The Recordable 4K TV Box is available with a choice of 500GB, 1TB or 2TB hard disk, so you can record and store your favourite programmes to watch again and again whenever you fancy - and with four Freesat tuners, you can record up to three programmes and watch something else at the same time. If you forget to set a recording, this box has you covered with Live Restart, enabling you to watch a show from the start even if you've sat down half way through! 
With a user friendly remote and interface, setting reminders, recordings and even recording a whole series is easy even for technophobes. It will even ask if you want to record in HD if you've originally selected the SD version of a programme to make sure you're getting the best picture available. 
The box can connect to the internet wirelessly or via ethernet cable and comes packed with plenty of apps to stream even more content in glorious 4K, HDR (where available). In short, this box can handle everything from recording your favourite soap every time it airs to streaming that must-watch documentary that was on last week – plus when you combine it with the Freesat mobile app, you can even set reminders and recordings to your box while on the go.    
---
Freesat 4K TV Box (non-recordable)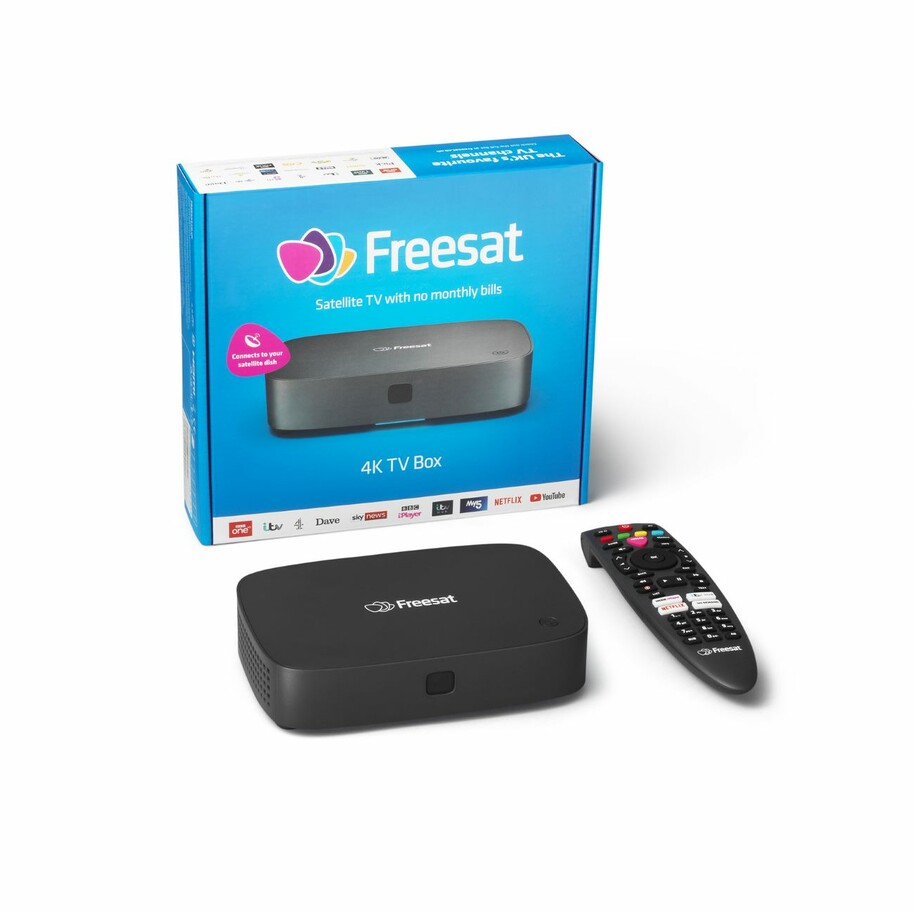 Easy set up  

On demand players including Prime Video and Netflix  

Restart live TV  

Intuitive interface  

Size: 180 X 120 X 40mm 
Good for: 
An all-round experience  
 If you're looking for a non-recordable solution that won't date too quickly, then the Freesat 4K TV Box (non-recordable) comes packed with lots of advanced technological features. This compact box is 4K ready and enables you to watch the best of Freesat and On Demand content with 4K content available today via BBC iPlayer, Netflix, Prime Video and YouTube.  
You're sure to use at least one of its Apps because this model supports a wide range of them to really expand your viewing options. Much like the Recordable 4K TV Box, you can watch content from BBC iPlayer, ITV Hub & STV Player, My5, YouTube, Netflix, Prime Video, Horror Bites and UKTV Play.4 It also offers Live Restart, enabling you to watch a show from the beginning if you don't make it to the sofa in time!  
This small but powerful box will sit neatly alongside your TV. Its intuitive interface is designed to help you find your favourite programmes easily and discover new ones. Plus it's easy to set up and use!  
As well as excellent picture and sound quality, you'll also find useful additions to the Freesat service including setting reminders for programmes, a great catch up service selection and built-in wired and wireless internet connectivity. The only limitation is that it doesn't support recording. Find out more about the Freesat 4K TV box (non-recordable).   
---
Manhattan Freesat  
Basic model  

Compact box  

Good picture and sound quality  

Budget option  

Size: 120 X 130 X 26.5mm 
Good For:
Complementing existing catch-up and streaming capabilities  
You do get what you pay for, but if your budget is limited then this model is a sound choice. It delivers the full Freesat service and all from a neat and super-compact box.  
This budget-friendly option offers an easy-to-use programme guide, can handle your programme reminders, filter channel lists and allow you to see Now and Next information. It also offers very respectable sound and picture quality too, with Full-HD reception, SD upscaling and Dolby Digital Plus surround sound. If you're looking for something new to watch you can also browse genres to help you decide.  
But while you can access all the Freesat channels5 for free, the box does have some limitations and lacks the advanced features other models provide. There are no catch-up TV services, so if you miss your favourite there's no watching it at a later date. It's also not a recordable model and lacks the support for streaming and On Demand apps. Although it features both a single USB port and an ethernet port they are there to support software updates only. It also won't work with the Freesat App.  
However, if you're already set up at home with catch up and streaming services via other devices or a Smart TV, then this box can add the Freesat experience at a very reasonable cost.   
Find out more about Freesat's TV Boxes and how to make the easy switch to Freesat!
---
1. No monthly fees: No monthly fees for satellite TV only. On Demand subscription fees may apply. 2. Record up to 4 programmes at once: Record up to 4 shows at the same time if your satellite dish has a wideband LNK - for more information on cabling, LNB type and how many shows you card record, visit freesat.co.uk/help. 3. Pause and rewind live TV: Recordable 4K TV Box required for pause, record and rewind live TV. 4. On Demand content: Some optional On Demand content or services (such as Netflix and Prime Video) may cost extra and require paid subscription. On demand playersare broadband and speed dependant [and 4K/UHD streaming requires faster broadband connection speeds - see service providers' recommendations for details] 5. 170+ channels: 170+ channels correct at the time of publication, including SD, HD and regional TV variants and radio channels.