What's on Prime Video?
Rosamund Pike to star in brand new 'Game of Thrones' style fantasy drama, PLUS discover thousands of titles to watch now and bookmark this page for all the latest shows and movies coming to the streaming platform soon.
The Wheel of Time  
19th November 
If you've been searching for a fantasy TV show to fill the Game of Thrones shaped hole in your life, then look no further! Starring A-lister Rosamund Pike as the sorceress Lady Moiraine, and a whole host of fresh faces. Based on Robert Jordan's novels of the same name, Lady Moiraine takes a group of 5 young people on a journey, believing that one of them is the reincarnation of a mythical, and all-powerful, dragon. 
---
Hanna 
24th November 
The final season of this thriller-slash-teen-drama is hitting your screens this month. Hanna is a young girl, raised in the woods, away from the CIA who are intent on capturing her. Hanna must discover who she is and where she came from, all while facing mortal danger. 
---
The Expanse (Season 6)
10th December 
In the distant future, humanity has colonised the Solar System. Mars has become an independent military base, threatening earths safety and security. The series sees a Detective and a ship's captain join forces to investigate a murder and uncover something much deeper in the process. 
---
Everybody's Talking About Jamie
Available now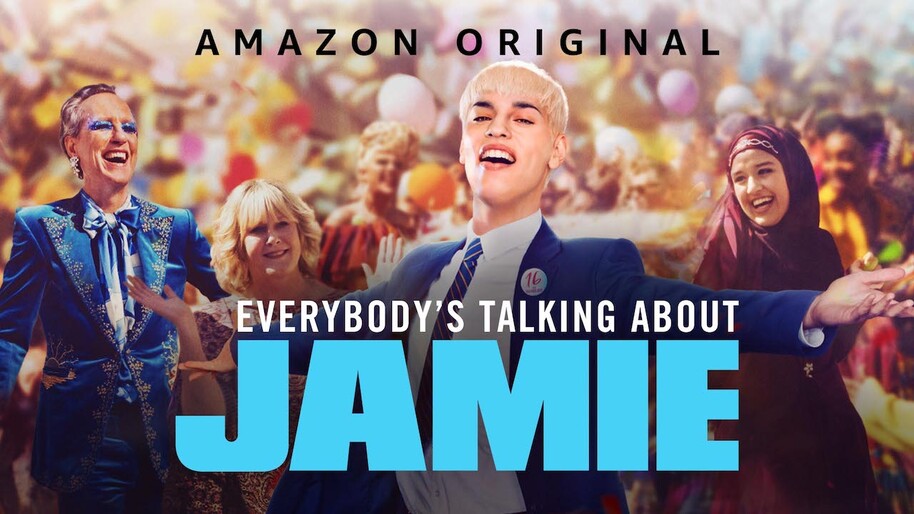 All new movie based on the hit musical Everybody's Talking About Jamie is a breath of fresh air we all need right now! The film follows 16-year-old Jamie who dreams of becoming a drag queen, despite anybody standing in his way. 
---
Bosch Season 7 (Amazon Original) 

Titus Weliver stars as the eponymous Los Angeles Police detective Harry Bosch in this police procedural Amazon Original , taking inspiration from three of Michael Connelly's novels: City of Bones , Echo Park, and The Concrete Blonde. 
---
The Outpost 

The Outpost follows a small unit of U.S. soldiers at the remote Combat Outpost Keating, located deep in the valley of three mountains in Afghanistan, as they battle a force of Taliban fighters. Known as the bloodiest American engagement of the Afghanistan War in 2009, The Battle of Kamdesh is retold in this dramatisation starring Orlando Bloom and Caleb Landry Jones. 
---
Dom 

Dom follows a poliver officer who has dedicated his life to fight the war on narcotraffic in part to help his son Pedro, a drug addict who became one of the most wanted men in Brazil.  
---
Panic 

With their only chance to better their lives, graduating seniors from a small Texas town compete in a series of challenges to escape their current circumstances and win the grand prize of $50,000. But how far will they go to best each other? 
---
Solos 

Brand new anthology series out May 21st on Prime Video boasts a stellar cast including Anthony Mackie, Morgan Freeman, Anne Hathaway, Helen Mirren, Uzo Aduba, Constance Wu, Nicole Behari and Dan Stevens. The show at its core explores what it means to be human and how each of us share experiences that connect us even in our loneliest moments. 
---
The Underground Railroad 

When Cora manages to escape a Georgia plantation, she catches a train and embarks on a harrowing journey to seek freedom, all while being hunted by a notorious slave catcher.  
---
Tom Clancy's Without remorse 

Tom Clancy's Without Remorse is the number one movie on Prime Video right now, and follows the life of a Navy SEAL who uncovers a dangerous plot that is threatening to engulf the USA and Russia in war. 
---
Them 

When a black family move from North Carolina to an all-white Los Angeles neighbourhood in 1953, they are met with malevolent forces that disrupt their idyllic home.  
---
Horizon Line 

If you enjoyed Speed with Keanu Reeves and Sandra Bullock, Horizon Line will be right up your street. It follows a former couple who board a flight to their friend's wedding on a tropical island, but are soon in hot water when the pilot suffers a fatal heart attack and they're left to land the plane without a clue how to do it. With a storm on the way, Sara and Jackson only have one shot.  
---
The Boy from Medellin  

New to Prime Video, The Boy from Medellin is a documentary film about a Columbian reggaeton singer called J Balvin who is preparing for his 2019 homecoming concert during intense political commotion. 
---
Invincible 

If you enjoyed The Boys, check out Invincible, a comic adaptation about a seventeen-year-old with a superhero father who begins to develop powers of his own, and in the midst of it discovers that his father's legacy may not be as heroic as he once thought.  
---
Palm Springs (film) 

Groundhog day reimagined in Palm Springs, where two wedding guests develop a budding romance while living the same day over and over again.  
---
Guns Akimbo (film) 

When a video game developer accidentally becomes the next participant in a real-life death match, he finds that running away from everything wont help him outlast Nix, a killer at the top of her game.  
---
Coming 2 America 
 Check out the trailer for the sequel below...
---
Truth Seekers - Amazon Original 
Starring Nick Frost and Simon Pegg, Truth Seekers is a new supernatural series on Prime Video that explores the paranormal. The drama comedy follows a broadband installer and his team as they venture to different locations to uncover the hidden truths of supernatural sightings. Using homemade gizmos, Gus Roberts (Frost) then documents his findings on his YouTube channel. But what he finds could send the internet (and the world) into a frenzy unlike any other.  
---
Buffy the Vampire Slayer  
If you loved watching Buffy the Vampire Slayer over of E4, you can now watch all seven series over on Prime Video! The series follows a young girl in high school who suddenly comes to possess supernatural slayer strength. But with great power comes great responsibility, and in turn it becomes her destiny to fight the forces of darkness, but she won't be alone. 
---
Borat: Subsequent Moviefilm 
The much talked about Borat: Subsequent Moviefilm is now streaming on Prime Video! For a lot of shocks, cringe-worthy scenes we will never un-see, and Borat being Borat, watch as he attempts to offer his 15-year-old daughter to the U.S. President of the time, Donald Trump, in exchange for his life back in Kazakhstan.  
---
After We Collided (Film) 
22nd December 
The second film in the After series, which is based on the Wattpad books by Anna Todd, follows Tessa Young and Hardin Scott as they continue their toxic, on-again off-again relationship a month after Tessa discovers Hardin's horrible secret. Will she ever truly forgive him? Check out the trailer: 
---
Dark Waters (Film) 
Dark Waters follows an attorney who discovers a dangerous secret about one of the world's largest corporations, which is somehow connected to an increasing number of unexplainable deaths. In his attempts to expose the truth, not only does he jeopardise his future, he risks his life and the lives of those close to him.  
---
Military Wives 
While their partners are serving their country in Afghanistan, these women decide to start a choir, and suddenly find their lives have changed forever when they become a media sensation and global movement.  

A Star Is Born 
Lady Gaga stars alongside Bradley Cooper in this remake of a remake of a (you get the gist). But their performance really was a refreshing take on the characters, and the pair's chemistry was unmatched. When Jackson discovers Ally, she becomes his ticket back into the industry that was slowly destroying him. But during the time he falls in love with her, his career takes a turn for the worst and his alcoholism threatens their relationship.  

The Wilds S1 (new 2020) 
Season 1 of The Wilds is available on Prime Video, and follows a group of teenage girls as they unwittingly become subjects of a social experiment based on a remote island.  

A Christmas Gift From Bob 
For your Christmas fix, check out A Christmas Gift from Bob, the sequel to A Street Cat Named Bob, which follows struggling musician as he becomes the target of an animal welfare investigation when they threaten to take his cat away from him at Christmas – totally different to your average Christmas film! 

The Grand Tour S4 
Out now!
Top Gear and The Grand Tour Fans get ready, because The Grand Tour...A Massive Hunt is coming to Prime Video so you'll get to hang out with Jeremy, Richard and James again as they travel across the globe in new, exciting automobiles from manufacturers around the world. 

Without Remorse 
When a Navy SEAL's wife is murdered, he, John Clarke, hunts to avenge her and find the killer. Only his attempts lead him to a conspiracy he wasn't expecting.  

Leonardo 
Not DiCaprio, sorry Titanic fans. Leonardo is actually a series which dramatises the teenage years of artist Leonardo Da Vinci. The children's adventure series stars Jonathan Bailey and follows Leo and his artistic companions as they embark on all sorts of adventures to solve mysteries in 15th century Florence.  

Widows (Film) 
The 2018 blockbuster film Widows follows four women who have absolutely nothing in common, besides huge debt left by their deceased criminal husbands. But will they carry on the business to get out of it, or turn it into something else? 

Aquaman (Film) 
Starring Jason Momoa, Aquaman is a Darkhorse Comics superhero movie which follows a human-born heir to the underwater kingdom. He is the only one that can stop the impending war between the worlds of the ocean and the land. 

Star Trek: Lower Decks S1 
One for the little'ns, Star Trek: Lower Decks follows a support crew on of the least important Starfleet ships, the U.S.S. Cerritos, host to sci-fi anomalies, the crew must keep up with their duties no matter what!  

Bohemian Rhapsody (Film)  
The biopic of one of the biggest rock bands ever is coming to Prime Video, and stars Rami Malek as Freddie Mercury along with the other band members of British rock band Queen. The film follows the story of their success leading up to their famous Live Aid performance in 1985.  
---
To stay in the know about what's coming to Prime Video each month, make sure you bookmark this page. Want more? Sign up for Freesat's newsletter for email updates on the latest telly and check out our favourite Amazon Originals!