Irish Pickers on BLAZE
Happy Paddy's Day everyone! 🍀

We've got some fantastic never-before-seen content as we take you behind the scenes of our favourite new show, Irish Pickers 🇮🇪

We seriously cannot wait for this one to hit the small screen, and whether you're a history fan, keen to get into the business of picking, or simply intrigued to find out what exactly an Irish Picker is, this show's got you covered!
The burning question: What exactly is an Irish Picker?
So before we dive in to front man Ian Dowling's top 5 collectables, let's find out from the cast what exactly an Irish Picker is, and what they do...
 

So now you know what a picker is, let's go behind the scenes and discover Dowling's top 5 picks, including an Irish republican's death mask! 
1. The Whiskey Dispenser 
A genius invention, we're not sure how it didn't take off. Forget a party keg, we've got one better. Only 1 of roughly 300 in the world, Ian found these whiskey dispensers in an old warehouse, and he found a lot of them. Some he decided to sell and were restored to look like new, other's he kept in their original 1970s state, as pictured below.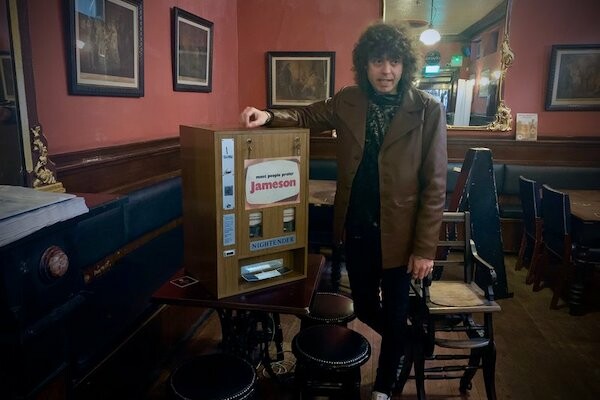 There's just something about this vintage find that warms our hearts. Oh wait, that would be the whiskey 🥃
2. The Rocking Chair 
This isn't any ordinary high chair, as Ian demonstrated in Mulligan's pub, this high chair can turn itself into a rocking horse! Back when things were made to last, this carefully crafted toddler's chair transformed so simplistically into a fantastic toy, we couldn't quite believe our eyes! If that's not two for the price of one, I'm not sure what is... 💰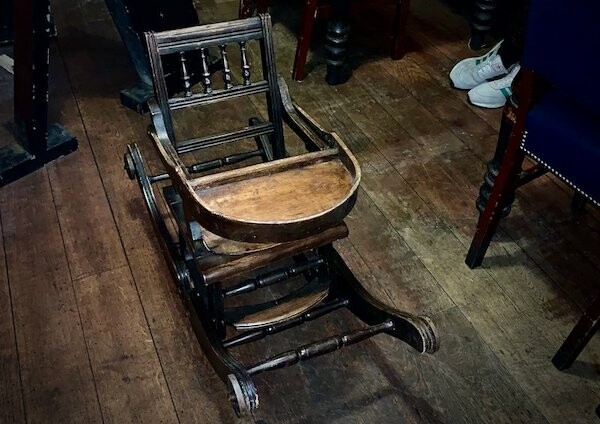 3. Weapons, weapons, who's got the weapons?
My money's on Dowling, who talked us through the array of weapons he'd collected over the years, but one in particular that stood out for us was his huge musket 😱These weapons were used in the 1798 Irish Rebellion, and interestingly the French Rifle was the least popular choice, with most rebels opting for the Pike; a short, metal stick that would be especially useful in close contact. It was also a lot easier to manage than a gun taller than themselves!
4. The clock-in cards
You've heard of the Titanic, but what about her forgotten sister ships? Ian shared an interesting story with us about the workers at Harland and Wolff, the company that built the Titanic and its sister ships. The workers were required to carry around clock-in cards, which were effectively small blocks of wood that they would need to hand in after their long day's work to recieve pay. So in other words, don't lose it!

Check out the clock-in cards Ian Dowling has collected below!
 
5. The Mask of Kevin Barry
In 1920 Kevin Barry was hanged, and he was the youngest person ever to be executed in Irish History, at just 18 years old. During the War of Independence, Barry was involved in an ambush that killed a British Soldier. Find out about Irish Pickers star Ian Dowling's strange connection to Barry in the video below, as he shows us first-hand the Irish Republican's death mask!
 
Join us this Thursday at 9pm on BLAZE, channel 162 for all new Irish Pickers!