Who is Ian Dowling?
Happy Paddy's Day everyone! 🍀
We sat down with Irish Pickers star Ian Dowling and listened to his fascinating stories that he learned during his travels as the greatest picker in Ireland! With the help from his fantastic team, consisting of his childhood friend Butzy, Ali Foy (the manager) and Vintage Vinnie. But among the four of them is the best of them all, Vinnie's pet pup Max!
So, who is Ian Dowling?
The face of Irish Pickers, Dowling has been collecting interesting objects for as long as he can remember. He's always enjoyed the thrill of trading, even from a young age. He told Freesat his earliest buying and selling experience was aged 10, when he parted with 50p for a baby monitor at a church fete. "I checked the going rate in the Buy & Sell magazine and placed a free ad. I sold it for £25, and after that, I was hooked! I am drawn to old items and fascinated by the past, so picking to me is all the things I love, wrapped into one". Humble and full of gripping stories, Dowling claims he's never worked a day in his life because he absolutely loves what he does for a living.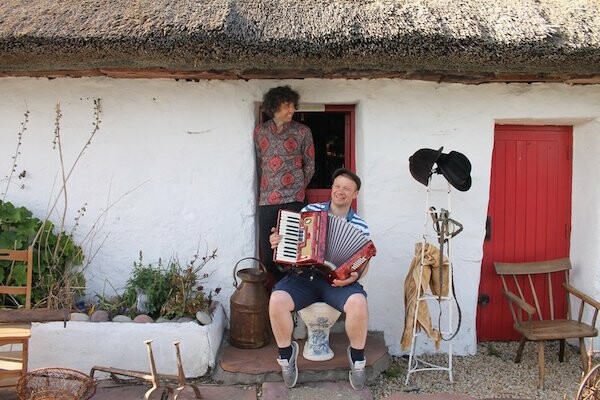 What makes Ian stand out from other pickers?
He cares about what he collects, and everything he finds must have a great story behind it, so that when he does sell it on to somebody, they can take a piece of history with them. They say a picture can tell a thousand words, but a real object, something as physical as the letters from the 'Tivoli' Theatre in Dublin (pictured below), can fill a novel, and this is something Ian lives by. These stories give Ian the opportunity to connect a piece with a new home, and that feeling of knowing it is being used as a conversation piece for others really drives him in his career. He also gets to make a profit from it!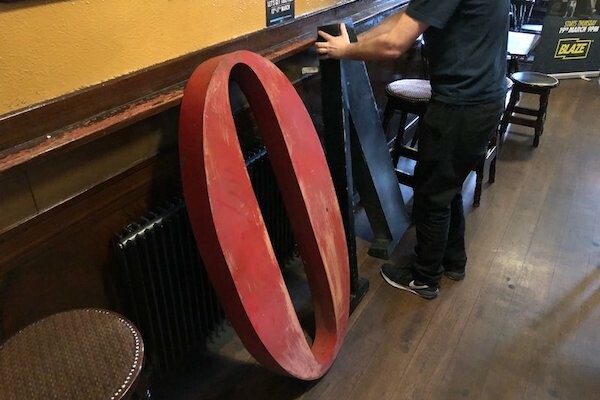 What's his most memorable find?
Definitely the Death Mask of Kevin Barry, due to its sentimental value and family history. Ian mentioned the mask appears to be smiling at us, and likes to think that this is how it ended for Kevin.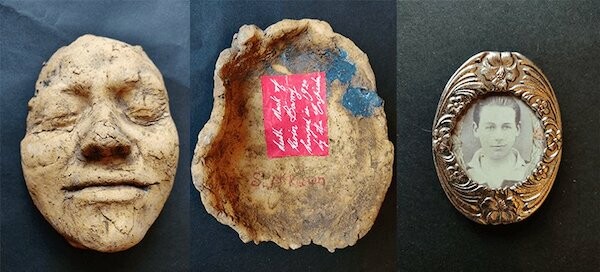 But don't just take our word for it, find out what Ian had to say about the trade in his own words!
'It's kind of like a kid with a new toy. I'll have something, and like, selling is just an excuse for me to buy something as well. I love all of this type of stuff, so if I wasn't selling it I would always be buying and I'd probably end up a real hoarder! But the fact that I sell it, I can enjoy something like this for a while then I might get bored of it and let somebody else enjoy it.

'I have a lot of stuff, yeah, a lot of stuff,' he joked.
He keeps everything in a giant warehouse, which he describes as 'a big building with lock-ups inside it, so the big thing for me is that every little piece has taken time to find, negotiate, bring back, and I want to make sure that everything is safe, that I can sleep at night knowing it's not going to be cleaned out. The lock-ups are really good because there's 24 hour security, so they're really as safe as they can be.'
'I don't want to get into retail, with people coming in doing what I do, being annoying and haggling and stuff! 'That's why I love online, you can put stuff up and people can buy it there if they want it, and that's the system that works best for me.' 
Has he ever been ripped off? 
"Yes, I have certainly made mistakes. 'The goats', sculpture is the first thing that springs to mind. 'I bought a 6ft high x 4ft wide sculpture of two goats, a ton weight, carved from one single block of marble. This is going to sound silly, but the man I bought them from believed it may have been sculpted by Salvador Dali. It was certainly a beautifully sculpted piece. Normally, I would never buy into a story without some good provenance, and certainly not on something so difficult to move, but after some research, I thought, "he who dares", and if I can't prove a Dali connection, I should make my money back as it was such an impressive sculpture'. "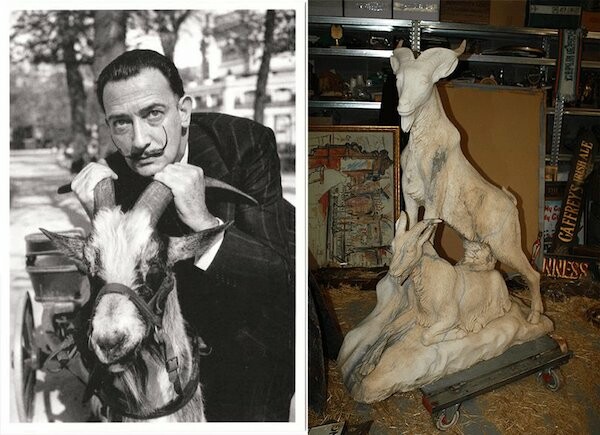 When asked if he had an advisor to help him with this particular pick, he told us 'No, I just did some research myself and found that Salvador Dali had a thing about goats, I won't tell you what he used to do with goats (we're not sure we want to know!), but I thought there could be something to this mans theory. He said the statue was imported from Portugal in the 1970's and this checked out because it was sculpted from Portuguese carrara marble. I then found that Salvador Dali had been sculpting in Portugal in the 1970s, so I thought Jesus, maybe there's something to this'."
"I bought the statue for €4,500. "I sent photos to Sotheby's, Bonhams and Christies in London, and they could not stand over any Dali connection. Long story short, I was left with two 6ft marble goats that I couldn't find a home for…, I eventually sold them for €3000 and lost €1500 on it. My biggest financial loss on any one item, it was a wound that was hard to heal for a while, but you take the hit and move on. That's part of the business sometimes."
He told us of course that 'had it really been Salvador Dali, I would have been able to retire, so it was definitely worth the risk.' We think so too 👀💵