UFO week on BLAZE
Do you live for the mysteries of life? Ever wonder what makes things go bump in the night? Are you convinced those scary movies come from some form of reality? Then you're probably gearing up to watch UFO week, and what better place to watch it than BLAZE? The home of the weird and wonderful! 

With exciting discoveries, never-before-seen footage and inconceivable oddities, UFO week is gearing up to dig deep and attempt to uncover the answers you're looking for. 
Unidentified: Inside America's UFO Investigation
Monday 29th June - Saturday 4th July at 9pm
UFO week kicks off with America's UFO Investigation; an exclusive 6-part series that reveals for the first time ever the copy of the United States Blue Book on UFO sightings 😱
This extraordinary series brings you interviews from eyewitnesses and former military personnel who have never spoken out before!
---
UFO Cover Ups: Secrets Revealed
Wednesday 1st July, 10pm 
This free-to-air premiere will take a look at the hidden secrets of UFO encounters. Why are some made public, and why are some left in the shadows? Some believe a secret entity has kept these stories under wraps and away from the public eye, perhaps to reduce mass fear, and UFO Cover Ups: Secrets Revealed will explore the consequences and dangers involved when these supposed UFO secrets are finally revealed. 
---
UFOs: Dangerous Encounters Exposed
Saturday 4th July 10pm 
Delve into the lives of those who have experienced the unimaginable first-hand, with dramatised re-enactments and expert interviews! These dangerous encounters will have you glued to your seat in suspense...   
---
UFOs: The Untold Stories
Monday 29th June, 9pm 
Packed full of video footage of sightings, radar evidence and eyewitness accounts from across the globe, UFOs: The Untold Stories takes us a step closer to understanding what is really out there, with an insight into fascinating and disturbing encounters with the unexplained.  
---
Conspiracy: UFOs
Monday 29th June, 11pm 
Tune in on Monday 29th June at 11pm (the later, the spookier) for an episode of Conspiracy which explores the fact that the UK has just as many supposed UFO sightings as the US. For more than two decades, there have been claims that UK scientists have received extra-terrestrial communications – perhaps the British Government really is keeping us in the dark about what's out there after all... 
---
UFO Hunters (Season 2)
Monday 29th June – Friday 3rd July at 12am
UFO Hunters, yay! Bill Birnes, Kevin Cook and Pat Uskert band together to tackle UFO cases around the world, where they'll discover a multitude of creepy, unexplainable moments, including eyewitness accounts, scientific experimentation, documents recently released through the Freedom of Information Act and until now, untelevised footage 😱 
---
Secret Access: UFOs on the Record 
Thursday 2nd July, 10pm 
Don't forget to watch this two-hour special featuring investigative journalist Leslie Kean, who takes a dynamic approach when looking at the history of the UFO phenomenon. Secret Access: UFOs on the Record takes us to a world never seen before, full of mystery and suspense, with sources from Air Force Majors, Colonels and top executives with FAA and former Arizona governor Fife Sympington III. This is not one to miss. 
---
Inside Area 51's Secrets
Friday 3rd July, 10pm 
Everybody knows about Area 51, but has anybody actually seen it? It's the most famous military installation in the world, but it doesn't officially exist! Inside Area 51's Secrets explores the numerous accounts of covers ups, and gives Area 51 insiders a chance to spill the secrets we're so desperate to hear about the most secretive place on Earth. 
---
The Great UFO Conspiracy
Friday 3rd July, 11pm 
Was Jesus an alien? Is humanity being ruled by an evil reptilian overlord? Two excellent questions you're probably curious to know the answer to 👀 The Great UFO Conspiracy is taking a look at these questions and theories, bearing in mind the amazing statistics that more people in the UK believe in the existence of alien life than they do in God, with over a quarter of Brits believing that evidence of UFOs has been squashed by the government.
---
Ancient Aliens: Aliens and Cover Ups (Season 4)
Saturday 4th July, 12am 
Back in 1980, a man touched an alleged spaceship, and later received a code. When that code was translated, he was asked to stay quiet on the matter forevermore. What could that code have said? Was the man in any real danger? Find out on the 4th July, and continue to watch Ancient Aliens on weekdays at 10am & 5pm for more extraterrestrial alleged discoveries across the ages.  
---
Coming soon to BLAZE...
In Search Of... (Season 2)
The Star Trek and American Horror Story actor has another, rather interesting pastime, which explains his previous acting roles…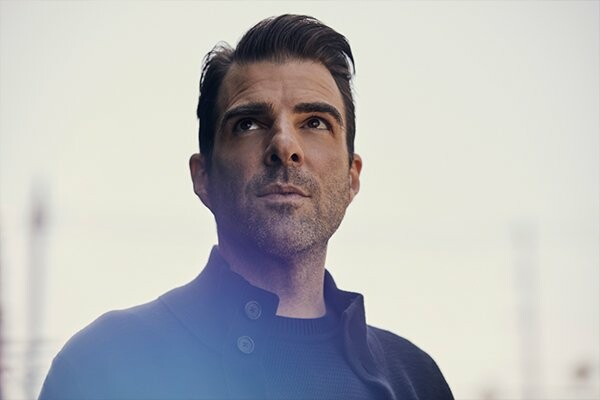 Zachary Quinto returns for a second series of In Search Of…, as he travels the globe to find clues of possible UFOs. Quinto's objective is to answer our burning questions: Are UFO's actually visiting Earth? Can the Ark of the Covenant ever be found? And could the Lock Ness monster actually exist in some form? Catch Season 2 of In Search Of… on Wednesday 8th July at 9pm, BLAZE.
---
William Shatner's Weird or What
Last but not least, Weird or What examines all of the ghosts, ghouls, aliens and monstrous supernatural beings that go bump in the night alongside natural disasters and more to truly discover and understand what is real, what isn't and what is just plain weird.

Catch host William Shatner on Wednesday 22nd July at 10pm on BLAZE.
---
Watch UFO Week on Blaze on Freesat Channel 162 from Monday 29th June at 9pm. Don't forget to sign up to our newsletter so you never miss the latest telly scoops.