The renovation revolution: Gabrielle Omar on Quick Little Builds
After almost 18 months inside our homes, many of us have caught the home reno bug. Now that our homes are the centre of our lives, it's not surprising we've tried to make the most of our spaces and finally got round to those projects we've been putting off. In Quick Little Builds, architect and television presenter Gabrielle Omar has travelled the country to get a closer look at some of the UK's most ambitious quick little builds to see how people have turned their properties into something exciting and new.
From home offices to treehouses, buses to boats, and even a witch's cabin - this exciting new property series gets to the heart of these unique and quirky builds and the motivations behind them, while Gabrielle offers her expert advice to help make these dream builds a reality.  
We were lucky enough to have a chat with Gabrielle about what to expect on Quick Little Builds, as well as her time on The Apprentice, her own dream builds and what made her decide to get into architecture in the first place.  
Hi Gabrielle, thanks so much for joining us today – we can't wait to hear more about Quick Little Builds! So, first of all, what's did you love most about filming the show? 
GABRIELLE: We filmed Quick Little Builds during lockdown, and for me, it's been the country's renovation revolution in the sense that people have had a lot of time during lockdown to think about what they'd like to change about their homes. It's a real testament to people's different personalities and needs and desires, because what's come out of all this time either being on furlough or whatever, is that people have come up with what they would like to do. [...] It's actually a really nice byproduct of lockdown where people just got so bored that they've become super creative.  

I've just really enjoyed to see some of some of the builds - you've got stuff like longboats and treehouses and a witch's cabin - there are just so many weird and wonderful things! And I think because of lockdown these builds aren't just, "oh, I might as well", they're also a lot of people's new chapter in life. Some people had a look at their life and said, "Oh, I don't want to work for someone, or I don't really like my job or I need the extra income, or I don't want to go back to a nine to five job all week, I want to do something different", and this whole series has shown how people have come up with ways to keep some of the good parts of lockdown or change their career. It's also shown how the public have also almost become individuals again over lockdown, because we've all had to become quite self-sufficient.  

The whole series is people coming up with ideas and solutions. Maybe they can't go to the gym, so instead they make their own gym, and they're not just gonna make my own gym, they're going to set up a business with a gym. Or maybe they've got a one-year-old daughter who's very active, how do they keep her entertained? Hey, let's convert our garage into soft play area for her.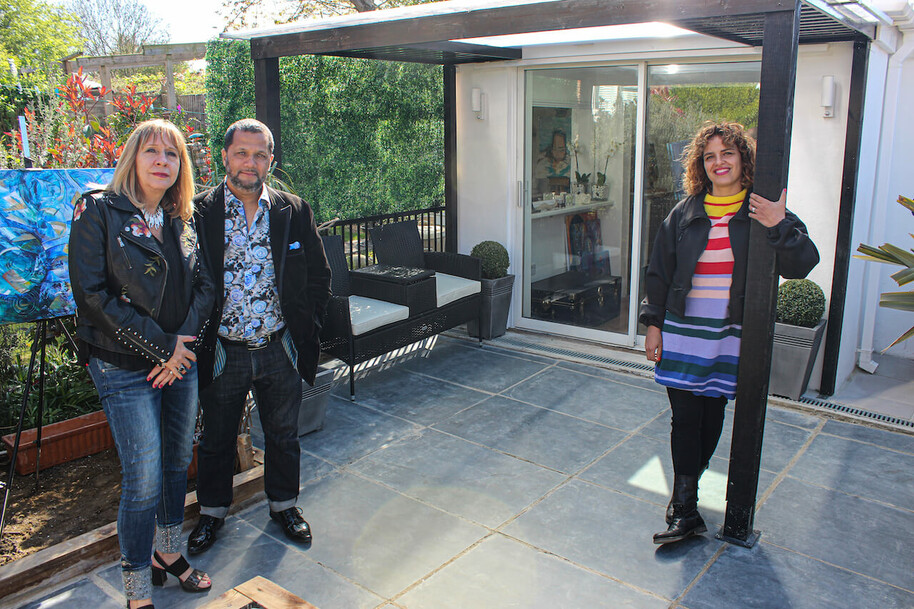 It's about people looking at ways to make their own little worlds happier, because your home is now potentially everything. So, whether it be your home office, or your gym, or soft play, people are looking at ways to make their home not just somewhere to sleep and cook, but where you possibly work and exercise and have fun. It was really interesting to film a real array of projects all based on people's wonderful personalities and aspirations - it's not often you get a witch's cabin, or someone randomly buying a double-decker bus and turning it into a home.  

Plus I got so invested in these projects. because it was lockdown you don't get to see your friends and family with your own eyes, but I did get to see the people who contributed to the show - I saw them more than I saw my family and friends, so you get very invested in their dream and making it work. When they had highs, you had highs, when they had lows, you had lows. There were lots of challenges – some were working with a very tight budget because they didn't know if they were going to get to go back to work after being furloughed, so they put all their time and effort into this project. Some of them became very savvy when it came to their budgets and the materials they used. I mean, one of the couples who did an art studio in the back of his garden - he was using the frames of cot beds as like a canopy that went over the roof to have vines grow up it which was amazing! It's really interesting to work with people who then became your friends, because you didn't really have anyone else to interact with in real life, so we built real connections and I was genuinely so happy when some of these projects were finished and I've loved following how things have gone for them since of social media. Like the treehouse is fully booked for the next year! So even though they are kind of quick, little builds, they can be big, life-changing builds as well.   
---
You've mentioned a witch's cabin, and in the first episode alone there's a horse trailer which they turned into a bathroom, and a double-decker bus turned into a mini house, so there's a lot of unique projects to come...Tell us more about this treehouse, we're intrigued! 
GABRIELLE: This wonderful couple in Wales with two children and a third on the way built this treehouse with an amazing suspension bridge leading to it...I mean, it's structurally held up by actual land, but when you walk in all you see is trees so it feels like a treehouse, and now they rent it out and it's fully booked which makes me so so happy because they're doing so well, and you can see how much they love it after they poured their hearts and souls into this build.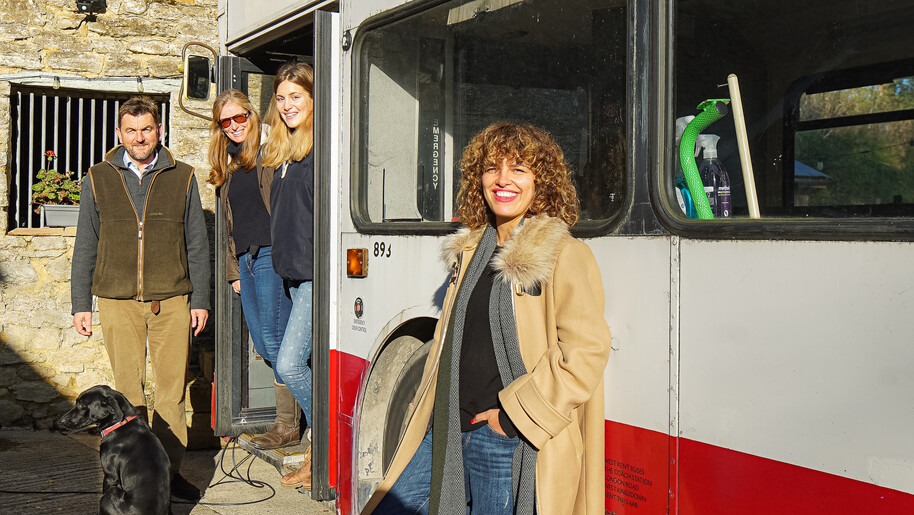 ---
So you're obviously an architect, and then you went on The Apprentice in 2012, and have been on TV ever since. Did you ever expect your career to end up as a television personality? 
GABRIELLE: The whole Apprentice thing was very off the cuff – there were candidates who tried to get on it for years but for me it was one of those Sunday nights with a glass of wine wondering how to get on the show, I Googled it then I somehow managed to get in and get through all the stages and actually got on! And it was really great, honestly, it opened a lot of doors and [I] was able to start my own company, Spot the Space, and do what I love and give people advice both through my business and on television shows like this.   

I mean, obviously, with some spaces, it's a shock – I'd certainly never dealt with renovating a horsebox before, but it's been great fun for me because, for example, she didn't have the budget to spend £1000 on a bespoke shower tray, and my weird, crazy brain came up with a whiskey barrel instead. It's stuff like that, working together with people and having out-of-the-box builds gives you crazy out-of-the-box solutions, and I really liked that. I enjoyed that there were no limits with these projects – you could go as crazy and creative as you wanted.  
---
Is that what got you into architecture in the first place - those opportunities to come up with creative solutions for different spaces and budgets?  
GABRIELLE: Yes absolutely! It's been a strange journey actually – so I'm dyslexic, and at around GCSE level my English teacher sat with me and was trying to teach me how to properly read questions on exam papers because I was always answering someone else's question which wasn't on the paper! And she told me that she used to be an architect and that she thought I'd be really suited to it because I was good at things like Design Technology and drawing. So I looked into it and felt that's something I can do – I can express myself doing that, I'll get to draw and be creative and problem solve which are all things I liked doing.  

That said, I also tried to do everything else! I've been a wedding photographer, I started a company where by day it was a graphic design/print/social PR firm, then by night the tables folded up into the walls and became an art gallery...I had an online sweet shop called "Daily Dose" where you'd get a cute little jar full of sweetie hearts...I tried everything, then got on The Apprentice, then after all that, I went back to where I started: architecture. So at least now I know! I've tried everything else, but I'm best suited to being an architect. 
That English teacher is somewhere thinking "I told you so!" 
GABRIELLE: Haha yeah, I bet! But I think by doing all these other businesses too I got to learn how to run a business, how to design a shop, and even just learned how to talk to customers and clients, to learn more about what they want. In that sense, this show is probably the best TV programme I could have started off with as my first TV series, because it's focused on these people, their personalities and what they want to achieve and build – and none of the projects are normal! I love that.  
---
So how about you - do you have a dream building project which you'd like to do someday? Has Quick Little Builds inspired your own bonkers idea?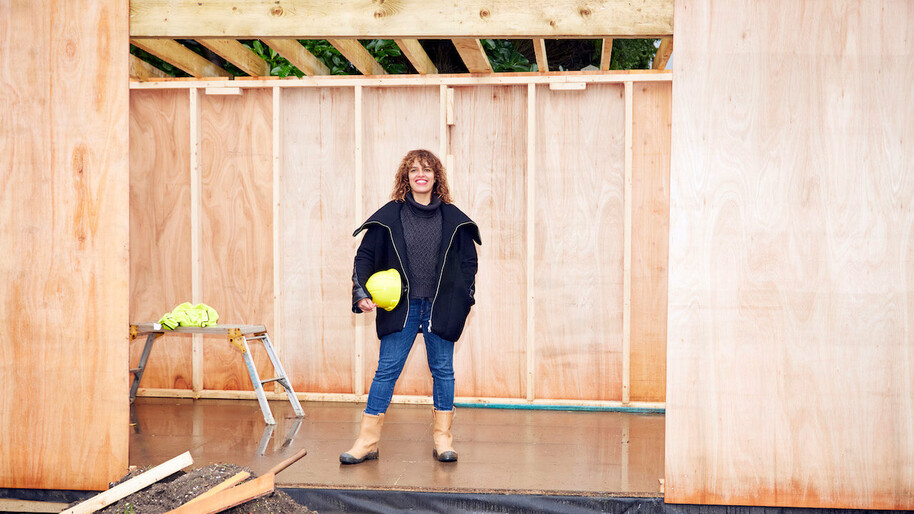 GABRIELLE: Totally. I've now got a list that I want to start - so I obviously want to build a treehouse now, because you got to have a treehouse. I always saw them as a kid and thought they were amazing, and now I've seen firsthand how to build one. I've also got my eye on a double-decker bus – I was actually looking at one on eBay the other day! I've no idea where to park it in London, but I'll see what happens! 

Quick Little Builds has made me look at things in a totally different way and realise that no idea is too wild. For example, I'm doing this café in Brixton with zero budget, so I went around the corner and found an old mattress and bed frame which I took back, got rid of the mattress and stuck it to the ceiling, and added these pendant lights through the frame. Now it looks like a really trendy, expensive lighting feature when it cost next to nothing. So yeah, it's really interesting because there are no boundaries, you don't have to adhere to a set of rules, you just think about what your heart wants and find a way to make it work. I think that's what this show is really about – passion projects.  
---
We're sure that everyone who watches Quick Little Builds will end up being inspired to get started on their own project, so what advice would you give them?  
GABRIELLE: First of all, come up with whatever size project you want - as crazy as you want or as normal as you want.  

Then work out a realistic budget and work out what you'd need to do, and work from there. Like if you want to build a shed, you'll need foundations, flooring, roofing – make a list. Then work out what you're willing to spend more or less on. It probably sounds really boring because you'll just want to dive in, but have that to ground you, then take it step by step, day by day. It'll be too daunting if you look at the project as a whole, so instead just think okay, today is foundation day (or whatever) and focus on the task at hand rather than getting sucked into the chaos and stress of what comes next. Just focus on what you can do today, then have that initial list or plan which you made at the start to keep you on track. Even if you go over budget or decide actually you want to put more into it, or find cheaper alternatives, you'll learn something from your mistakes. And I've found that everyone who does one of these builds go on to do at least one more, because at least now they know where to start and that it's possible.  
---
Obviously the whole TV show was filmed during lockdown, but what TV have you been watching in your spare time?  
GABRIELLE: I think like everyone, loads of Netflix basically. I've watched a lot of serial killer dramas, which I probably shouldn't say, but I've gotten hooked to those. I've also been watching The Handmaid's Tale lately. I basically watch the absolute opposite to the TV shows I'm a part of – thankfully there are no serial killers in Quick Little Builds! 
That's definitely a good thing! Thanks so much for speaking with us Gabrielle. 
You can tune into Quick Little Builds on HGTV from Monday 23rd August at 8pm to get inspired by these remarkable builds. We guarantee that after just one episode you'll be seeing your home in a whole new way...Check out what other great home renovation shows are on right now for more tips and inspiration, and see more of what's on this week. 
---
| | | |
| --- | --- | --- |
|   |   |   |
| Get the best TV picks of the week from our team of telly experts |   | Find out what's on TV your favourite channels this week on Freesat. |
---
Follow us
Get the latest telly news and updates PLUS access to competitions and exclusive content