Joy in a story about grief: The scoop on Finding Alice
Starring Keeley Hawes (The Durrells, Bodyguard) as a grieving woman who has just lost her partner in a shocking and unexpected way, Finding Alice is ITV's new, hotly anticipated drama which is both relatable, heartwarming and darkly funny. Plus, the show brings us a bit of a reunion from The Durrells as Hawes plays the main role as well as taking on the executive producer role, while Roger Goldby and Simon Nye have written and directed the drama.
What's Finding Alice all about?  
After moving into their dream home, an uber modern high-tech smarthouse, Alice's life is thrown into chaos when her partner, Harry, suddenly dies. She must now cope with the loss of her partner of 20 years and try to keep her family together, as well as go through the legal minutiae following his death which soon reveals secrets about the man she married.  
While a drama about a recently widowed woman might sound bleak, Finding Alice is anything but. Full of life, colour and dark humour, this new drama is sure to surprise you. Take a look at the trailer below for a peek at what to expect: 
As well as Keeley Hawes, Finding Alice has an outstanding cast of big names including Joanna Lumley and Nigel Havers, as well the screen debut of Isabella Pappas.  
We sat in on an ITV press conference with the cast and creators to hear more about the exciting new show and what it was like behind the scenes of Finding Alice. In the Q&A we heard from: 
Simon Nye, the co-writer and executive producer of Finding Alice and writer of The Durrells.
Roger Goldby, series director, co-writer and executive producer of Finding Alice and director of The Durrells. 

Keeley Hawes, who plays Alice and was executive producer of Finding Alice after starring in The Durrells. 

Joanna Lumley, who plays Alice's mother, Sarah. 

Isabella Pappas who makes her screen debut as Charlotte, Alice's daughter. 

Sharon Rooney (My Mad Fat Diary) who plays Nicola, Harry's sister. 
Nicola Shindler, RED production company CEO and executive producer. 
Read out to find out more about what to expect from this one-of-a-kind story of grief... 
---
Why write a story about grief? 
When asked why he was interested in writing a drama which focused on grief in a new way, Roger Goldby said, 
"Death is very traumatic and horrendous - but it's the grief which comes after, the legacy of the grief which we're all touched by at some point in our lives - that's the bit that we're left with afterwards having to deal with. And this is Alice's journey, negotiating herself through the grief which is very destabilising for people. It can be catastrophic and shocking and all-encompassing when all the rest of the world is carrying on around you and you're negotiating this journey." 
Not only was it important for the show to look at the immediate feelings of grief, but also the seemingly menial details which follow a death. Moments such as trying to get access to a bank account and dealing with call centres were key to Roger Goldby and the team to include, who said,  
"It's all the stuff which you have to carry on with regardless […] – your bank accounts can be frozen, you may not have any money for 2 or 3 weeks..." 
The other thing which makes Finding Alice different is not only embracing the real issues you're forced to deal with after a death, both personal and legal, but finding the funny side too, Goldby continued... 
"We wanted to tell a story which didn't shy away from any of the truth and pain but also embraces the humour which is always, I think, very close to pain. That was very important for me, Simon and Keeley to weave that into the story because it's very natural and organic. I know I for one use humour as a coping mechanism." 
---
A story about grief which is full of colour...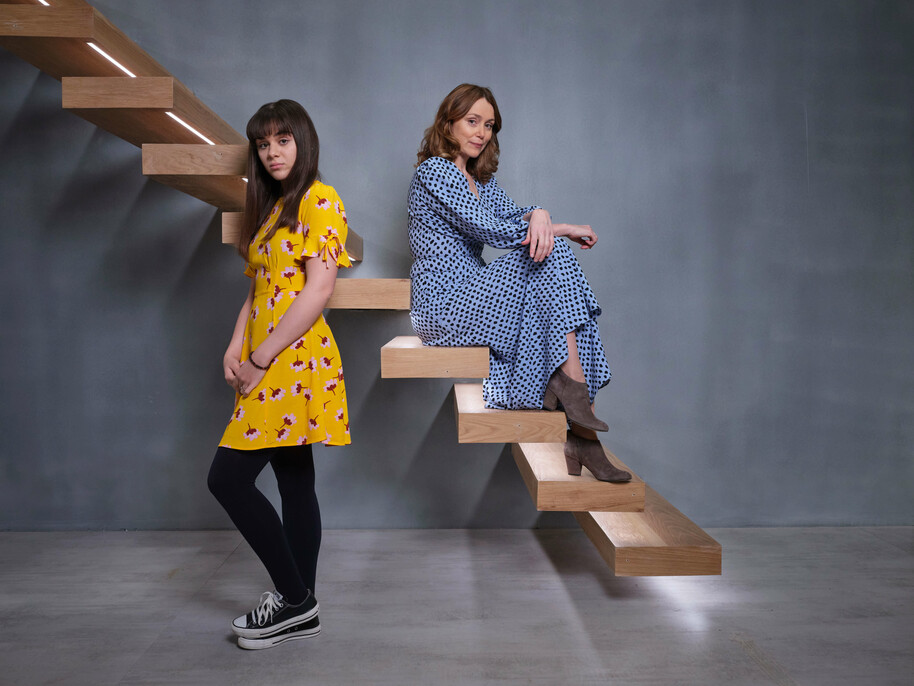 Throughout Finding Alice you'll notice that despite being a story about such a dark subject, every shot is full of life and vibrancy to create a surprisingly warm tone. Along with the sad moments there's as many moments which are really uplifting, and everything from the costumes to the makeup, flowers on the grave and setting in general are full of colour. Here's how Goldby explained their reason for giving the show that uplifting feeling:  
"Alice said early on that Harry didn't like gloom, and the bits we see of Harry show [...] he's clearly someone who likes to pursue fun and regards life as an excuse to enjoy yourself. So it sort of carries on his legacy if you like – the way he lived his life, as I think did Alice - they were both party to this idea that what's the point of being alive if you're not enjoying it? […] Alice feels particularly beholden to the memory of Harry, not just by wearing a bright dress but by doing him the honour of not descending into gloom and [instead] sharing the joy, even when somebody has died." 
On the same note, Nicola Schindler said that the striking visuals were down to Goldby and the costume and design crews, and was a very conscious aesthetic choice,  
"The idea was that this had to look beautiful; it had to feel very inviting, it had to have warmth. Just because it was about grief and loss doesn't mean it should be stark, it didn't mean it was always about blacks and whites. It was always about colour and warmth, and it's important to show that the world really does look like this, even though terrible things can happen in it, rather than doing that television thing of making it all blue or all dark. It was just really important that it invites the audience in. And that house was a brilliant find..." 
Goldby went on to say, 
"The vision we had for it was everything comes from Alice – from the slightly ethereal, otherworldly state she finds herself in following Harry's death. We wanted to create an aesthetically realistic world but slightly heightened, through the use of lighting and the colours we chose, costumes and makeup, it all creates a feeling of light and shade...I think we achieved it, and it all comes from the character of Alice." 
And how about that smarthouse? The amazing smarthouse (which you got a few glimpses of in the trailer) becomes the epicenter of the drama in the same way it revolves around Alice. Roger says,  
"The house is Harry's "thing" - yes, Alice shared the dream, but it was Harry's thing, and she's now left to cope with it."
Keeley Hawes notes that the house was 
"also a driving force. It had to be at the heart of the show in order for Alice to go on this journey, because if it hadn't been Harry's passion project we'd all be thinking, "well why doesn't she just sell up and move out?" It had to be a piece of him that she has to hold onto at all costs. 
It's a huge part of the show and we loved shooting there. The wonderful couple [who own it] with their pug were very generous and inviting and patient with us. And the design team have done such a wonderful job – it's a little bit reminiscent of The Durrells in that the interior is all in the studio and then the exterior is at the house. They've done a flawless, seamless job of making that work." 
---
So, who is Alice?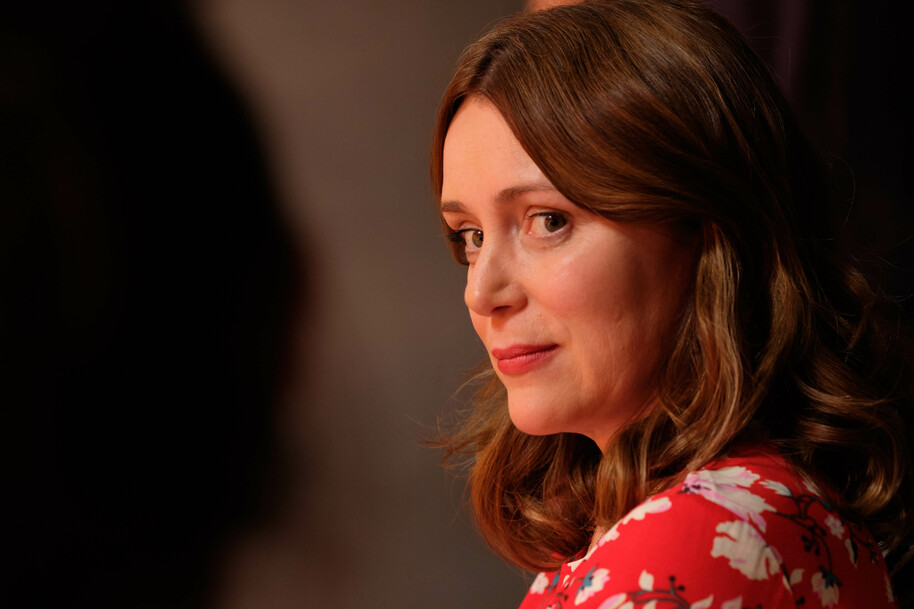 Hawes was set to play Alice from the start, but who is Alice? The writers and crew told us more about the character the whole show is centred around, with Simon Nye saying,  
"She [Alice] doesn't hide her emotions or sadness, she's too honest sometimes...so in a way she's missing a skin […] That raw emotion is hard for people to deal with, but Alice doesn't worry about that, she just wants to share whatever she's feeling at any one moment, and then feels guilty for putting people through that experience of having to watch her.  
We added layers as we went along with Alice and we took each episode as it came and built on it, because I think if you plot out the series too closely then there's no room to watch the character build. As with the title Finding Alice, it's about her finding herself without this great, great person in her life, and she's making it up as she goes along. She's finding her way, particularly in relation to other members of the family who don't always make it easy for her to have safe passage towards rebuilding her life." 
When asked if she felt a responsibility in playing a character going through grief to show those emotions, Keeley said,  
"Alice is a unique creation, and while I really hope some people will relate to her and find something within her reaction to her grief that they can relate to, and that may help, I can't be responsible for people's grief because grief is still unique to all of us. The way we all experience grief, whether it be for a parent or a child or a pet, it's unique to all of us and all our own situations, so it's not something I can be responsible for, but I hope people relate." 
---
The secrets left behind...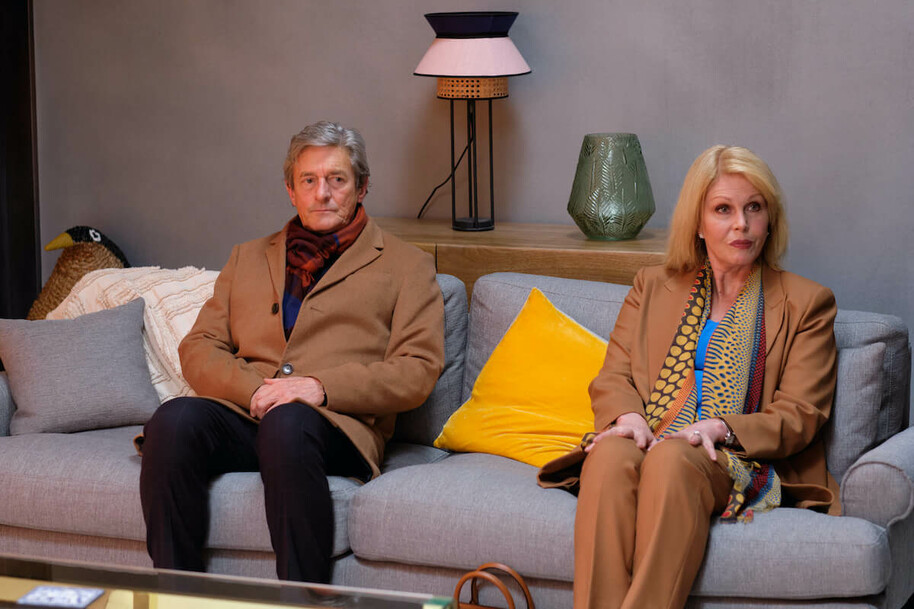 Following Harry's death, Alice discovers plenty of secrets about her partner, revealing a side of him she never knew. Goldby said the choice to make Harry die suddenly came naturally:  
"A sudden death, an unexpected death […] naturally throws up shock, secrets, mess, all these things kind of came out very organically from that setup. Somebody dying without a will...I mean, without any sense of preparation, propels Alice into everything being fine one minute then in this totally new, unexpected world. It just felt like the right way to go, and story, intrigue and secrets just seemed to flow from that without having to force it." 
Shindler also added that,
"even though it [Harry's death] isn't a whodunnit, there is mystery to it, and constantly finding things out about harry and things he hid. Alice is finding out all sorts of secrets which she doesn't know whether she likes, [and makes her] question whether she knew Harry. Right up to the last episode, there are big secrets to be revealed." 
Keeley said that for Alice, finding out these secrets was just another layer of pain for her to go through, saying,  
"It's incredibly devastating, and on top of that, she has to deal with everything else – one of the most awful parts for me which I wasn't aware of was people in this situation not only have to deal with the fallout and devastating grief but you can't use a bank card, and in her case you're worrying about putting food on the table on top of everything else, so the whole thing is as devastating as it can possibly be, and she goes on this journey to try to unravel this mess, and obviously along the line there are more secrets to uncover..." 
---
How did Covid affect filming? 
Although the crew started filming in January 2020, production was temporarily stopped as lockdown was put in place across the country. On this, Schindler said,  
"It took us all by surprise. We were 2 weeks into the second block, so we'd finished 3 episodes, we were on to filming 4, 5 and 6, we heard about this terrible virus, we didn't quite understand the impact, then week by week we realised it was going to have implications on us, so we had to adapt very quickly to see what we could do to make it the least damaging.  

When it became apparent that we were going to have to shut down, the brilliant production team and crew pulled together so we could finish all our material in the studio before we had to shut down, which really enabled us to carry on once we were able to get things going.  

Then we literally spent March, April, June, July on the phone on zoom to each other going "now? Now?" Roger especially was hard to hold back, but we had to make sure that we had everything in place. Obviously we had to put safety first. The practicalities involved were just enormous...but we carried on without any incidents all the way to the end, which is exceptional […] It was a weird experience, very strange world, but we got there!" 
Ready for the weekend! Last day of our penultimate week on #findingalice - so grateful to be working with such amazing people - everyone is working so hard to keep each other safe on set and beyond...Happy Friday! 💕💕💕@REDProductionCo @buddyclubprods @ITV pic.twitter.com/jIlK9SpMuH

— Keeley Hawes (@Misskeeleyhawes) October 9, 2020
We can't wait for you to see the fantastic cast come together in what we're sure will be an amazing show to lift those January blues (despite being about grief...) Finding Alice starts on ITV on Sunday 17th January at 9pm, and will also be available on ITV Hub shortly after the first episode. Find out what other fantastic new shows are coming up on ITV, and have a browse our TV Guide to find out what else is coming up this week on Freesat.