What's on Court TV?
Watch some of the biggest US court cases, gavel to gavel, all in one place, including the ongoing Johnny Depp v Amber Heard defamation trial.
Court TV has officially landed on Freesat, so you can now watch some of the biggest U.S. trials all in one place. Devoted to live gavel-to-gavel coverage, in-depth legal reporting, and expert analysis of America's most important and compelling trials, Court TV is your front row seat to justice. Featuring original series with top legal journalists, in addition to engaging specials, Court TV remains one of American television's most iconic brands. If you're a fan of TV's biggest crime-drama shows, Court TV will be your go-to network for real-life courtroom action.
---
On now 
---
Depp v. Heard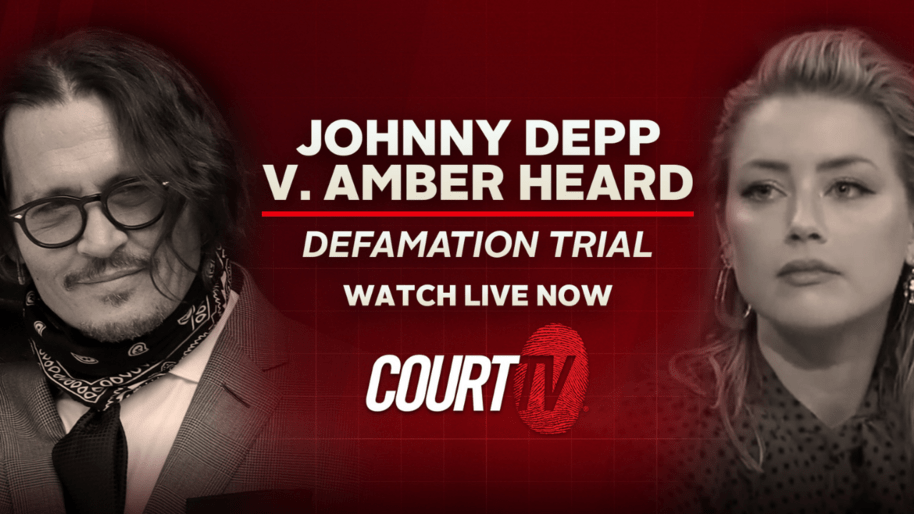 Squaring off at the Fairfax County Courthouse in Virginia, Depp v Heard continues to captivate viewers and dominate social consciousness. In fact, Depp could take the stand again this week as part of Amber Heard's defence portion of the trial. The trial is expected to last until May 27. If you miss any key moments, catch trial highlights on Court TV.
---
COMING SOON
Wife Charged with Murder of Former NBA Executive – trial begins June 6
Danielle Redlick waited more than 11 hours before calling 911 to report that her husband, Michael Redlick had fatally stabbed himself during a violent argument at their home. But the autopsy revealed a different story! Authorities charged Danielle with second-degree murder and tampering with physical evidence in his death. A little about Michael and Danielle – Danielle was both Michael's wife and his stepdaughter! Michael, a former NBA executive, married Danielle's mother to help her obtain health insurance when she was diagnosed with cancer. After the mother's death, Michael fell for his stepdaughter, Danielle, and the pair wed. They were married for 17 years.
---
Nipsey Hussle Killing – trial begins June 16, concluding July 1 (ETA)
Eric Holder is accused of gunning down local well known rapper and community activist Nipsey Hussle. Police say Holder and Hussle argued at Hussle's clothing store, Marathon. Holder left the store and returned a short time later when he allegedly started shooting at Hussle. Court TV will be covering this periodically throughout the trial.
---
The R. Kelly Sex Abuse Case  
For years, R&B singer R. Kelly went undetected for alleged sex trafficking and racketeering, though rumours began to surface during his career. Last September, a New York jury convicted him of racketeering and sex trafficking charges. Now, a New York federal judge will sentence R. Kelly. He faces up to life in prison! Federal court means there are no cameras allowed in the courtroom, however, Court TV will be reporting on air and keeping viewers up to date on the verdict. Kelly still has federal and state charges pending in Illinois.
---
Parkland School Shooter Sentencing (Nicholas Cruz sentencing) - trial begins June 27, concluding end of October (ETA)
This is a life or death trial! Nikolas Cruz, now 23, pled guilty to 17 counts of first-degree murder and attempted murder in the shooting at a High School in Parkland, FL when he was 19. The jury will now decide whether Cruz will spend the rest of his life in prison or if they will sentence him to death. This is the first time that anyone in the nation will hear victim statements or any evidence.
---
Playboy Murder Trial - trial begins June 27
Former Maxim and Playboy model Kelsey Nichole Turner and her boyfriend, Jon Kennison, are charged with murder in the death of a their psychiatrist, Thomas Burchard. Buchard, an older man, had known Kelsey for two years and he had been helping her financially. According to prosecutors, Kelsey and her boyfriend were not the only ones guilty of murder, their former housemate was also charged with accessory. The housemate pled guilty and will testify against them.
---
If you'd like to find out more about Court TV, simply check the TV guide on your 4K TV Box for channel 177 and visit our channels page for more information. 
---
| | | |
| --- | --- | --- |
|   |   |   |
| Get the best TV picks of the week from our team of telly experts |   | Find out what's new on your favourite channels every week |
---
Follow us
Get the latest telly news and updates PLUS access to competitions and exclusive content