Love Pawn Stars?
With new episodes of Pawn Stars kicking off earlier this week on BLAZE, we thought it would be a good idea to celebrate with a prize draw.
Pawn Stars fans, it's time to win big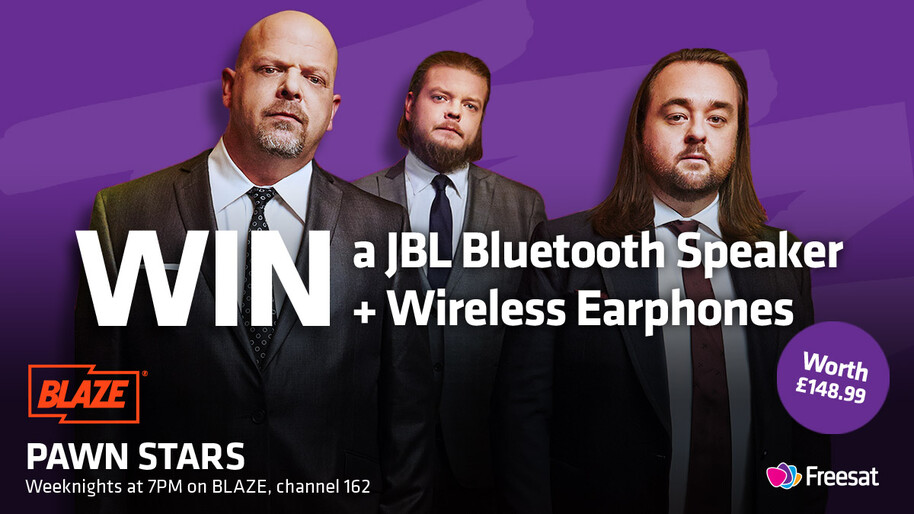 As we roll in the new year with more bad news in the UK, it's important to look to entertainment to lift our spirits. And with all new episodes of Pawn Stars kicking off earlier this week on BLAZE, we thought it would be a good idea to celebrate with another prize draw.  
So for your chance to win a JBL Bluetooth Speaker and Wireless Earphones, simply go to the Prize Draw page and follow the steps, filling out your name, and email address for your chance to win this prize worth £148.99!* 

This competition is closed. Thank you for your interest.  
 
When is Pawn Stars back on TV?
From the 4th January, 2021, tune into BLAZE on weeknights at 7pm for your daily dose of Rick Harrison, Chumlee and Corey Harrison as they continue their hilarious escapades, pawning, shopping and finding the strangest items. From un-valuable to invaluable, unwanted to unbelievable, they've got everything in these jam-packed new episodes, so watch for free on Freesat channel 162. 
But what has your favourite Pawn Stars item been over the whopping 18 seasons? This is what you had to say! 
Do you agree?Head over to our Twitter page to cast your vote... 
What amazing item from Pawn Stars are you "getting for your birthday this year"? Find out below...  
Born in January: Sharps Coffee Grinder Carbine  
Good for Coffee enthusiasts, not so much if you're a tea person... 
Born in February: Ancient Greek Coin 
Do not buy your coffee with this. Do not buy anything with this. 
Born in March: An Original 1978 Superman Costume 
Do not try to pick up a truck with your pinky finger.  
Born in April: 1971 Willy Wonka Props 
Warning: Do not try to eat these. 
Born in May: Earliest Sticker Sealed Super Mario Brothers Nintendo Game 
Try saying that ten times fast. 
Born in June: Rare Boba Fett Action Figure Prototype 
Excuse me while I binge watch The Mandalorian. 
Born in July: World's largest collection of Nike trainers 
Maybe this will be the push to get you to start your fitness YouTube account. Maybe not. 
Born in August: 1963 American Made Fender Stratocaster, played by Jimi Hendrix 
You will either become a musical genius or a very rich person. The choice is yours. 
Born in September: Four x gold bars 
All I can say is Dear lord, what a sad little life. You ruined my night completely so you could have the money and I hope now you can spend it on lessons in grace and decorum. Because you have all the grace of a reversing dump truck without any tyres on. 
Born in October: Back to the Future: Replica DeLorean 
If only this were real... 
Born in November: George Washington's Three Piece Suit 
Perfect for that ball at Buckingham Palace you weren't invited to.  
Born in December: 1652 copy of Elias Ashmole's Theatrum Chemicum Britannicum  
Congratulations, you now have the secret to creating the Philosopher's Stone. But while you can't actually turn lead into gold with this secret, you could bag yourself a pretty penny for this book.  
Don't forget to watch Pawn Stars on BLAZE, weekdays at 7pm, Freesat channel 162, PLUS sign up to our newsletter to be the first to know about upcoming prize draws!  
* We're giving away a JBL Bluetooth Speaker and Wireless Earphones! To enter, complete the form on our website. UK only, 18+. 1 entry per person. Closes 14:00 GMT 13/01/2021. Promoter: Freesat (UK) Limited. See full T&Cs here.