The Great British Bake Off 2020
Cake lovers and Paul Hollywood fans can rejoice, because Bake Off is back for an all new, Covid-friendly season of baking fun 🍰

Here's everything we know so far...
When does the new season of GBBO start? 
You can catch the first episode on Tuesday 22nd September at 8pm over on Channel 4. The show kicks off with cake week, where the contestants are challenged to take on a classic Battenberg and a fruit sponge.  
Who's presenting?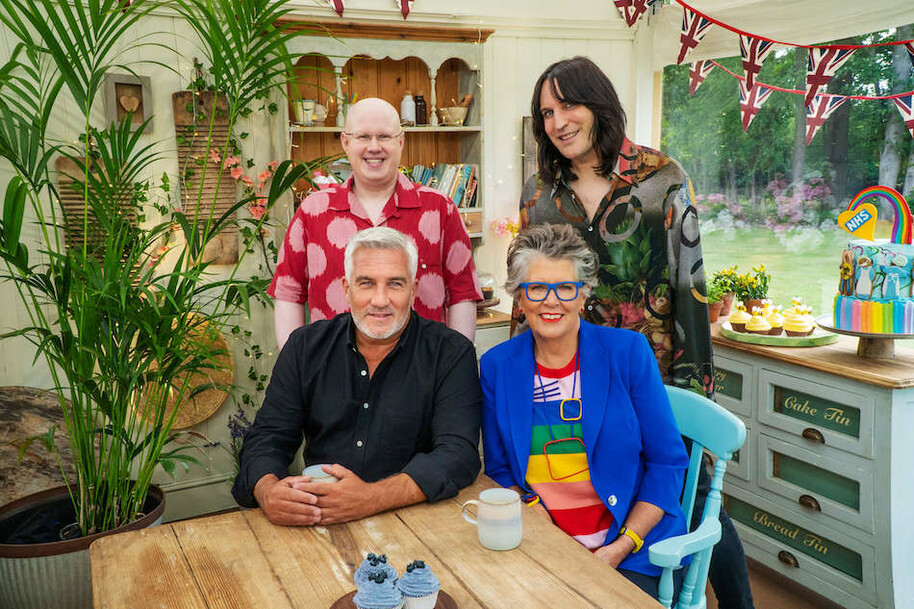 Noel Fielding returns as host, but this year he's joined by Little Britain star Matt Lucas who is replacing Sandi Toksvig. Lucas said he was thrilled to be a part of the show, and we're sure he'll bring his signature humour to the baking competition: 
"I'm chuffed to bits to be joining the most delicious show on television. I can't wait to break bread with Noel, Prue and Paul and meet the brilliant bakers. And bearing in mind my love of cake, I've already ordered some much larger trousers in anticipation. See you in the tent!" 
When it comes to the judges, Paul Hollywood returns to hand out his coveted handshakes along with Prue Leith.  
How was the show filmed? 
Due to the pandemic, it was uncertain whether GBBO would be back this year at all. However, filming was able to take place thanks to strict Covid-19 rules. The whole cast and crew had regular Covid-19 testing and were kept in isolation bubbles. The cast and crew also had to self-isolate before shooting could begin, and 12 practice kitchens were made so contestants could prep safely. Love Production managing director Letty Kavanagh said that with all these restrictions and precautions in place, "It felt like the safest place in Britain." 
Who are the contestants of GBBO 2020?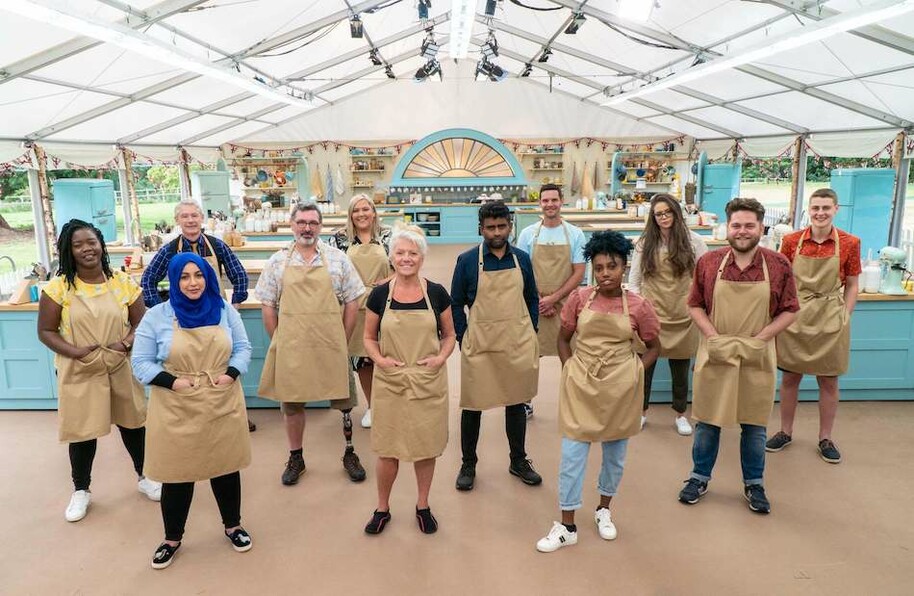 This year, 12 amateur bakers will be taking part in the competition. From students to a pantomime producer, you can expect a real range of backgrounds and professions. Here's the rundown of whose competing:  
Dave is a 30-year-old Armoured Guard from Hampshire. Although Dave didn't discover his love of baking until he'd left home, he is now an avid baker with a kitchen full of gadgets and a punk rock soundtrack for when he's cooking up a storm. He likes to try new things and thinks decoration and bread are his strong suites (which will come in handy for Paul's notorious bread week!) When he's not baking, he's cracking on with some DIY or taking his dog (and cat) for walks. 
Hermine is 39, works as an accountant and lives in London, but was born and raised in Benin, West Africa. She's always loved baking, and set herself her first baking challenge at age eight when she bought the ingredients for a Savarin cake. She has a passion for high-end pâtissérie and has a talent for sourdough. We can't wait to see what Hermine cooks up! 

Laura is a 31-year old Digital Manager and Samaritans volunteer from Gravesend, Kent, who has always loved baking but has really come into her stride over the last few years. She's partial to citrus and strong flavours and loves putting a twist on classic recipes. She specialises in decoration and won't rest until her bake looks perfect.  

Linda is 61 and works as a Retirement Living Team Leader in East Sussex. Linda discovered her love of baking while visiting her aunt's diary farm as a child where she'd help milk the cows and bake delicious iced cakes with her aunt. Linda still buys all homegrown produce from another aunt's fruit farm, and loves baking the classics and home-baked comfort food like her signature sausage rolls.  

Loriea is a 27-year-old Diagnostic Radiographer from Durham, but being born and raised in Jamaica means she loves to celebrate her Caribbean roots in her baking. Using coconut, chillies and cinnamon in many of her recipes, Loriea rarely sticks to the recipe and is all about experimenting to make it her own.  

Lottie is a Pantomime Producer from West Sussex, and believes she has inherited her love of baking from her great-grandmother. Dubbing herself a 'perpetually frustrated perfectionist', Lottie tries to combine her baking skills with her dark sense of humour. When she's not in the kitchen, she's putting on a show producing a pantomime, playing computer games or enjoying some relaxing yoga.  
Makbul is 51-years old and is an accountant from Greater Manchester. Completely self-taught, Makbul first began cooking and baking to help support his mum, and learnt through TV cooking shows, books and from the tips and inspiration he picked up from famous chefs. He believes his baking strengths are in pastry, and is able to measure ingredients by eyes. For celebrating big events like Eid, he enjoys baking traditional nankhatai biscuits, and considers his three children his harshest critics. He's recently taken up beekeeping to make his own honey which he adds to his bakes at every opportunity.  

Marc is a bronze resin sculptor from Cornwall who applied for Bake Off to show his daughters that no matter what obstacles you're up against, you can always take on new challenges and find new passions. In his younger days Marc was a fervent climber and travelled the world to take on new mountains and rise to new heights, until he tragically lost his leg in a motorbike accident in 2016. For Marc, baking bread was a kind of therapy, which grew to baking cakes and pastries. He is also a support worker, a single parent, and has recently taken up climbing again.  

Another Mark for the list, (this time with a K). This Mark works as a project manager in Liverpool, but hails from Northern Ireland and fell in love with baking at a pie shop in Edinburgh when he was at university. From this initial inspiration, he experimented with his baking, focusing on the science of the bake to perfect his skills. His signature style is influenced by his Irish roots, but also embraces African and Asian flavours.  

Peter is an accounting and finance student from Edinburgh. Growing up, he was spoilt with his mum's home cooking, but didn't begin his own baking until he became a fan of Bake Off. He's watched every season, and now loves to honour his Scottish homeland in his recipes by including berries, whisky, oats and honey as much as possible. When he's not in the kitchen, he's studying at university or on the badminton court where he has represented his country since 2012.  

Rowan is a 55-year old music teacher from Worcestershire. Rowan is a self-taught baker, and considers his style ostentatious, but (hopefully) tasteful. French pâtissérie is his go-to bake as he loves the subtle flavours and sophistication. He also enjoys reinventing 18th-century recipes, and decorating his bakes with real edible flowers from his garden. Along with his baking, Rowan swims a mile most mornings, can often be found in the British Library researching the 1700s and is passionate about music, the arts and theatre.  
Last but not least is Sura, a 31-year-old pharmacy dispenser from London. In Sura's family, food is used as a way to show love and affection – a tradition which she continues. She loves experimenting with ingredients and flavours from around the world, celebrating her Middle Eastern and Asian heritage which includes Iraq, Iran, Turkey, India and Syria. If she's not baking, she's pursuing her love of travel, architecture and design.  
 So those are your 2020 bakers! We can't wait to see what they cook up in this year's Bake Off.  
Tune in on Tuesday 22nd September at 8pm on Channel 4, and make sure you have some cakes at the ready because the first episode is sure to get you salivating. Plus, if you'd like a little behind the scenes action, check out The Great British Bake Off: An Extra Slice with Jo Brand on Fridays at 8pm on Channel 4. You'll get to see special unseen footage and an interview with this week's eliminated baker, as well as a host of celebrity guests.