Characters of The Singapore Grip
We can't wait to watch ITV's hotly anticipated new historical drama, The Singapore Grip, which premieres on Sunday 13th September at 9pm. Adapted from the Booker Prize winning novel by J.G. Farrell, the show is set during World War Two and tells the story of a British family living in Singapore at the time of the Japanese invasion in 1942. The original story has been impeccably adapted by Oscar winning screenwriter and playwright Sir Christopher Hampton, who also wrote Atonement and Dangerous Liaisons.
The Singapore Grip stars the big names like Luke Treadaway, David Morrissey, Elizabeth Tan, Charles Dance, Colm Meaney and many other familiar faces and new talent to make up an incredible cast. Read on to find out more about a few of the fascinating characters in The Singapore Grip from the actors themselves. 
THE WEBBS 
Matthew Webb 
Played by the Olivier Award-winning actor Luke Treadaway, (The Curious Incident of the Dog in the Night-Time, Ordeal By Innocence, Traitors), Matthew Webb is naïve, innocent and moralistic, making him the show's somewhat reluctant hero. Matthew previously worked for international charities in Europe, but has left this life behind to come to Singapore to see his father, who has been unwell for some time. Singapore comes as a shock to him; as he tries desperately to make his father's Blackett and Web rubber company more moralistic, he also finds himself in a love triangle between Joan and Vera, all on the backdrop of the looming war. Here's what Luke himself said was part of what he found interesting about working on the show:  
"I liked the way this story shows that wasn't always the case but there's something quite karmic about these characters who have gone around the world taking what they want from the local people suddenly realising that they can't actually escape." 
Mr. Webb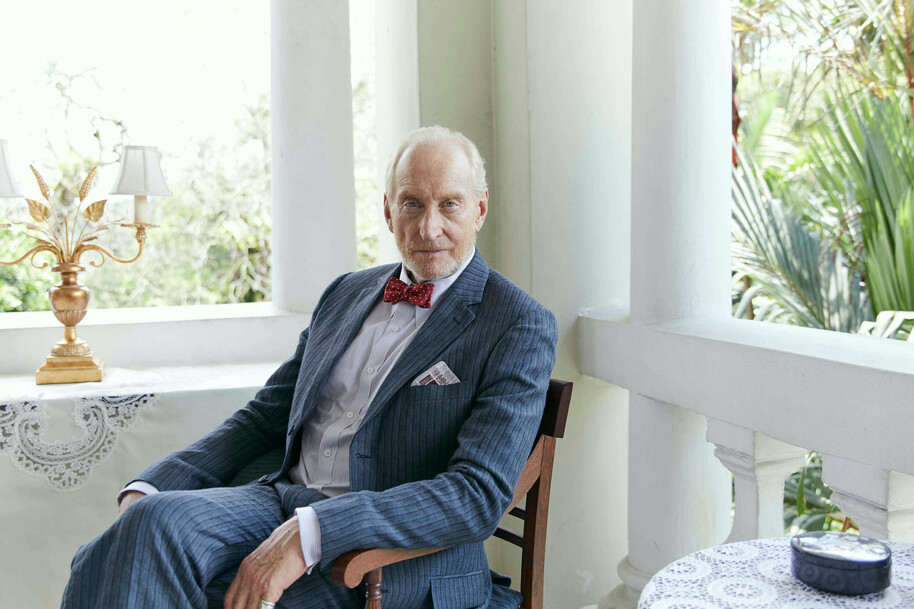 Mr. Webb is played by OBE Charles Dance, known for his roles in Game of Thrones, The Imitation Game, The Crown and many more iconic films and dramas. As Matthew's father, he admires his idealistic son, and spends his time 'educating' the local Chinese, thinking he is doing them a great kindness in doing this. Unlike Walter Blackett, who is deeply suspicious of Vera Chiang, Mr Webb welcomes her into his home and the two develop a respectful and close relationship. He is semi-retired from Blackett and Webb Limited, taking a back seat due to ill health and letting Walter Blackett take the lead. He's what you'd call "quirky", and Charles describes him as "not typical of his kind":  
"He's been out in Singapore for some considerable time. He's adapted very well and easily to the way of life in Singapore, he's not typical of his kind. What's typical of his kind is a rather superior attitude to the native population. He says to somebody at one point, 'I've been in this colony since before you were born.'" 
THE BLACKETTS 
Walter Blackett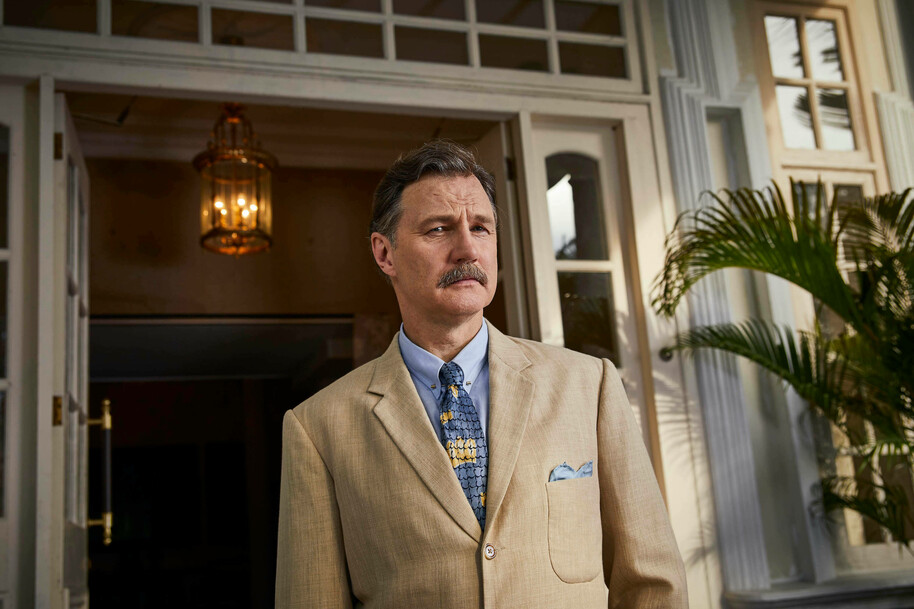 On the other side of Blackett and Webb Limited are the Blacketts, and at the top is Walter who is played by the award-winning David Morrissey (The Missing, Britannia, The Walking Dead). Walter is the opposite of Mr. Webb; he is ruthless, ambitious and more than happy to exploit the local community to get ahead. He is keen to couple up Matthew with his daughter Joan, seeing it as an advantageous business match, and is seemingly blind to the Japanese threat. David Morrissey feels Walter is summed up by his relationship with his daughter: 
"That he's prepared to use his daughter in a very crass commercial way. Even though he loves her dearly. He uses her as a commodity." 
Walter also states that "war is only a passing phase in business life." On this, David says: 
"He's quoting someone else. That's a real quote. He's quoting Lever of Lever Brothers. He's talking about the First World War, The Great War, and how the business community then viewed war as an opportunity as well as a catastrophe...He is a man bred in business, bred in capitalism. And there are elements of that in Walter. He sees war, personal upset, trauma or whatever as a gateway to opportunity. Even if it's to do with his rivals having their homes bombed he can see that as an opportunity." 
Sylvia Blackett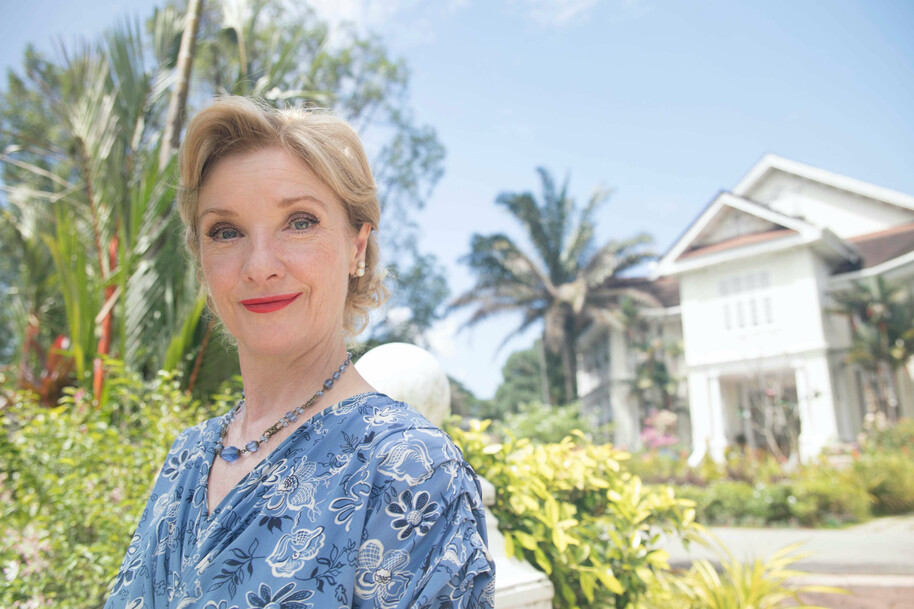 Walter's wife, Sylvia, is played by Jane Horrocks, (Absolutely Fabulous, Trollied, Little Voice). Sylvia has made herself into a respectable pillar in local society, and has become accustomed to the easy way of living thanks to her husband's rubber company. She focuses most of her time of making sure her daughter Joan makes an advantageous match, trying to lead her away from the unsuitable men she's prone to flirting with. For Sylvia, the war is a distant thing which doesn't affect her, until her brother Charlie goes to fight and brings her sharply down the earth. Here's how Jane sums up Sylvia's character: 
"She's a typical colonial wife. A society lady who loves entertaining and parties and wants the best for her daughter." 
She also notes how the characters of The Singapore Grip seem to be in their own bubble, far removed from the World War: 
"They're in this bubble in Singapore. There's a World War going on but they're sort of thinking, 'Really? Does it have to affect us? Do the Japanese really have to invade? How inconvenient when we're having a really lovely time here eating what we want.' They don't have to eat powdered egg. My character Sylvia is completely ignorant of what's going on. She's frightened of what could happen but doesn't really think it will happen." 
Joan Blackett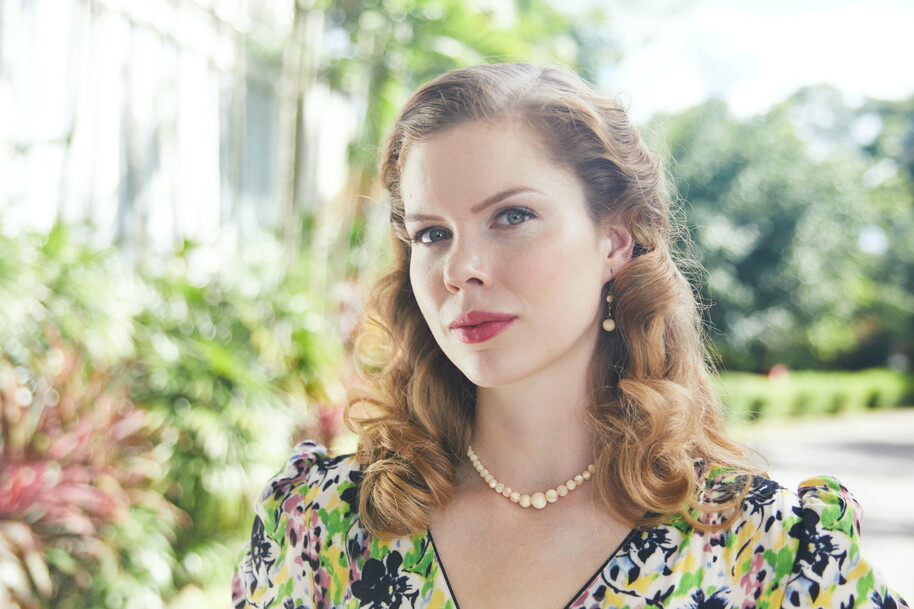 We've heard a lot about Joan so far, so let's take a closer look at her character. Played by Georgia Blizzard, a relatively new up and coming talent, Joan is a spoilt, rebellious and beautiful woman who relies on a combination of her intelligence and sexuality to seduce the men around her. She's very much her father's daughter; she can be ruthless and seduces men she feels are advantageous to her in some way, and is happy to string men along at her father's request, whether it is to learn new information or to secure a good match. Her father clearly admires her for this attitude as he brings her into his rubber business. Georgia said that she was immediately drawn to Joan's character: 
"I remember reading it and thinking, 'That is a woman who is so bold' – even by 2020 standards. Here she is in the 1940s. Can you imagine what she would be like if she was born today?" 
OTHER KEY CHARACTERS
Vera Chiang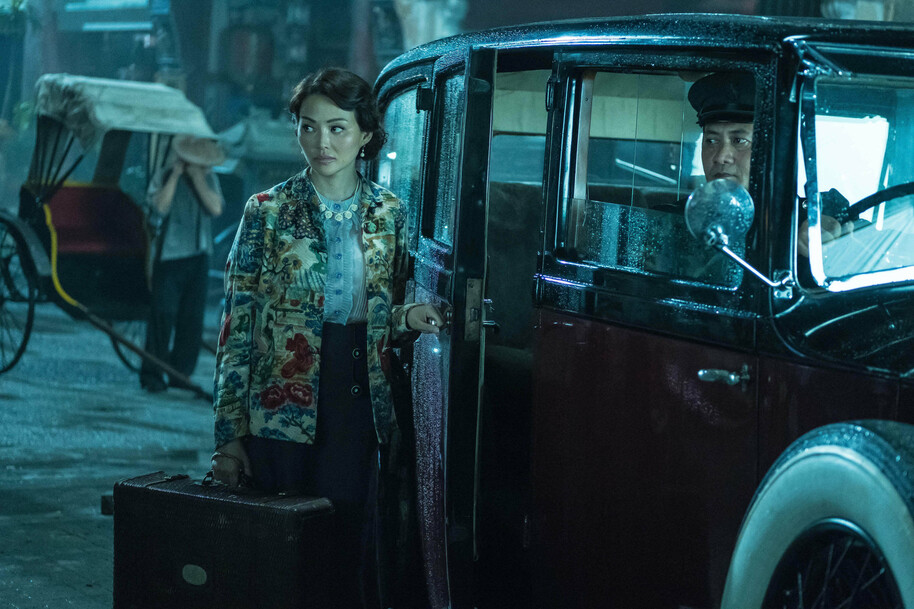 Another character we've mentioned a few times is the mysterious Vera, a Chinese refugee who is played by Elizabeth Tan (Coronation Street, Doctor Who, Top Boy). We don't know much about Vera; when we first meet her, she is caught up in the death of a Japanese officer in Shanghai. She speaks perfect English after being educated by Americans in Manchuria, and claims to have been born in Russia to a Russian princess and a Chinese tea merchant. Mr. Webb chooses to vouch for Vera, developing a warm platonic relationship with her. Meanwhile, Vera falls for Matthew, who feels the same about her, though they have many obstacles in their way. Vera is a survivor, and shows another side of the war outside of the Singapore bubble. Elizabeth Tan, who often uses birds to represent her characters, describes Vera as a swan: 
"Swans can be very graceful but Vera also has this dangerous side and I've heard that swans can attack people. Vera's also very poised. You don't really see what's going on underneath. Vera is always in trouble. She's in trouble with the law, with the Chinese protectorate and with the Japanese. She's on their blacklist for apparently doing something quite bad so there's a lot of paddling and a lot of thinking going on. She also has that mystery of not revealing much. If you look at a swan's face it always seems to be the same." 
Major Brendan Archer – 'The Major'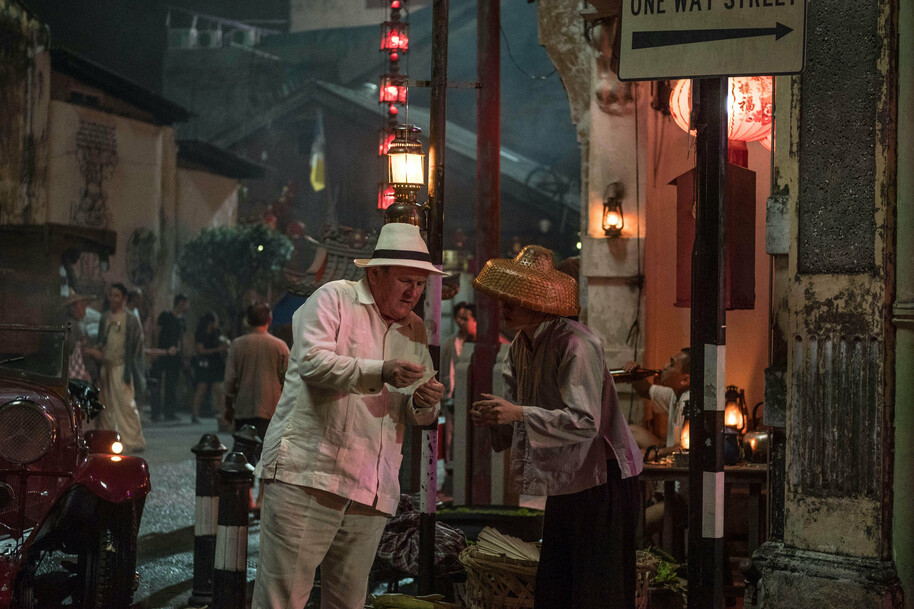 The Major is played by Colm Meaney (Star Trek: Deep Space Nine, Gangs of London, Layer Cake), and is a partner in the Blackett and Web company. The Major is all too aware of the unscrupulous direction the company has gone in but does nothing to change the status quo, despite being a reserved, considerate and good man. Unlike many other characters who have their heads in the sand, The Major understands the danger they are all in from a Japanese invasion, and, ever the practical Brit, gets them all to do fire drills to prepare for it. He becomes good friends with Matthew and provides a solid, lovable presence throughout the show, along with his adopted dog, The Human Condition. Here's why Colm said he couldn't resist his role as The Major:  
"Christopher Hampton is a beautiful writer. I found his script really entertaining and interesting. The dialogue is clever, it's subtle and it's classy. I'd not worked on anything of his before, so that was a big draw for me. I'd also never really done a World War II period piece. I'm fascinated by history so it was the subject that interested me as well. And this character The Major is an interesting fella. I've never really played anyone like him before. He's quiet, nice and thoughtful. So, for a character actor, that is always an attraction to play someone who is a bit of a departure." 
These are just a few of our favourite characters – to meet them all, you'll have the watch The Singapore Grip when it premieres on Sunday 13th September at 9pm on ITV. For more news on the latest drama, make sure you sign up to Freesat's newsletter so you never miss out on the latest telly scoops, and find out what else is coming to ITV for you to look forward to.