The scoop on Peaky Blinders Season 6
By order of the Peaky Blinders, the BAFTA award winning drama will be returning to BBC One and BBC iPlayer this February! Cillian Murphy will continue in the starring role of Tommy Shelby, head of the Birmingham crime family, and if the teaser trailer is anything to go by, things have gotten no less dark for the Shelbys...
It's been announced that season 6 will be the final season of Peaky Blinders, airing on BBC One and BBC iPlayer from Sunday 27th February. Although fans were previously expecting a season 7, this has been scrapped and replaced with the promise of a film. 
That's right, writer and creator Steven Knight confirmed that season 6 will be the final season of Peaky Blinders, but the confirmation of a Peaky Blinders film does give us some hope that it's not all over yet! Plus, although the sixth season will be the final television series, Knight has told Empire that season 6 feels like "the end of the beginning", leaving some scope for more films in the future.  
But as far season 6, watch the intense trailer for a peek at what's to come: 
---
How can I watch Peaky Blinders season 6? 
Season 6 of Peaky Blinders will be coming to BBC One and BBC iPlayer on Sunday 27th February - at last! Rumours that the show would launch in February have been circulating for a while. In fact, Paul Anderson (Arthur Shelby) recently teased a release date on Instagram: 
In the post, Anderson said, 
This is the first ever image of Tommy and Arthur. We picked these guns up for the first time 10 years ago, and next month we put them down for the last time! Coming soon... PEAKY BLINDERS SEASON 6 @peakyblindersseason6 💯🔫✅ thank you to our amazing fans for waiting and for the incredible love over the last decade 🖤 
Like previous seasons, season 6 is predicted to have six episodes, with the first episode titled 'Black Day.' We also wouldn't be surprised if some episodes are longer than the norm, similar to how Game of Thrones' final episodes were a whopping 80 minutes.  
In the meantime, we can watch season 1-5 of Peaky Blinders on BBC iPlayer and Netflix. You can also listen in on Obsessed with...Peaky Blinders on BBC Sounds, a weekly podcast that delves into each new episode to unpick the latest developments and theories.  
---
What do we know about the plot of Peaky Blinders S6? *POTENTIAL SPOILERS* 
We finished season 5 with Tommy holding a gun to his head, haunted by Grace (Annabelle Wallis) who was killed in season 3 but has remained ever-present in Tommy's mind. Throughout the series, Tommy had remained as wily as ever, but the Shelby's have also taken on significant losses, both financially and personally, and Tommy was seemingly backed into corners more than ever before, struggling to maintain control.  
One big issue was his plan to take down the fascist movement by aligning himself as a double agent with Sir Oswald Mosley (Sam Claflin). This will be no small task, with the trailer hinting at Mosley visiting Nazi Germany as the fascist movement gains more momentum. Steven Knight told NME, 
"In series six, we'll be looking at 1934 and things are worse. The drum beat is getting louder, tensions are worse and Tommy is right in the middle of all that. Again, it will be an exploration of what was going on in the '30s and how certain things transpired." 
As for everything else, we'll just have to wait and see, but the cast list gives a few hints as to who we can see return... 
---
Who is in the cast of season 6 of Peaky Blinders? 
Cillian Murphy will return as Thomas "Tommy" Shelby, the patriarch and brains of the Shelby family. 

Paul Anderson returns as Arthur Shelby, the eldest Shelby brother and Tommy's right-hand man.  

Sophie Rundle returns as the Shelby sister Ada Thorne (née Shelby). In the trailer, Ada is seen saying to Tommy "Take a good look, because soon only one of us will be standing here." Ominous...  
Natasha O'Keeffe as Lizzie Shelby (née Stark), who plays Tommy's wife and mother of his daughter, Ruby Shelby. 

Finn Cole as Michael Gray, a cousin to the Shelbys and son of Polly Shelby who recently lost a huge chunk of Shelby money in the Wall Street Crash and has fallen somewhat out of favour... 

Anya Taylor-Joy (The Queen's Gambit) as Gina Gray, Michael's new and ambitious American wife who was seen encouraging Michael to step out on his own after he was shunned by Tommy.  

Harry Kirton as Finn Shelby, the youngest Shelby brother who leaked Tommy's plans last season...also not in great standing right now.  

Tom Hardy returns as fan favourite Alfred "Alfie" Solomons, the Jewish mobster who was previously thought dead in season 4, but made a surprise return in season 5 which had us all jumping for joy. 
Sam Claflin as Sir Oswald Mosley, leader of the British Union of Fascists and based on his very real namesake. 

Aimee-Ffion Edwards as Esme Shelby, widow of John "Joe" Shelby who was killed in season 4. It's great to see Esme back after she didn't appear in season 5, saying she was taking her children to live with "decent people", i.e., away from the Shelbys... 

Kate Phillips as Linda Shelby, Arthur Shelby's estranged wife. This should be an interesting one as last we saw Linda, she had tried to shoot Arthur, only to be shot by Polly...The Shelbys saved her life, but it's hard to believe all will be forgiven on either side.  
More confirmed names for Peaky Blinders season 6:  
Ned Dennehy as Charlie Strong 
Ian Peck as Curly 

Benjamin Zephaniah as Jeremiah "Jimmy" Jesus 

Emmett J Scanlan as Billy Grade 

Packy Lee as Johnny Doggs 

Daryl McCormack as Isiah Jesus 
Neil Maskell will be making a return as politician Winston Churchill, who Tommy had been a covert double agent for in previous seasons.  
And a few actors who have been confirmed, but we have yet to hear who they'll be playing... 
Amber Anderson (Black Mirror), role TBC, but if we had to guess, it looks like she may be playing the lover, and eventual wife, of Sir Oswald Mosley, Diana Guinness.  

Stephen Graham (Line of Duty), role TBC 

Conrad Khan (County Lines), role TBC 
James Frecheville (Animal Kingdom), role TBC 
Sadly, the news broke early last year that actress Helen McCrory (OBE), who played the integral role of Aunt Polly Gray, had passed away on 16th April 2021 after a battle with cancer. This was a devastating blow, McCrory having played such roles as Narcissa Malfoy in the Harry Potter films and Sonia Woodley in Quiz. Cillian Murphy told The Guardian McCrory was, 
"One of the finest actors I've ever worked opposite [...] Any material, any scene... she made it special. She could do power and vulnerability, one after the other. She was just so cool and fun, and had such compassion for everyone she met. I was kind of in awe about how she lived her life – the way she balanced her work and her family so beautifully." 
What this means for the last season of Peaky Blinders is still unclear. Murphy confirmed that filming hadn't started filming before her death after the pandemic delayed shooting.  
"Helen was the heart of that show and it was hard to make it without her. Really hard. There was this huge absence on the set. We all felt it. She died while we were shooting. She was too young. You can't help but think of all the amazing roles she would have had.  

It's a huge loss; it's hard to comprehend it. Because she was the matriarch of the whole thing. As the character, but just also as her personality. But she's still present in series 6." 
It seems that creator Steven Knight has found a way to weave Polly into the story, which we're relieved to hear as Peaky Blinders without Polly just wouldn't be Peaky Blinders... 
---
What happened in the Peaky Blinders season 5 finale? *DEFINITE SPOILERS*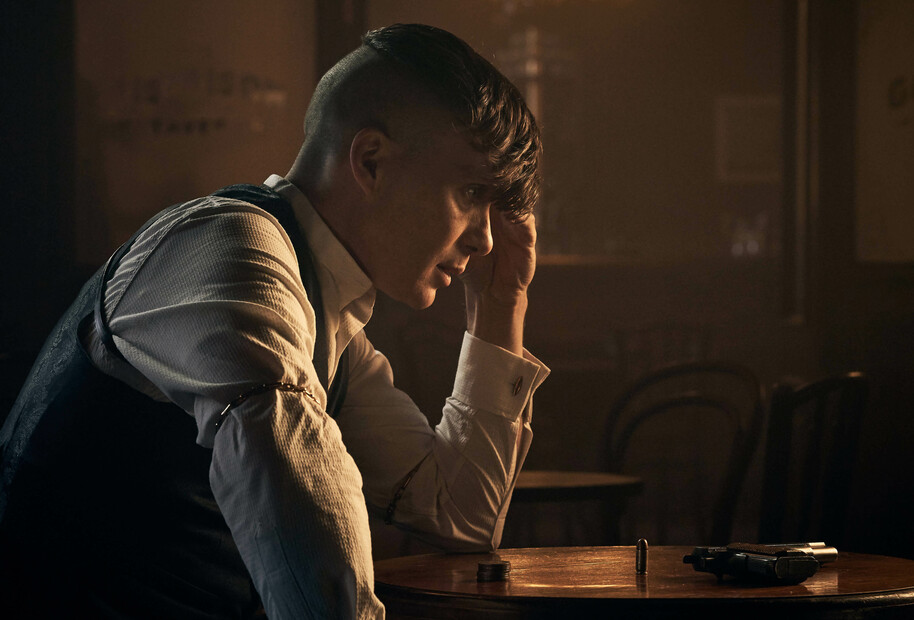 The season 5 finale was one of the bleakest Peaky Blinders finales to date, leaving Tommy in a full-on existential crisis and possibly out of his depth for the first time. His failure to assassinate Mosley seems to have finally pushed him right to the brink. He may have underestimated Mosley, and the stakes are higher than ever.  
But it's not just Mosley he's up against – throughout the show's history we've seen Tommy battle with PTSD following his time fighting in World War I, but in season 5 his mental health is at its worst yet, with hallucinations of his late wife coming back to haunt him and trying to convince him to commit suicide.  
But we're pretty sure Tommy won't pull that trigger and will keep fighting on. Chances are he'll take Charlie's advice and try the Gypsy walking cure by heading out on the road for a while. Perhaps he'll come back with a new plan, but we think it'll take more than some time away to settle Tommy's demons.  
What happened to Finn Shelby in season 5? 
When we left off, the youngest Shelby, Finn, had foolishly leaked the family's plan to take down Mosley to Billy Grade (Emmett J Scanlan). Low and behold, the plan is foiled, leaving the Shelby's injured and reeling.  
What happened to Michael Shelby in season 5? 
Michael's was not faring much better. At the beginning of the season, he lost the family millions in the Wall Street Crash after failing to follow Tommy's order to sell. He's now following Gina's lead that he should take over with an ill-thought-out plan to take control of the family with a Chinese heroin trade. Tommy ultimately cast Michael off from the family after Michael's speech about restructuring and Tommy retiring, but we know he's back in season 6 which is unlikely to go well for him.  
What happened to Arthur Shelby in season 5?  
As for Arthur, he spent much of season 5 dealing with his marriage falling apart. Linda is trying to divorce Arthur and return to her Quaker roots, but when she is seen with another man, Arthur's anger comes out and he brutally beats the man, leaving him for dead. Linda responded by pulling a gun on Arthur, but was shot by Polly before she could pull the trigger. The Shelby's removed the bullet and Arthur makes a pretty poor plea to Linda, saying they could run away together. Unsurprisingly, she passes on his offer, and says death would be too good for him. Arthur finishes the season in his standard role of Tommy's right-hand man, but it's clear even to him that Tommy is losing his grip following Michael's would-be coup and the failed assassination attempt on Mosley.  
What happened to Polly Gray in season 5? 
Polly has always played a big role in Shelby Company Limited and the family. As well as being privy to the business and finances, she is one the family confides in the most. She was less than pleased when her son, Michael, returns home – especially after he lost the family millions and was accused of plotting against Tommy with the IRA. However, she asks Tommy to take it easy on Michael – a plea which Tommy can't get on board with (and with good reason.) Meanwhile, she began a relationship with Aberama Gold following his son's death and Polly accepts his proposal of marriage, but sadly we saw Aberama stabbed to death in the botched Mosley assassination... 
---
As for season 6, there are plenty of questions to be answered. What will happen to Finn for leaking the details of the assassination, and Billy Grade, who is presumably the one who passed on the news? What will Michael's return from America be like – will he be aligned with the Shelby's or Gina's Americans? How will Polly fare following Aberama's death, and how will she be included in the story?  
Finally, will Tommy succeed in taking down Mosley, or will his own demons get the better of him first? 
Find out in season 6 of Peaky Blinders on BBC One or BBC iPlayer, starting Sunday 27th February!  
---
| | | |
| --- | --- | --- |
|   |   |   |
| Get the best TV picks of the week from our team of telly experts |   | Find out what's coming up this week on Freesat's TV Guide |
---
Follow us
Get the latest telly news and updates PLUS access to competitions and exclusive content