Peaky Blinders: women gangsters
There are many reasons why we love the BBC's Peaky Blinders. But if we had to choose the one thing that sets it apart from other drama series, it would be the programme's treatment of female characters. While they may not be the ones carrying around bladed caps, the women of the show are still every bit as intimidating. It is their intellect and bravery that makes them rise to the top as the real gangsters of the show...
                                                                           [Warning: this article contains series 1-4 spoilers]
---
They're masters of manipulation...
"When there are no rules, women take charge." Tatiana Petrovna
The first series of Peaky Blinders was set during the period after the First World War. During the war, the workplace had been taken over by women, but not long before the men returned to take back their jobs. The Shelby women therefore belong to that group of women who had tasted freedom for the first time... and clearly didn't want to give it back. 
But to stay on top in a world that favours men requires serious calculation, courage and creativity. Luckily, the Peaky Blinders women have that by the bucketload. One of the females' greatest strengths is their ability to manipulate the men around them - Grace manipulated Tommy by going undercover as a barmaid as a way of getting him arrested in series one, Polly manipulated Luca Changretta into thinking she would give up her nephew to him in the fourth series, and Linda has more influence over her husband Arthur than he would probably realise, constantly moulding him into the God-fearing Christian she wants him to be. In a nutshell, the women have the men in the palm of their hands.
---
They don't play by the rules...
"You don't have a women's lavatory on the second floor because no women get this far up." Jessie Eden
It would be fair to say the female characters are a rebellious bunch. And that's exactly what makes them so admirable. Like the men, each woman has her own agenda and knows she will have to break a few rules to get what she wants. Take Jessie Eden's entrance, for instance. Despite the Shelbys' fierce reputation, the union convener barely flinches when she comes face to face with Tommy Shelby in series four and demands equal pay for women across all his factories.
We also have to give a mention to Ada - the fourth and only female Shelby sibling. Throughout the entire series, Ada refuses to conform to family rules. She continually fights back against her army of brothers and her support for the Communist cause eventually leads to her self-imposed isolation from the Shelby clan. She puts herself and her beliefs first, even if that means cutting family ties. 
---
They're not afraid to answer back...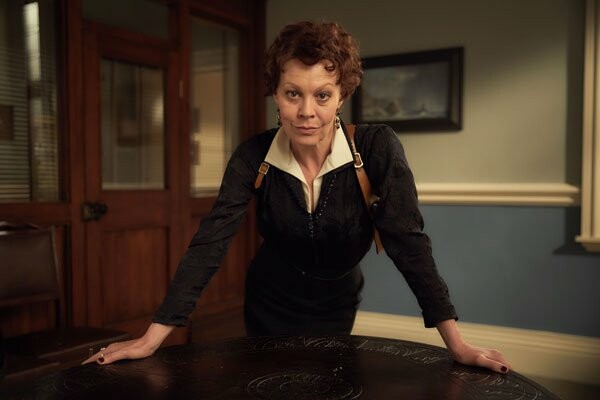 "I'm having trouble these days and I'm twice the man you are." Aunt Polly
The women of the show certainly are not afraid to speak their mind. And what better example of a female who says it how it is than the marvellous Polly Gray; arguably the most prominant and compelling female character of the series. Polly has absolutely no qualms in ordering her male family members around and putting them in their place when need be, and is respected and feared by those around her. We were captivated the minute we met her in series one, when she was seen holding a gun to John's head. What an introduction. 
---
What's Next...?
With series five coming soon to BBC One, we cannot wait to see what the women of Peaky Blinders have in store for us this time around. Check out the new series five trailer below: 
SERIES 5 TRAILER. "There's God, and there are the #PeakyBlinders". Coming soon to @bbcone. pic.twitter.com/2x9xL3ymX1

— Peaky Blinders (@ThePeakyBlinder) July 30, 2019