The scoop on Hollington Drive
Hollington Drive is the new four-part thriller coming to ITV. Written by the acclaimed screenwriter Sophie Petzal and starring Line of Duty and Motherland lead Anna Maxwell Martin and Detectorists' Rachael Stirling, we're adding this drama to our must-watch list.
What is Hollington Drive about?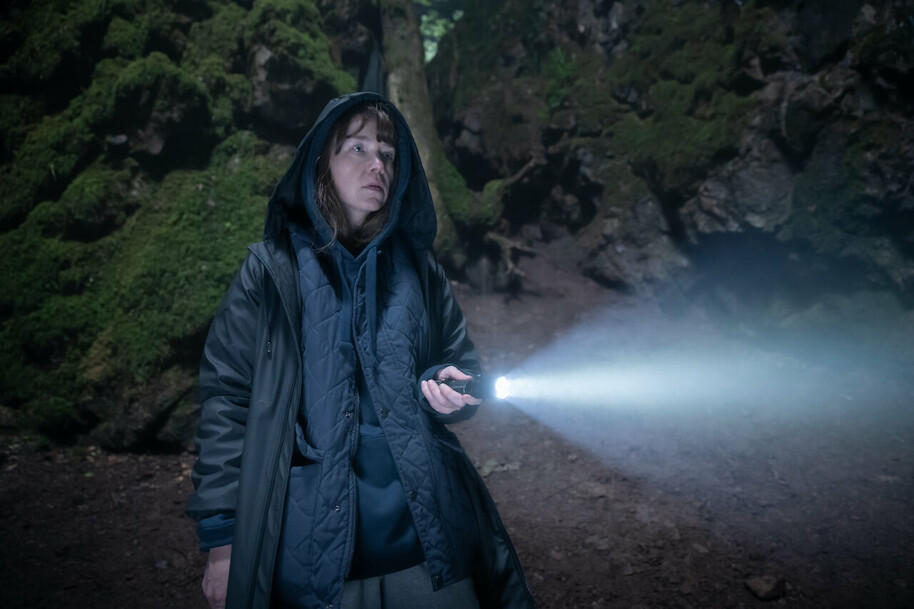 Set in an idyllic surburban cul-de-sac, Hollington Drive focuses on the lives of two sisters, Theresa (Anna Maxwell Martin), headteacher Helen (Rachael Stirling) and their families. It kicks off at a family barbecue in the garden with the sisters, their partners and children relaxing in a perfectly normal and seemingly safe setting.  
However, the peace is broken when Ben (Fraser Holmes), Theresa's ten-year-old son, asks to play with his cousin Eva (Amelie Bea Smith) in the park nearby, and a simmer of tension rises in the group. When the children don't return on time the adults go searching for them. They find them safe and sound but fighting with one another, and Theresa's mother's instinct senses  something is seriously wrong. When they soon hear that another 10-year-old from nearby is missing, secrets and lies bubble to the surface and the idealised world of Hollington Drive begins to unravel.  
---
When is Hollington Drive's release date? 
You can watch Hollington Drive on ITV starting on Wednesday 29th September at 9pm, with episodes available to stream on ITV Hub soon after.  
---
Who's in the Hollington Drive cast?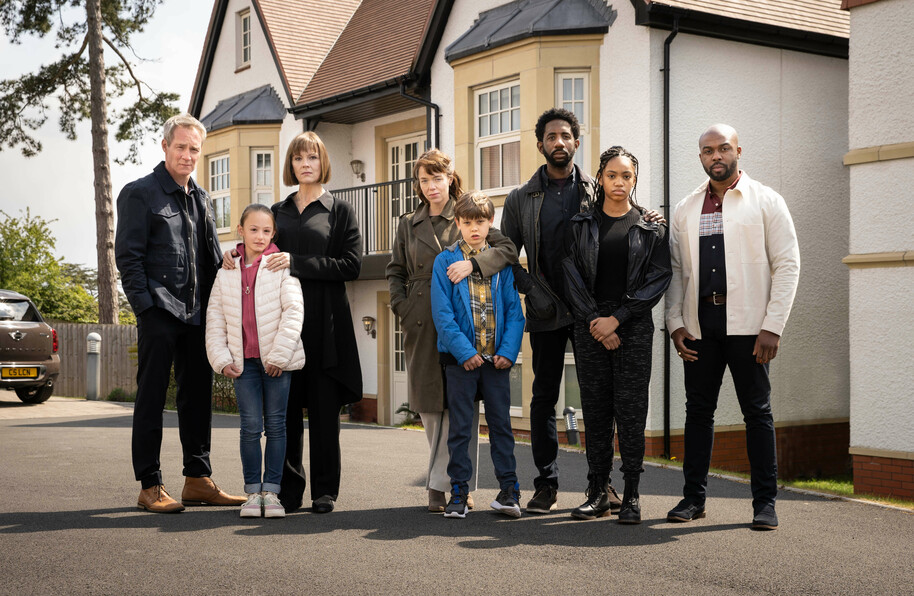 So who will be making up the cast of this exciting new drama? Here's the rundown: 
Anna Maxwell Martin as Theresa (Line of Duty, Motherland) 

Rachael Stirling as Helen (Detectorists, Wild Bill) 
Peter McDonald as David (Dublin Murders) 

Rhashan Stone as Fraser (Finding Alice) 

Jonas Armstrong as Gareth 

Jodie McNee as Jean 

Ken Nwosu as Eddie 
Amelie Bea Smith as Eva 

Fraser Holmes as Ben 

Tia May Watts as Georgina 
---
Hear from the cast... 
Along with other journalists, we attended a Q&A with some of the cast members to hear about their experiences and what appealed to them about Hollington Drive. Here's where they had to say... 
Not just doom and gloom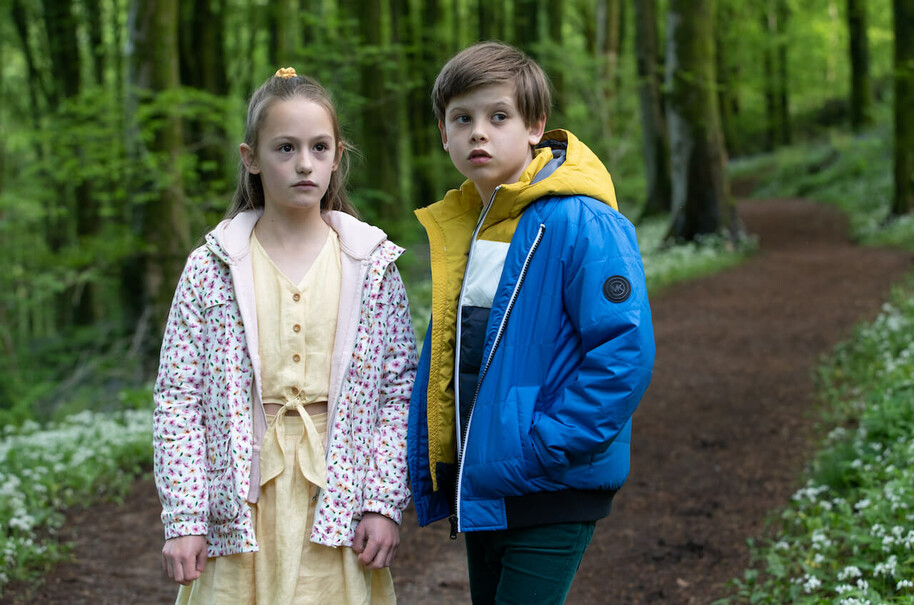 While this may sound like a standard crime drama at first, the crew wanted to make it very clear that this wasn't just a dark missing child drama, and that there's much more going on than that. Executive Producer Jonathan Fischer noted that,  
"...It's important to understand in Sophie's writing and what Caroline brings through in terms of her directing is more nuanced than [just another missing child drama.] It's really exciting to be part of a project which isn't just a sort of cookie-cutter, oh God another child goes missing drama, which is not what this is about." 
In fact, Hollington Drive focuses more on two families who are connected to the missing child through their own children rather than the missing child themselves. As the story progresses, we see their suburban facades crack and begin to uncover the struggles and strange relationships underneath, with the co-dependent relationship between two adult sisters at the heart of this strange, psychological drama.  
---
A gripping thriller with a hint of humour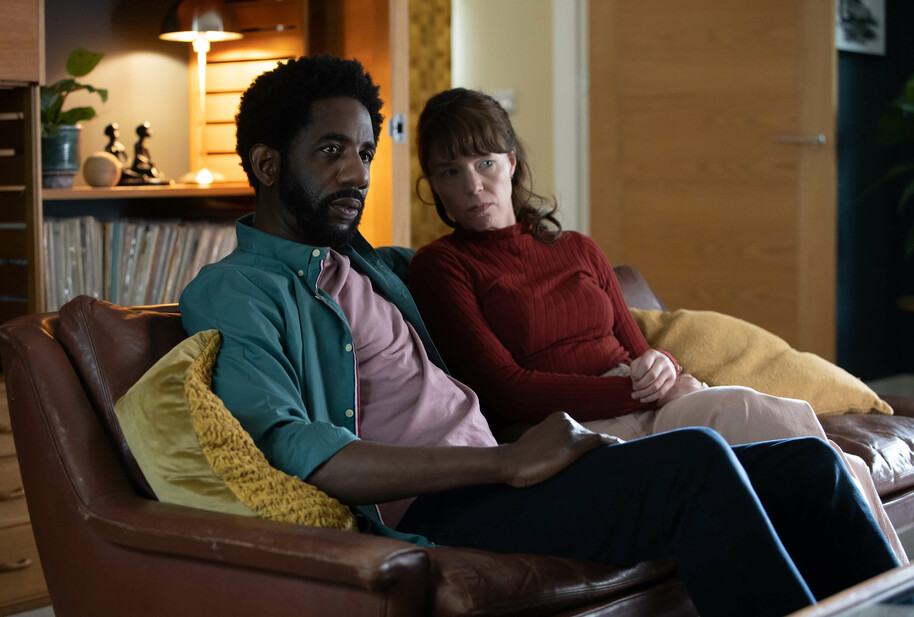 Anna Maxwell Martin has said she'd been keen to work with screenwriter Sophie Petzal for some time after seeing Blood on Channel 5, so she jumped at the chance to join the cast of Hollington Drive. On the script itself, Maxwell Martin said, 
"it's a real page turner...it's not really about a child going missing. It's about how it's sort of cleaves open all these people and the sort of horrors within them and what they're dealing with, and how things can seemingly look okay on the outside but be really toxic underneath. [So] I found that really funny and really real." 
Maxwell Martin also noted that the tone was unusual, because there's a "comedy to it", which you might not expect from this kind of thriller. With one of Maxwell Martin's most talked about roles being her hilarious, relatable and cynical role as Julia in Motherland, we're happy to hear that her comedy chops are playing a role in Hollington Drive, despite it being a more serious drama than a straight comedy. Director Caroline Giammetta said this unique tone was one of the elements which first intrigued her when reading the script, but said it was important to find the right balance while directing: 
"It's hard because it is a drama and a thriller - it's obviously a story about two sisters that is centred around a missing child. But then working with Anna [Maxwell Martin] at the heart of this brings it alive. We've seen her in Motherland and […] that kind of humour, but I'd also seen her in Mother's Day playing a woman in deep grief. [I knew having] those two sides of her skill was going to bring it to a different place, [but] it was quite hard, because when you've got humour in a script like this, we've got to be really careful [to] not be too funny, but not too dark, but it's got to be realistic. And when we put characters to a point of an extreme situation, we [as] human beings do things that aren't quite what we expect. […] So I wouldn't say it's a dark comedy in any way, but there is there was humour there, [making] tone quite specific." 
---
Sisters, mothers and female leads 
Not only does Hollington Drive focus around the relationship of two sisters, but it also has a female writer and director. On this, writer Sophie Petzal said, 
"It's funny, when I was writing it, I never thought 'oh great, these are two female leads' - I just always wanted sisters at the centre. It was only after we started getting into it I thought 'Oh, yeah, this is quite cool', putting these two very […] complex and different women at the centre of it. 

The stories and the ideas that always jump out at me seem to concern families and family dynamics, and I've been thinking a lot about sisters [because] I'm a sister [and] that is probably the most important relationship in my life. [But] it's not one that I see depicted on television all that much - not as a leading story or leading roles. 

When it came to directors, I think we were very keen that we had a woman direct this, and Caroline [Giammetta] just soared to the top for us and it was a no brainer. […] She got the show, and got these characters and we loved her style, her ideas and her passion. […]" 
Caroline Giammetta also noted how much of an impact it made having the powerhouse duo of Rachel Stirling and Anna Maxwell Martin on set too,  
"Every day on set we talked about […] being a mother, what protection costs, what relationships costs, and we'd get in sort of quite deep conversations about it […] because there's so much to explore with things like motherhood and protection. What we would do for our own children, and the lengths we go to as human beings to make a family unit work. So it was a brilliant directing experience, but it was also an investigation - hearing Anna's stories and her approach, and Rachel's, and all sharing our experiences -  we would come up with things together and it felt like a really brilliant investigation into how these women work, what they've been through, and the cost of what they're what they're going through in the story."
Anna Maxwell Martin also found it interesting to delve deep into the characters and their relationships, saying,  
"There's this brilliantly written, sort of horrible, co-dependent relationship between these sisters, which really defines [Theresa] and all of her relationships. I found that really interesting in the writing." 
---
Cracking the middle-class façade 
Set in a quaint, run-of-the-mill suburban cul-de-sac, this may not be the place many of us would expect a thriller to be set, but in Jonathan Fischer's view, speaking to this middle-class façade and the pretences which can go with it was very much intentional, saying,  
"It was always the intention, right from an early stage I think, [to show that] as soon as you begin to peel back the layers there's something else, with plenty of secrets and tensions bubbling beneath the surface."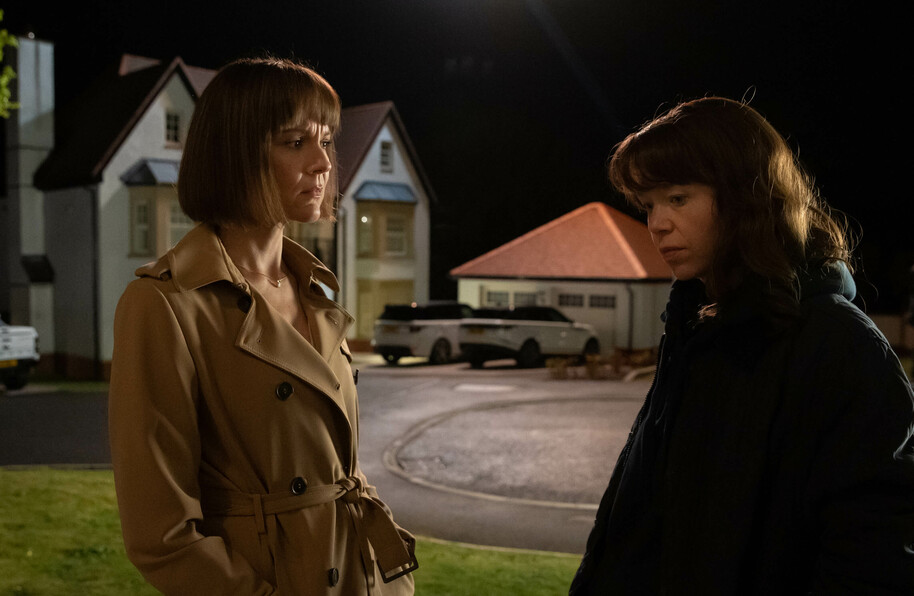 In fact, although the families of the sisters and the family of the missing child live close by one another geographically, their lives and attitudes couldn't be more different, bringing another layer to this already deeply nuanced show. While Sophie Petzal said she would never lay claim to getting into classism, she did say she finds the divide and the judgement which goes on different communities and families in these situations striking:  
"Often in real life, you notice who gets sympathy and who doesn't, and who gets the blame when these things happen, and who doesn't. There are people who hold themselves in life as though these things just don't happen to them, the "my child would never" attitude. Then there's the version of the story where it's all quite grim and every day, and then there's a version where you look at these people who have created this veneer around themselves who pay for their security and their bubble to create a lifestyle that seems impenetrable. But then obviously, they're just real people, with kids and flaws and troubles and pasts. 

So, it felt interesting to go into the family, the victims of this ongoing disaster, Jean and Gareth (played by Jodie McNee and Jonas Armstrong), and depict them as not being in the same bubble as these two more middle-class families, and how at first judgments are sort of cast upon them. You know, the questions like "How did they not know where the kid was? What kind of a family doesn't know where the kids are?", and then suddenly have it reflect back at these two more middle-class families. Nothing lives in a bubble, and so you have to apply a kind of a context to it, and I think that just makes it all the more interesting."  
---
With an undercurrent of dark humour and psychological family drama, it's clear that Hollington Drive won't be the average crime drama we've become accustomed to, and we're sure it'll have all our eyes glued to our screens for the next four weeks. Watch the exciting new drama starting Wednesday 29th September at 9pm, or stream the show soon after on ITV Hub.  
Stay tuned for more TV new and top picks from Freesat's telly experts, and check out what else is coming up on ITV.  
---
| | | |
| --- | --- | --- |
|   |   |   |
| Get the best TV picks of the week from our team of telly experts |   | Find out what's coming up this week on Freesat's TV Guide |
---
Follow us
Get the latest telly news and updates PLUS access to competitions and exclusive content