Who is the best Doctor Who?
Time (lord) to answer that age-old question, who is the best Doctor from Doctor Who? We've put together a list of all 13 Doctors to date, ranked from worst to best in our telly expert's humble opinion. Do you agree with our rankings...?
The many Doctors of Doctor Who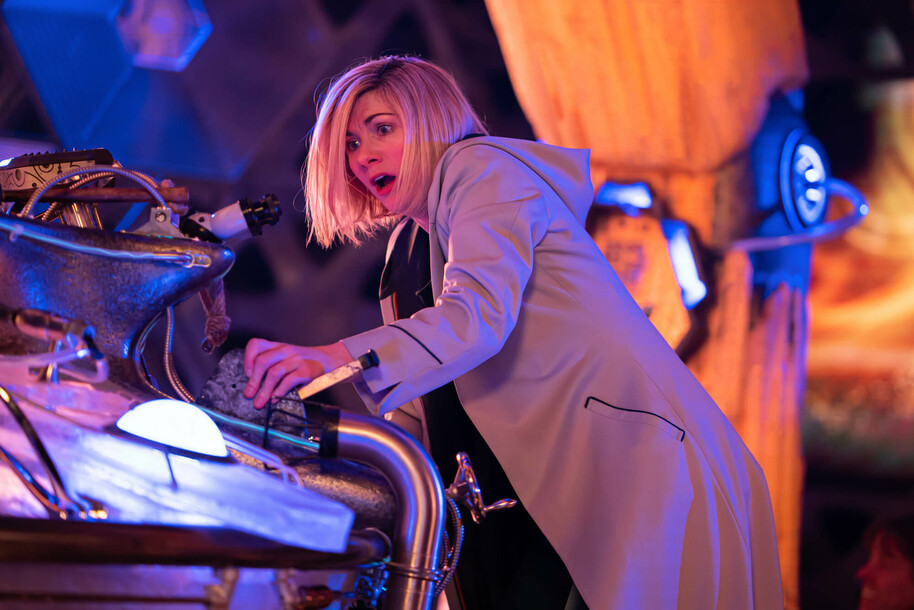 The iconic sci-fi show has been running since 1963, and has been able to keep going because Time Lords regenerate rather than die, meaning every few seasons we get to know a whole new Doctor. Even the old rule that the Doctor can only regenerate 12 times has now been scrapped, which is great for us because it means the iconic Time Lord will hopefully stay on our tellies for years to come! Speaking of... 
---
Doctor Who series 13 comes to BBC One  
That's right, Jodie Whittaker will be renewing her role as the thirteenth Doctor in series 13 of Doctor Who. Starting Sunday 31st October 2021 on BBC One with a suitably spooky title for episode one: Flux. Take a look at the trailer: 
It's been reported that this will be Jodie Whittaker's final season as The Doctor, so we had better savour this season with the series' first ever female Doctor – but with the return of the Weeping Angels, the Ood and Cybermen along with plenty of other iconic monsters, it looks like Whittaker will be leaving with a bang! Plus, with reports of Russell T. Davies returning as a writer for series 14, there's plenty of exciting things coming up for fans... 
But before we look forward, let's take a look back in time at the Doctors we've had so far... 
13. Colin Baker (Sixth Doctor, 1984-1986) 
Although Colin Baker's incarnation of the Doctor is one of the most visually memorable due to his vibrant jacket and question mark collars, the sixth Doctor hasn't become one of the better loved incarnations of the role. The show had a general decline in the mid-80s after an 18-month hiatus which meant Baker only had a few episodes to shine in – plus his character was sharper than the more jolly and friendly versions which had come before him, and had an angry temper which was at odds with his flamboyant fashion sense. While later Doctors have found a balance for the darker side of the Doctor's personality, Baker didn't have the time to flesh out his version of the Doctor, which is why we've put him towards the back of our list.  
---
12. Paul McGann (Eighth Doctor, 1996) 
The Eighth Doctor is a bit of a tricky one because he was on our screens for the shortest amount of time. Played by Paul McGann, the Eighth Doctor appeared in a TV film which was intended to relaunch the series, but McGann's role was short lived when the new series was scrapped. Simply because we didn't get to see more of him, the Eighth Doctor gets position 12 on our list.  
Thankfully though, we got to see McGann return briefly for the Day of the Doctor special as he transformed into the War Doctor (played by John Hurt, see our special mentions below...) 
---
11. Jon Pertwee (Third Doctor, 1970-1974) 
Pertwee was the first Doctor to appear in colour, and matched his braininess with his combat style of Venusian aikido which added some more action to the character. This Doctor was exiled to earth, working at UNIT as an advisor and introducing classic characters like the Master to the series, but we still can't say he's our favourite...  
---
10. Sylvester McCoy (Seventh Doctor, 1987-1989, 1996) 
The Seventh Doctor is hard to judge too because he was the last before Doctor Who left our screens until it's brief revival with McGann's Eighth Doctor in 1996. That said, McCoy was definitely a bit of a love-him-or-hate-him sort of Doctor, but gave a great, nuanced performance. He was both silly and serious depending on the situation, jumping from spoon-playing quirky to a darker persona as someone who toppled empires, all in a pretty mad assortment of clothes (which he actually pulled off pretty well.) 
---
9. William Hartnell (First Doctor, 1963-1966) 
William Hartnell's portrayal may not be the most memorable, but he's undeniably important to the series as the very first Doctor, introducing the world to the now legendary time traveller. Hartnell's Doctor was serious and pretty cold compared to the quirky Doctor's we've had since, but he still was a huge part of building an audience for what's becoming one of the longest running TV shows in history.  
---
8. Patrick Troughton (Second Doctor, 1966-1969) 
Troughton had a tough role as the first regeneration of the Doctor, filling the boots of William Hartnell and setting up the now well-known trope of the Doctor regenerating every few seasons. However, Troughton made the role his own, creating a more playful and fun persona than his predecessor, coming across as an eccentric, enthusiastic professor which now very much fits the idea we have of the Doctor today. 
---
7. Matt Smith (Eleventh Doctor, 2010-2013) 
If Doctor's can be separated into the "quirky" and the "serious", Smith is definitely in the quirky camp. His zany version of the Doctor, in his fez and tweed suit, was here for the 50th anniversary of the show and gave a light-hearted take on the Doctor which was endearing, but also not quite as impactful during the darker storylines Stephen Moffat brought to the show. 
---
6. Peter Capaldi (Twelfth Doctor, 2014-2017) 
Peter Capaldi took on the role of what would've been the "final" Doctor if they'd stuck with the original lore (thank goodness they didn't!) A huge change from Matt Smith's wacky portrayal, Capaldi was a gruffer, sterner version of the Time Lord, though he balanced this out with sonic sunglasses instead of the classic screwdriver and a few other quirky traits. He added some real gravitas to the role which worked for a Time Lord on his 12th regeneration, and would be higher up on the list except that his episodes didn't have as many fan favourites as others, although his penultimate episode (Heaven Sent) has to be one of the best ever episodes of the show. 
---
5. Peter Davidson (Fifth Doctor, 1982-1984) 
It was never going to be easy picking up where Tom Baker left off, but Peter Davidson has become one of the best-known Doctors. His Doctor was charming, measured and warm, taking a different tack from many other actors who opted for more intense personas. He had a huge following, and his impact on the show has continued as his daughter, Georgia Moffat, but played the Doctor's daughter Jenny AND married David Tennant, the tenth Doctor, in real life.  
---
4. Jodie Whittaker (Thirteenth Doctor, 2017-present) 
While some fans weren't into the idea of a female Doctor, Jodie Whittaker's performance so far has more than proved any naysayers wrong. Whittaker's sunny, exhuberant depiction makes her immediately likable, and we're sure her final season will give us even more reason to love Jodie Whittaker's Doctor.  
---
3. Christopher Eccleston (Ninth Doctor, 2005) 
Although he only played the Doctor for one season, Eccleston reintroduced the show to a new generation of watchers as the series was finally (successfully) renewed. With his Irish accent and wild, frantic energy, Eccleson perfectly embodied a Time Lord who was the sole survivor of the Last Great Time War, with a surprising sense of humour and wild bursts of temper which bordered on frightening, Eccleston was one of the most interesting and memorable depictions of the Doctor, and one which left us wanting more. 
---
2. Tom Baker (Fourth Doctor, 1974-1981) 
With his striped scarf, hat and love of jellybabies, Tom Baker's Doctor may be the most recognisable of all 13 – and the fact he played the Doctor for seven years means he spent longer in the role than any who came before or after. His quick wit and solemn version of the Doctor was loved by fans, and his time on the show solidified the tone of Doctor Who with a mixture of horror, action and wackiness which we love. When many of us think of Doctor Who, we think of Tom Baker, and he would have got the top spot on the list if it wasn't for... 
---
1. David Tennant (Tenth Doctor, 2005-2010) 
Ushering in a Golden Age of Doctor Who, David Tennant is takes the number one spot. Widely considered the most popular Doctor ever, Tennant brought a whole new audience to the already beloved show. His pinstripe-suited-Converse-wearing Doctor combined the all the elements of the Doctor's we'd seen before in the best way to create a perfect balance between zany and serious. Plus, it didn't hurt that in his five years in the role the show had some of the best episodes and characters ever, including Blink, The Impossible Planet and countless others. Plus, his almost romance with Rose added a depth to the character which we hadn't seen before.  
Special shout out to John Hurt as The War Doctor who appeared for the 50th anniversary episode as a version of the Doctor who travelled between series eight and series 9, still trying to save Gallifrey during The Time War. Also an honourable mention to Jo Martin who played The Fugitive Doctor, the second female Doctor and the first person of colour to play the Doctor. We don't know when the Fugitive Doctor is from, she's a mysterious figure who we meet as part of the Timeless Child storyline and a tantaslising glimpse into the Doctor's endless life.  
Suffice to say, we can't wait to see what Doctor comes next... 
---
| | | |
| --- | --- | --- |
|   |   |   |
| Get the best TV picks of the week from our team of telly experts |   | Find out what's coming up this week on Freesat's TV Guide |
---
Follow us
Get the latest telly news and updates PLUS access to competitions and exclusive content