10 best David Attenborough documentaries to watch
Whether you want to learn more about the natural world or just want to listen to the soothing tone of David Attenborough's voice, here are 10 of the legendary broadcaster's nature documentaries you can watch now for free!
Who is Sir David Attenborough? 
If you don't already know (and how is that even possible?) Sir David Attenborough, aka a national treasure, is a renowned natural historian, biologist, broadcaster and author who has been on our television screens for more than sixty years.  
Attenborough recently reached the age of 96 on the 8th of May, (Happy Birthday David! 🥳), and after a lifetime of dedicating himself to exploring and documenting the natural world his latest passion has been to warn us of the dangers of climate change, and how we can try to save the planet, the animals, plants and environments he is so passionate about. In fact, in December 2020 he was awarded a Lifetime Achievement Award for his incredible contributions to television, and more recently was awarded the Champions of the Earth Lifetime Achievement Award, the EU's most distinguished environmental award. He even has seven creatures and fossils named after him, showing quite how huge his impact has been! And at 96, Attenborough is still continuing his life's passion for educating and raising awareness of some of the planet's most remarkable wildlife. 
---
How many documentaries has David Attenborough done?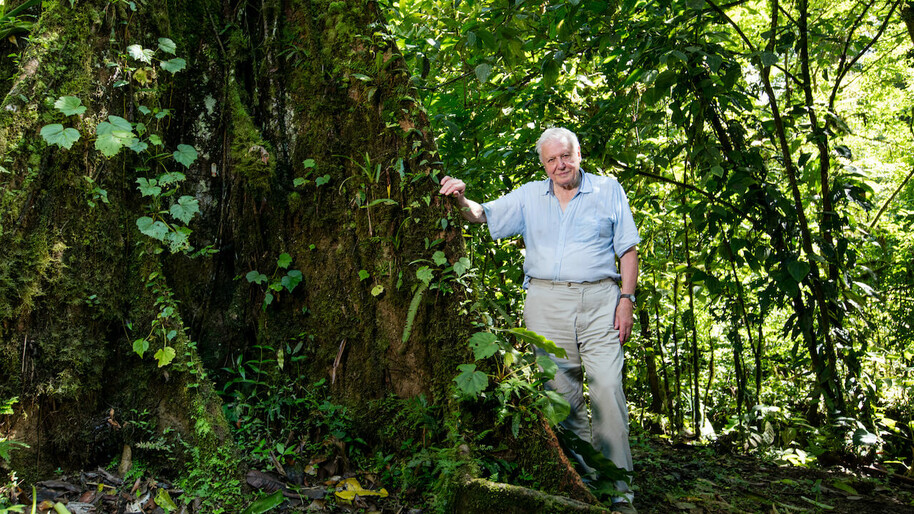 Attenborough has been in a whopping 100 documentaries (and counting!) His first documentary aired way back in 1954 and was called Zoo Quest, which followed him and a team of zoologists travelling to Sierra Leone to collect animals for the London Zoo. This original documentary can now be viewed in colour on BBC iPlayer, along with many other top documentaries from the legendary broadcaster. Let's take a look at a few more of Attenborough's work... 
---
BEST DAVID ATTENBOROUGH DOCUMENTARIES:  
Blue Planet II 
Watch on BBC iPlayer 
Although this one's a sequel (though the original Blue Planet is also available on BBC iPlayer), Blue Planet II has become a fan favourite as Attenborough narrates the wonders of marine life in a truly remarkable and dazzling production. Using state of the art technology, the documentary not only shows what life below the waves is like, but also the dangers of climate change and how much the oceans have changed in recent years. Watch Blue Planet II on BBC iPlayer.  
---
Planet Earth 
Watch on BBC iPlayer 
One of Attenborough's most iconic documentaries is Planet Earth. Taking a whopping four years to film, the epic series sees Attenborough narrating as the cameras show an outstanding variety of animals and natural events across 64 countries, from deserts to the freezing poles and everything in-between. As well as Planet Earth, you can also watch Planet Earth: A Celebration which sees scenes from Planet Earth against a musical score from renowned composers Hans Zimmer and Jacob Shea, as well as Dave on piano. Find out more.  
---
David Attenborough: A Life on Our Planet 
Watch on Netflix 
It's clear that at this stage in his career Attenborough is not only looking to solidify his legacy, but also to pass on what he believes is an important and vital lesson. Released in 2020, Netflix's A Life on Our Planet gave Attenborough a chance to present his 'witness statement', showing his perspective on the mistakes we've made as a society is damaging the planet and how we can put it right by 'working with nature, rather than against it.' With the signature beauty we've come to associate with Attenborough documentaries, it's both a wonderous and harrowing piece that imparts an important message and ends with hope for our future.   
---
Extinction: The Facts 
Watch on BBC iPlayer 
Also released in 2020, Extinction: The Facts sees Attenborough explore the current crisis of biodiversity as a million species face the risk of extinction. As the demands of the modern world progress at breakneck speeds, extinction is happening up to 100 times faster than the natural evolutionary rate, and even losing one small species can have far-reaching consequences on entire ecosystems, including humanity and the way we work with nature. Explore the subject more by watching Extinction: The Facts on BBC iPlayer.  
---
Dynasties 
Watch on BBC iPlayer 
Narrated by Sir David Attenborough, this documentary series explored the secret lives of animal families, from drama and betrayal to fights for survival. Watch this captivating, intimate and often heart-wrenching series on BBC iPlayer.  
---
A Perfect Planet 
Watch on BBC iPlayer 
In this uplifting and stunning documentary series, Sir David Attenborough explores how our planet works in perfect balance driven by almost unbelievable natural forces to become a one in a billion world full of life. Exploring everything from volcanoes to the weather, the series ends with a deeper look into how humans can work in balance with the planet as a force for good. Watch A Perfect Planet on BBC iPlayer. 
---
The Green Planet 
Watch on BBC iPlayer 
Of course, the natural world is about more than animals. In fact, the real stars are the plants and greenery which facilitate all life on the planet. In this 2022 documentary series, Attenborough puts the focus on wild plants, from the tropics to under the sea, to explore their lives, how they affect the ecosystem and the struggles they face. Thanks to cutting-edge technology, see plants in a whole new way in The Green Planet on BBC iPlayer.  
---
Our Planet 
Watch on Netflix 
Thanks to the latest technology and Ultra High Definition, we can explore and experience some of our planet's most awe-inspiring natural beauty as never before. From jungles to oceans and mountains, get up close and personal with some amazing animals in stunning detail, while also getting insights into how climate change and human industry have devastating effects on all living creatures, ourselves included.  
---
Dinosaurs: The Final Day with David Attenborough 
Watch on BBC iPlayer 
In one of Attenborough's more recent documentaries he looks back at the last day of the dinosaurs in remarkable detail thanks to newly discovered fossils which have given incredible insights into the day an immense asteroid caused the extinction of the dinosaurs. Watch minute by minute as these remarkable creatures were wiped out by one catastrophic event. A slight change from his usual focus, watch this dinosaur-based David Attenborough documentary on BBC iPlayer ahead of his new series, Prehistoric Planet, coming soon to AppleTV+.  
---
Attenborough's Passion Projects 
Watch on BBC iPlayer 
In a slightly different documentary series, Sir David Attenborough himself has chosen four of his favourite documentary films marking several passion projects of his own, including his 1971 film A Blank on the Map which sees an expedition into the heart of Papua New Guinea with the previously unknown Biami tribe, as well as his own quest to find the origins of a strange wooden figurine which he bought at auction which took him all the way to Easter Island. Watch all four episodes now on BBC iPlayer.  
---
| | | |
| --- | --- | --- |
|   |   |   |
| Get the best TV picks of the week from our team of telly experts |   | Find out what's coming up this week on Freesat's TV Guide |
---
Follow us
Get the latest telly news and updates PLUS access to competitions and exclusive content