"The whole world is watching": Review of The Trial of the Chicago 7
Featuring an all-star cast and directed by Academy Award Winner Aaron Sorkin, this political courtroom film raises questions about protest, justice and government which are as relevant as ever today.
What's it about?  
Based on the controversial 1969 trial of seven leftist protest leaders following the Chicago protests at the 1968 Democratic National Convention, the Chicago 7 were a seemingly random assortment of leftist protest organisers, brought together to appear more threatening than they were. They were charged with conspiracy and incitement to riot after organising a protest to voice their opposition to the Vietnam War and against Hubert Humphrey, the lead Democratic candidate and apologist for the Vietnam War. Much of the trial focuses on whether Chicago police initiated the violence of the protest or whether it was the Chicago Seven, as they soon became known.  
The film focuses largely around the courtroom proceedings, with flashbacks to specific moments of the riot told both through the prosecution lawyers and Abbie Hoffman's (Sacha Baron Cohen) comedy stand up, as well as meetings outside of the trial.  Seeing shots of the protest turned riot itself was also eye-opening, particularly seeing police officers surrounding them and taking off their badges, along with detonation of tear gas and significant violence against the protestors by both police and bystanders. In fact, the Chicago 7 had tried to deescalate the riot and turn the crowds back, only to be trapped by riot police.  
Up against an attorney general determined to get the verdict of guilty and what can only be described as an incompetent judge, the film raises questions about our right to protest, justice and law enforcement which seem as relevant today as they must have in 1968. 
Who are the Chicago 7? 
Students for a Democratic Society 
Tom Hayden played by Eddie Redmayne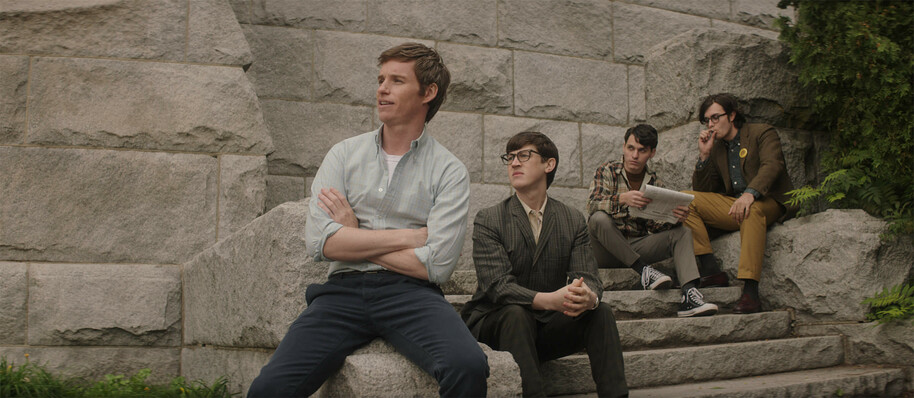 Eddie Redmayne plays Tom Hayden, the most careful of those on trial, who seems torn between both sides, as a pacifist who believe in justice, to a protestor whose fighting against an unjust system. He seems to clash with fellow activists like Abbie Hoffman, saying "I don't have time for cultural revolution. It distracts from actual revolution", to which Hoffman replies "it's a revolution, Tom. We may have to hurt somebody's feelings."
He is later accused of being the one to say the words which supposedly sparked the riot: "If blood is going to flow, let it flow all over the city." This quote was a response to his close friend, Rennie, being hit over the head by a police club. His intention was to say "If our blood is going to flow", but after misspeaking he was cast as an inciter of violence. After seeming to be pulled between his fellow protesters and the law, he ultimately marks his place on the right side of history by using his moment to speak in court to recite the names of the men who had died in the Vietnam War.  
Rennie Davis played by Alex Sharp 
Alex Sharp plays Rennie Davis, Tom Hayden's right hand man. Davis never veers from what brought them all here – the Vietnam War – and sees it as an opportunity to bring attention to the issues they'd been protesting in the first place. 
The Youth International Party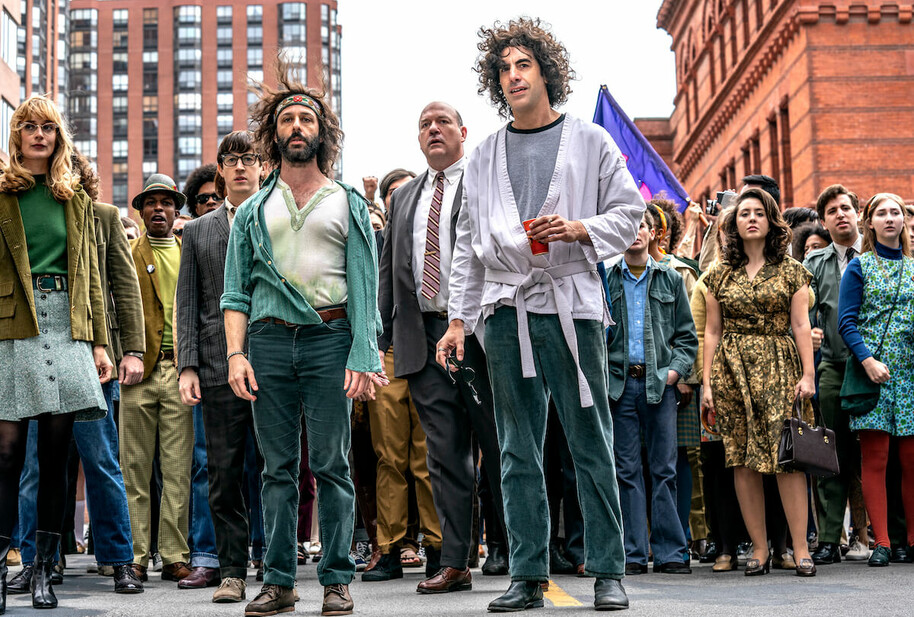 Abbie Hoffman played by Sacha Baron Cohen 
Sacha Baron Cohen gives a fantastic performance as Abbie Hoffman, a well known social activist who later wrote Steal This Book. A dramatic change from his usual characters of Borat and Ali G, Sacha Baron Cohen plays a still comedic but more down to earth role. Abbie Hoffman's ironic and sarcastic humour shines through, along with his genuinely good intentions. He says "this is a political trial. This was already decided for us", and when told there's no such thing as a political trial he simply replies "okay", and as things progress, he's proved very much right.  
Jerry Rubin played by Jeremy Strong 
Alongside Hoffman is Jerry Rubin, played by Jeremy Strong. Another hippy activist, Rubin is shown teaching a classroom how to make Molotov cocktails and, along with Hoffman, finds it a struggle to sit back and listen to the judge's highly unjust judgements. He too is seen trying to deescalate the riots, helping a girl who had been accosted by passing jocks to get away, assaulting the men in the process. Along with Sacha Baron Cohen, Jeremy Strong gave a highly believable and entertaining performance. 
Head of the Mobilisation to End the War in Vietnam 
David Dellinger played by John Carroll Lynch 
David Dellinger is a pacifist, a conscientious objector and a boy scout leader – of the bunch he seems the least like a rebel, and promotes non-violence at all times – only to punch a court guard during the trial when he isn't allowed to speak...he makes for an interesting contrast compared to the student and hippy activists, that's for sure.  
The Activists 
Lee Weiner (Noah Robbins) and John Froines (Danny Flaherty) 
There's not a whole lot to say about these two – they were both social activists and were intentionally added to the rota to be acquitted, while the others would inevitably found guilty. That said, both were proud to be part of the movement and were disappointed to find they were there as token innocents.  
Black Panther Party 
Bobby Seale played by Yahya Abdul-Mateen II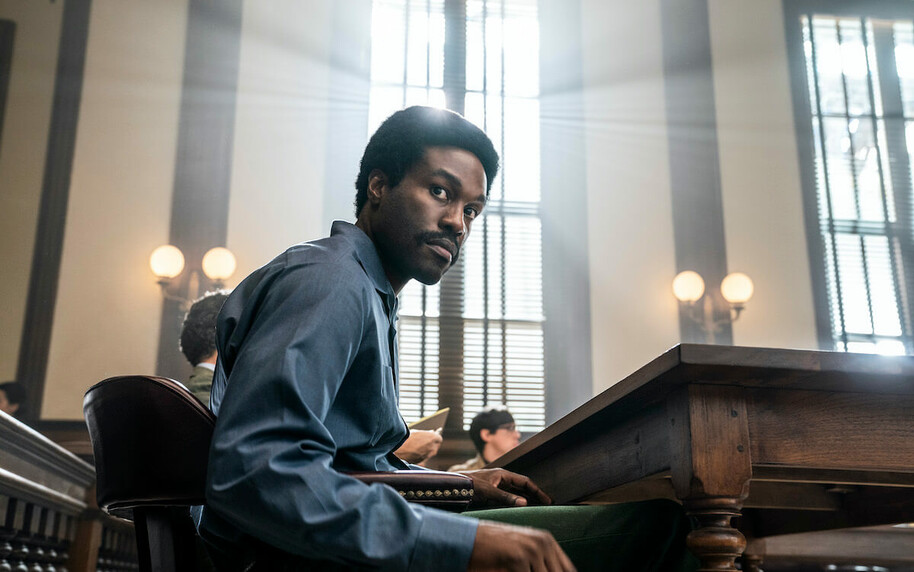 In reality, the Chicago 7 were more like the Chicago 8. Bobby Seale, the national chairman of the Black Panther Party, was also brought in despite only being in Chicago for 4 hours on the day of the riot and not knowing any of the other defendants. Seale rightly stated that he had only been added to the list in an attempt to scare and intimidate the white jury. 
Seale's place in all of this brings the injustice of the whole situation home; not only was he denied proper representation after telling the judge on multiple occasions that his lawyer was ill, but he was also beaten, handcuffed and gagged and then returned to the courtroom after speaking when told not to speak. At this moment even the prosecution stood against the judge, but Seale's constant mistreatment and the mistreatment of other members of the Black Panther Party shows the disturbing reality of the government and law enforcement's treatment and attempted suppression of Black rebellion.  
Freesat Feels... 

Overall, The Trial of the Chicago 7 is a great courtroom drama – while the trial is too complex to cover every detail, this film definitely gives it a try, running at 2 hours and 10 minutes long. The combination of dramatic and brutal shots of the protest, the corrupt discussion of government officials and Sacha Baron Cohen's dry comedic storytelling adds up to give us a harrowing yet still entertaining political drama.  
The Trial of the Chicago 7 is now streaming on Netflix. That means if you have a Netflix account you can watch it through your Freesat box. Simply go to the on-demand section, sign into Netflix and settle in for some great TV. Want to see more Freesat reviews? Sign up to our newsletter to find out what's coming up and our top picks.