A chat with Jules Hudson on the 5 on the Farm Festival 2021
You may recognise Jules Hudson from Channel 5's This Week on the Farm and Friday on the Farm, making him well acquainted with the picturesque Cannon Hall Farm in Yorkshire. Now, this August Bank Holiday, Jules is heading back to the farm to host the first ever 5 on the Farm Festival.
That's right – from 28th - 30th August 2021, the 5 on the Farm Festival will take place with a plethora of fun farm activities, over 25 lives shows, a huge line up of Channel 5 stars from hit shows like All Creatures Great and Small, The Yorkshire Vet – and much more! But let's find out more about the festival from Jules himself... 
Make sure you read until the end to find out how you could WIN four tickets to the festival, as well as some other goodies to make your bank holiday complete!  
---
Hi Jules, thanks for chatting with us today! First of all, for anyone who doesn't know yet, what's the 5 on the Farm Festival all about and what can people expect? 
Jules: The festival is a wonderful celebration of all things that make the UK countryside so captivating and the envy of the world. We will have an array of stages with a host of viewers' favourite stars from Channel 5 delivering live shows. We've got Ben Fogle from New Lives in the Wild, the wonderful Amanda Owen from Our Yorkshire Farm, Graeme Hall the Dogfather, as well as my dear friends from This Week on the Farm, farmers Rob and Dave Nicholson. There will be a real family atmosphere as there is so much for every age group to enjoy – from activities for children in the Milkshake! Meadow, where they can meet the likes of Daisy & Ollie and Peppa Pig, to enjoying some wonderful Yorkshire food and drink on the Village Green area.  
---
Sounds like an event for the whole family! Find out more about the 5 on the Farm Festival 2021 lineup.  
This is the first ever 5 on the Farm Festival – do you think 5 on the Farm festival will become a regular event for us to look forward to each year? 
Jules: We hope so! Putting on a major festival when we have been up against an unpredictable pandemic has been quite a unique situation. However, the advantage of this festival is the focus on the outdoors, fresh air – visitors are welcome to bring their dogs too – and not being cooped up inside, so we hope it is a weekend to remember. Fingers crossed a festival of some sort will become a regular affair for Channel 5. I will be hosting with my This Week on the Farm co-presenters Helen Skelton and JB Gill, and we all would love this to become a regular annual event as we all get to see each other again and have a lot of fun when we do. 
---
It looks like there's something for everyone at the festival, from live shows to crafting workshops and a dog show – to name just a few! What's the first thing you'd do? 
Jules: Tough question as I am so charmed by Cannon Hall Farm's animals, as many viewers will know so I think the farm animal visitor areas are going to be very popular and certainly the adorable miniature Shetland ponies, which are a personal favourite of mine. I have a lot of love for the incredible local produce Yorkshire is so proud of, so I will definitely be checking out The Kitchen stage, where our good friend, chef Tim Bilton will be doing some terrific demos and showing off some class Yorkshire grub and his famous festival picnic pie. 
---
What would you say is your favourite season to be on Cannon Hall Farm and why? 
Jules: Every season at the farm is fascinating – from the new life that the spring season brings with the birth of the lambs through to the lush fields oozing with new life too. Even winter, as challenging as it can be in the snow and ice, is also captivating. However, just recently we filmed a week-long live show -  Summertime on the Farm - with farmers Rob and Dave and it was a joy. Even the rain on our last day of filming didn't dampen what was a wonderful week focusing on summer life which really is a great time to visit and perfect for our festival in August. 
---
You're a keen lover of nature yourself – what is it about the country life which you find so appealing? 
Jules: For me, country life is all about community and that sense of immersion within our beautiful and varied landscapes. I grew up in the flatlands of East Anglia, spent the bulk of my adult life in the Cambrian Mountains of mid-Wales, and now live in the Wye Valley on the Welsh Borders. I am extremely lucky to have a career that allows me to explore the rural Britain in all its forms, from architecture to agriculture, along with people and places that are often steeped in history.  Having been an archaeologist, the connection to the past that I see every day in the countryside is hugely important to me – I guess it's that sense of reading a landscape, understanding how its features and settlements have developed that roots us all with a feeling of belonging. 
Do you think you'd ever want a farm of your own?  
Jules: I think everyone of us presenters have considered it, and Helen herself grew up on a farm and JB Gill now has his own poultry farm in Kent. However, full-time farm life as I know through my insight when working on This Week on the Farm and other shows, is very tough! I have every admiration for the amazing Nicholson family and all the staff as I don't think I could do it full-time myself. But if I win the lottery – who knows! 
---
What's your idea of a dream August bank holiday weekend? 
Jules: The '5 on the Farm Festival' offers something special – long, family-filled days full of fun, entertainment, beautiful animals and a cold beer is pretty dreamy to me! A typical bank holiday, festivals aside, is usually about resting and spending time with my wife and family. Time is very precious and that extra day a Bank Holiday brings means I can relax, maybe do a spot of writing and generally appreciate life.  
---
Through lockdown, would you say you've spent more time inside watching telly, or outside enjoying nature? (At a safe distance, of course!) 
Jules: As well as presenting TV shows, I do love good quality TV. But my heart is in the countryside and so yes, outdoors is always my first choice given the chance. I live in the wonderful county of Herefordshire and feel very lucky that I am surrounded by some great nature trails and hills for walking, but I'm also a passionate gardener – rain or shine I'm usually outside designing and digging!  
---
What are your top three favourite TV shows right now?  
Jules: I really enjoy The Repair Shop on BBC1. Ever since I was kid I've loved renovating and doing up antiques and curios – and I've just discovered The Detectorists! I absolutely love it, and it brings back many fond memories of my own early career in Archaeology, not least because it's set in Essex and Suffolk where I grew up and worked for many years. 
I've naturally become a fan of a lot of the shows on Channel 5 since I work on the channel myself, such as All Creatures Great and Small and I really like the adventures Ben Fogle gets up to in New Lives in the Wild too.  
Excellent telly picks for anyone who loves This Week on the Farm – we couldn't have chosen better ourselves! Thanks so much Jules, and have a great time at the festival! 
The '5 on the Farm Festival' takes place 20-30 August at Cannon Hall Farm, south Yorkshire. Get tickets and more information to start planning your epic August bank holiday weekend. 
---
WIN tickets to 5 on the Farm plus more bank holiday goodies 

If a weekend enjoying arts, crafts and live shows at Cannon Hall Farm sounds like your perfect bank holiday weekend too, then we've got an extra treat for you.  
To celebrate the launch of this amazing festival, we're giving you the chance to win a day ticket for two adults and two children (under 2s and dogs go free) for Sunday 29th July 2021 (total value £148.99)! From the irresistible food festival to workshops, Q&As with big names and even Peppa Pig, it's the perfect day out for the whole family.  
But that's not all – you could also win a 3 in 1 sprinkler paddling pool to keep the kids entertained for the rest of the August bank holiday (RRP: £26.99), PLUS a box of Lindeman's Bin 65 Chardonnay (RRP: £43.49) to finish off your Bank Holiday weekend with a bang 🥂  
To enter our prize draw, all you need to do is fill out our entry form with your first name, last name and email address in the fields below, by 23:59 GMT on Friday 23rd July 2021. Check out the full Terms and Conditions on our entry page, and good luck! 
---
Where is the 5 on the Farm Festival?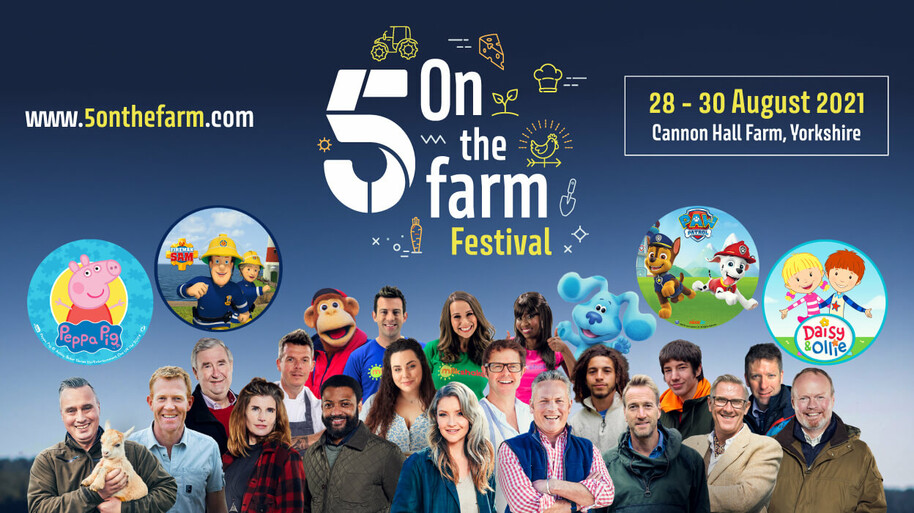 The 5 on the Farm Festival is at Cannon Hall Farm in Yorkshire, close to Barnsley. There's plenty of travel options, from train tickets and a free shuttle from the station to by car. Take a look at how to get to the 5 on the Farm festival, and if you're looking for a place to stay, check out the range of local hotels, camping grounds and BnBs nearby.  
While you're looking forward to the festival, check out what great TV is coming up on Channel 5 this week!  
---
| | | |
| --- | --- | --- |
|   |   |   |
| Get the best TV picks of the week from our team of telly experts |   | Find out what's new on your favourite channels every week |
---
Follow us
Get the latest telly news and updates PLUS access to competitions and exclusive content