Gavin & Stacey Christmas special
"OH MY CHRIST!" That's right, dearly loved sitcom Gavin & Stacey is returning this Christmas Day on BBC One for a one-off special episode and it's fair to say the whole nation is beside itself with excitement.
1. We get to reunite with all our favourite characters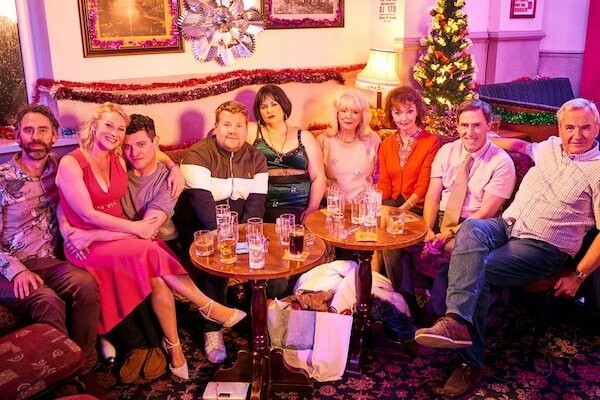 We're delighted to see that pretty much all of the show's core cast members will be returning for the Christmas special! This includes Mathew Horne as Gavin, Joanna Page as Stacey, Ruth Jones as Nessa, James Corden as Smithy, Larry Lamb as Mick Alison, Alison Steadman as Pam, Rob Brydon as Uncle Bryn and Melanie Walters as Gwen. It'll be a proper family reunion!
2. We'll get to hear those classic one liners for one last time
"That's well lush", "oh my christ", "what's occurin'?", "Gavlarrrr, Pamlarrrr"... All iconic phrases we've been yearning to hear again for the past nine years. And now we finally will! What better Christmas gift could you ask for? If we're lucky we might even witness Smithy's legendary robot one last time as well...
3. The unanswered questions from last series will finally be addressed
There were many questions left unanswered at the end of series three and we're hoping the one-off episode will give us all the information we so desperately want and need. Did Gavin and Stacey have a baby boy or girl, and what did they name him/her? Are Nessa and Smithy together? Will Bryn ever find love? And what on earth happened on that fishing trip? WE NEED TO KNOW.
4. From the looks of the sneak peek, there's going to be a lot of laughs...
The BBC have treated fans to a short teaser and Uncle Bryn's cooking disaster has already put a grin on our faces! No matter who you are, there is sure to be an element of Gavin & Stacey that you will find relatable, which is what makes it so hilariously funny. We can't wait to laugh along after a few too many mulled wines on Christmas Day... Take a look at the preview below: 
It's Uncle Bryn-ing to look a lot like Christmas. #GavinandStacey pic.twitter.com/OEdSgOt7av

— BBC Comedy (@bbccomedy) November 27, 2019
5. ...and probably some tears too
Gavin & Stacey always strikes the perfect balance between side-splitting comedy and a heartwarming storyline. And this long-awaited reunion is almost guaranteed to pull at the heartstrings.  James Corden and Ruth Jones have already hinted that there will be a big emotional moment in the episode.

When talking about the writing process, Jones said: "We did then identify what it was - there needed to be a heart to it, a big moment that resonated. I don't want to give too much away..." (via RadioTimes). 

We better get those tissues at the ready, then!
Well the new #GavinAndStacey is a total joy. You'll laugh. You'll cry. Delivers on every level. pic.twitter.com/1U7kbXerAj

— boydhilton (@boydhilton) November 4, 2019
Gavin and Stacey