How to watch Yellowstone in the UK
Starring Kevin Costner, this critically acclaimed neo-western drama has taken the TV-world by storm. If you're not a fan yet, we're here to convince you this cowboy drama is well worth a watch, so read on to find out everything you need to know...
What is Yellowstone about? 
First airing in 2018, Yellowstone follows sixth-generation homesteader John Dutton (Kevin Costner) as the patriarch of the Dutton family, owners of the largest ranch in the US. Despite the ranch being in the family for generations, keeping it going is a constant struggle. From shootings to floods, invasions and complex local politics, an Indian reservation, and Yellowstone national park, secrets and conflict are all part of the day-to-day as John Dutton fights to keep his family's way of life alive.  
Take a peek at the trailer if you want to know more:  
---
Who is in the cast of Yellowstone?  
Another huge draw for this rugged drama is the ensemble cast. Here are some of the key stars: 
Oscar and Emmy-winner Kevin Costner as John Dutton, the patriarch of the Dutton family 

Kelly Reilly as Beth Dutton, daughter of John Dutton 

Luke Grimes as Kayce Dutton, horseman and ranch hand, son of John Dutton 
Wes Bentley as Jamie Dutton, son of John Dutton 

Cole Hauser as Rip Wheeler, Beth Dutton's husband and ranch hand 

Taylor Sheridan as Travis Wheatley, horsetrader 

Kelsey Asbille as Monica Long-Dutton, granddaughter of Indian Elder Felix Long and married to Kayce Dutton 

Jefferson White as Jimmy Hurdstram, ranch hand  
---
Where can I watch Yellowstone in the UK?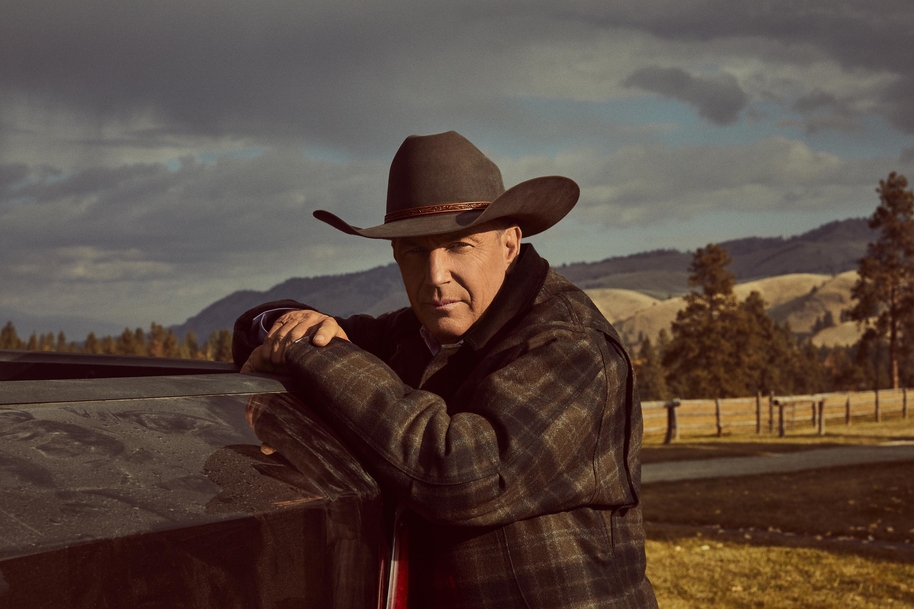 If you're keen to start your Yellowstone journey, you're in luck! The entire first season of Yellowstone is available for free streaming on My5, so you can dive right in. Additionally, Channel 5 broadcasts the series every Friday at 9pm, providing another option to catch this captivating cowboy drama. However, Yellowstone season 1 will only be available on My5 until October, so you'll need to watch it before then!  
For those who want to continue the adventure beyond the first season, Paramount+ is the place to go for seasons 2 to 5. The streaming service offers a rich selection of content for £6.99 a month or £69.90 a year in the UK. Not sure if it's for you? Give Paramount+ a try with their free 7-day trial, accessible through Prime Video as well. 
---
More from the Yellowstone universe  
Although Yellowstone was the drama to start off the franchise, it's since has a few spin-off dramas stemming from the original.  
The spin-offs go back into the origin of the drama, with Taylor Sheridan's expanding Yellowstone universe featuring prequels 1883 and 1923. There's also talk of a spin-off lead by Matthew McConaughey who will continue the tale of the Duttons.  
---
Yellowstone: 1883 
Starring Tim McGraw, Sam Elliott and Faith Hill, 1883 follows John Dutton's ancestors. Set post-Civil war, this generation of Duttons have just left Tennessee to travel to Fort Worth, Texas and join the arduous journey to Oregon by wagon, and eventually Montana where they family establishes their iconic ranch. Available to watch now on Paramount+. 
---
Yellowstone: 1923 
Another prequel for the Yellowstone universe starring legendary actors Harrison Ford and Helen Mirren as Jacob and Cara Dutton. Together, the pair introduce a new story in the history of the Duttons as they tackle the challenges of drought, pandemics, the end of Prohibition and the Great Depression. Available to watch now on Paramount+. 
---
Yellowstone: 6666 
This present-day Yellowstone spin-off focuses in on the Four Sixes ranch located in West Texas, the ranch operating just as it did centuries earlier. The show was announced way back in early 2021, but with no official cast releases as of yet, we may have a while to wait for this one... 
So, have we convinced you? Catch Season 1 of Yellowstone for free on My5 or tune in to Channel 5 every Friday at 9pm. To continue the saga, head to Paramount+ for seasons 2 to 5, and explore the captivating prequels 1883 and 1923 to delve deeper into the legacy of the Dutton family. Get ready to be hooked on this neo-western drama that has captured hearts worldwide!