Watch Sister Boniface Mysteries for free
The highly anticipated BritBox series dropped on the streaming services last month, and we've been eagerly waiting for it to make the switch to free-to-view. Finally, the day has come! Tune in to Drama channel this Friday 11th March at 9pm for weekly episodes of Sister Boniface Mysteries!
5 Reasons to watch Sister Boniface Mysteries 
1. There's a special appearance from Father Brown himself 
While the show will be all about Sister Boniface, Mark Williams' Father Brown does make an appearance in the BritBox series, so get ready for the tag team to reunite once more! Sister Boniface originally featured in season 1 of Father Brown back in 2013, in the episode titled Bride of Christ. You can currently watch season 9 of Father Brown on BBC iPlayer. Fun fact, Williams also played Arthur Weasley in the Harry Potter film franchise! Check out the official trailer below...
---
2. It's free! 
Since its debut on February 8th, Sister Boniface Mysteries has been exclusive to BritBox, until this week when it makes its first appearance on free-to-view television, the perfect start to spring for Freesat users! You'll be able to watch episodes weekly on Fridays at 9pm on Drama channel, that's Freesat channel 158. You'll also be able to catch up on the UKTV Play app which can be accessed via the on-demand section of your 4K TV Box!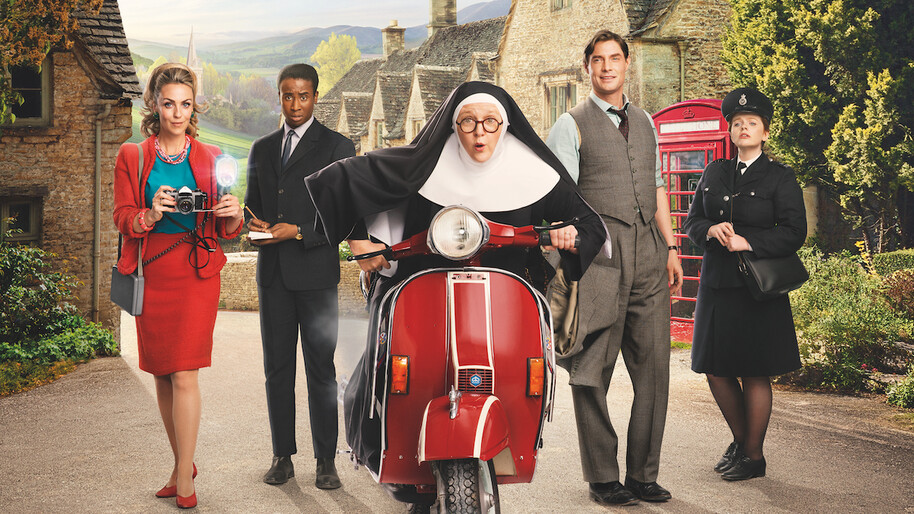 ---
3. It's set in the 60s  
If you love a good 60s show, this is going to be right up your alley. If you're a fan of Father Brown, even better. But the show has credibility on its own, too, so if you want to leave the tech behind and go back to simpler times with good-old-fashioned case solving, Sister Boniface Mysteries is perfect for you. Revel in the costumes, set designs and much needed comic relief this Friday night, and every Friday night for the next 10 weeks! Check out this epic set tour...
---
4. Lorna Watson returns
Originally, Watson appeared in Father Brown season 1 all the way back in 2013, and series creator Jude Tindall said: "Since Lorna Watson as Sister Boniface bounced so joyfully into Season 1 of Father Brown, I always had a plan to bring her back. Now that plan has come to fruition, I couldn't be more thrilled."  
We're thrilled too, because it's the first time (well technically second) that we're seeing Lorna in a comedic role, and it's unlike any character she's played before. According to the actress, she hasn't "read many scripts like this where [she's] laughed out loud. There are lots of detective series, but not many are as quirky as this!"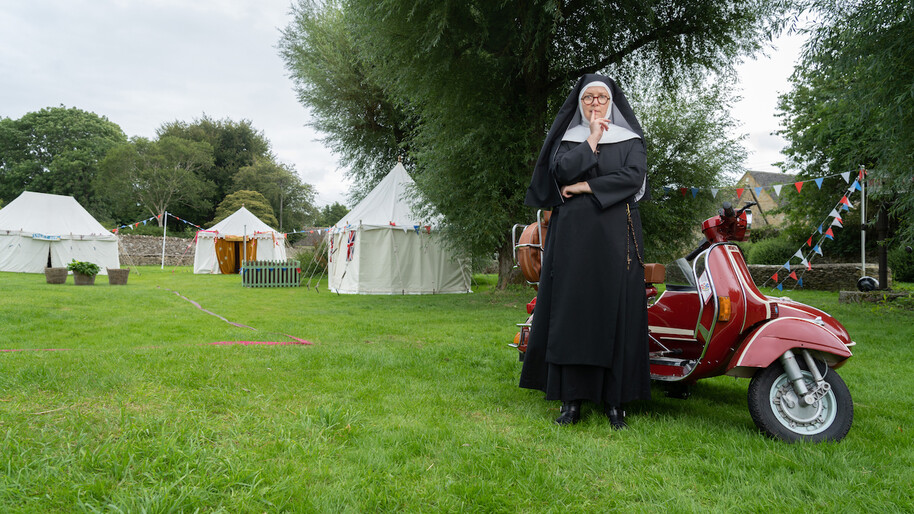 ---
5. There's a Sex Education star in the midst...  
For fans of the Netflix hit teen series Sex Education, there's a new uptight copper making an appearance in the show. DS Felix Livingston will be played by Jerry Iwu, who appeared in the latest series of Sex Education as Oba, the guy who makes Eric (the protagonists' best friend) come to a huge realisation in his life. We don't want to give away any spoilers, so if you're a fan of Father Brown, we know you'll love Sex Education! Speaking on his new character, Iwu said "Felix has a heart of gold. He comes from a prestigious family in Bermuda, and there are a lot of great expectations for him. He looks at the Metropolitan Police in London as being at the forefront of modern policing, and wants to be around that.  The problem is, he is in the Cotswolds!"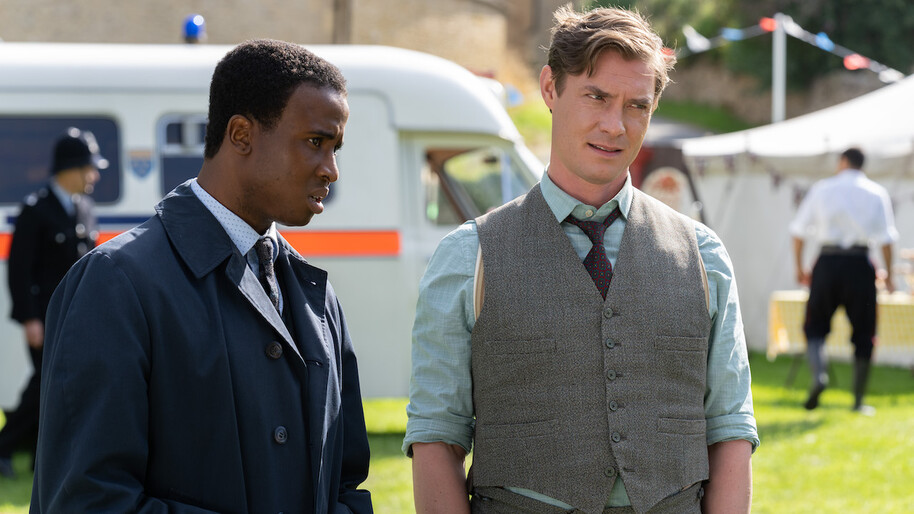 If you're excited to watch the new series, be sure to tune in every Friday on Drama channel at 9pm and tweet us your thoughts for a chance to be featured in this article!  
---
| | | |
| --- | --- | --- |
|   |   |   |
| Get the best TV picks of the week from our team of telly experts |   | Find out what's new on your favourite channels every week |
---
Follow us
Get the latest telly news and updates PLUS access to competitions and exclusive content