Grace: The scoop on ITV's deliciously dark new drama
Based on the hit novels by bestselling author Peter James, a feature-length drama adaptation of Grace will be coming to ITV on Sunday 14th March at 8pm. Adapted from the books by the acclaimed screenwriter and Endeavour creator, Russell Lewis and starring Life on Mars' John Simm as the main character, Roy Grace, this new detective drama is looking to be the next big thing. We caught up with a few of the incredible cast and producers of Grace to find out more.
What's Grace all about? 
Grace follows Detective Superintendent Roy Grace, a Brighton based detective who is no doubt brilliant and fiercely dedicated to his job, but does things his own way and is no stranger to creating some waves. After causing controversy by visiting a medium to help advise on a case he was working on, he is assigned to cold cases to keep him out of the way. He is also obsessed with the disappearance of his wife, which haunts his every thought as it is the one case he can't solve.  
But Roy Grace is brought back to the forefront when his colleague, Detective Sergeant Glenn Branson asks for his assistance on a new case involving a missing groom just days before his wedding. Check out the trailer to get a sneak peek at what's to come...
Who is in the cast of Grace? 
John Simm (Life on Mars) as Detective Superintendent Roy Grace 

Richie Campbell (Snatch) as Detective Sergeant Glenn Branson 

Rakie Ayola (Noughts + Crosses) as Assistant Chief Constable Vosper 

Laura Elphinstone (Line of Duty) as Detective Sergeant Bella Moy 

Amaka Okafor (The Split) as Detective Constable Emma Jane Boutwood 

Brad Morrison as Detective Constable Nicholl 

Rebecca Scroggs (Scarborough) as Branson's wife, Ari 

Alexander Cobb (Indian Summers) as Kevin Spinella 
We got to hear more about behind-the-scenes of Grace in an exciting ITV Q&A from: 
John Simm – Detective Superintendent Roy Grace 

Richie Campell – Detective Sergeant Glenn Bronson 

Rakie Ayola – Assistant Chief Constable Vosper 

Andrew O'Connor - Second Act Productions 

Paul Sandler – Second Act Products 

Patrick Schweitzer – Tall Story Pictures 
Read on to find out more about the must-see crime drama... 
Part of the challenge of making Grace is that they're huge, bestselling books with millions of loyal fans - in fact, there's a whopping 17 Roy Grace books in the series! So how did the team go about adapting Peter James' novels for TV?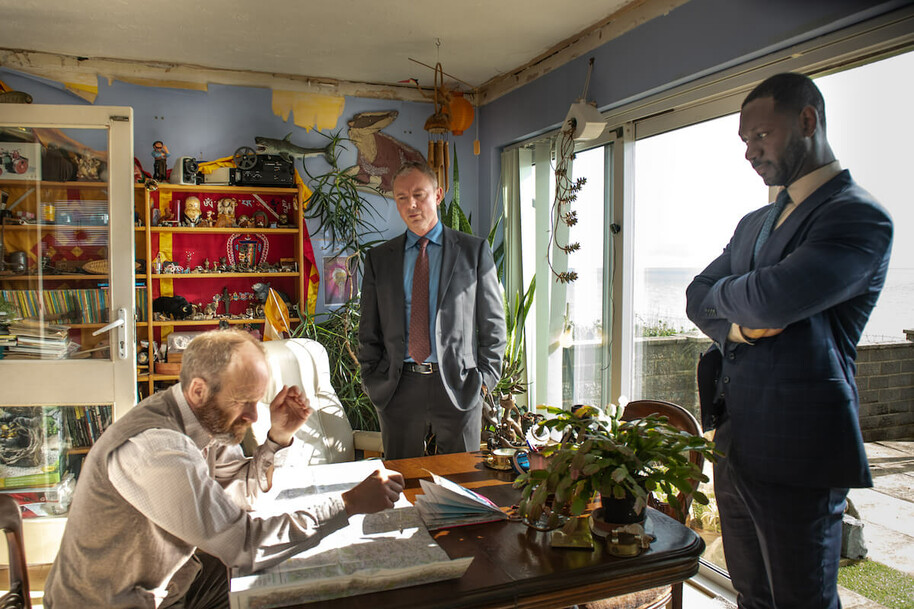 Andrew O'Connor: Obviously Peter James' […] books are amazing, and the big challenge was finding someone who could adapt them, who could take what Peter has done on the page and turn it into a TV show. And over the last 10, maybe 15 years people have tried, there have been six or seven adaptions, and no one has really got it right. When Peter [Sandler] came to me and said, do you want to help them develop it, I was obviously thrilled and honoured and humbled by it, and then it was really who's the writer?  
And so we started talking to ITV and the one name that kept coming up was Russell Lewis. But I was told you'll never get Russ because he's too busy with Endeavour already. But weirdly, Russ and I were in the same school when we were 14, so we went out for dinner one night and he starts to say "I'm really busy, I think I can't do it." But he'd been given the book by his son as a Father's Day present and he re-read it anyway and he said "oh, it's really good, isn't it?" 
And what he loved was that they're not just whodunnits. These are not, you know, normal crime procedurals, they're thrillers. And Russell talks about them as rollercoaster rides. And so although Russ didn't have a lot of time, he just couldn't say no. So we waited two years for him to be fully available. Russell wanted to honour the books and do a very faithful adaptation, and Peter loved his first draft, and the two of them worked together and made some changes and turned it into a brilliant script which attracted this amazing cast. It was so lucky that Peter and Russ got on, understood each other and worked very closely together. 
Patrick Schweitzer: I think he's [Russell Lewis] done a tremendous job to honour the books. And it feels as though the texture of Brighton that Peter captures and the regency grandeur next to the lanes and then the real underbelly, […] a sort of seaside play town for people to come and holiday and to be a bit naughty. To set crimes in that environment has been a real joy.  
John Simm: It's a delicate balancing act, isn't it? Because they're [the novels and the TV show] two different things. A novel is not a TV show, the TV show is not a novel. So, while we're trying to be absolutely true to the source material, it's a TV show, and some fans of the novel may be up in arms because it won't be the characters that they had in their head, but there's nothing we as actors can do about that. We just have to serve the script. […] I guess you have to take it from the standpoint that nobody knows the novels and nobody knows what's going to happen; that it's a separate entity, but at the same time being as true as we can be to Peter's novels. 
Paul Sandler: Another thing that is quite dividing about Grace is Peter [James'] stories are so deliciously dark […], and the subject matter and the murders and the crimes are quite challenging when you're reading a book. So, in the adaptation, it's being able to craft a story that sits in that 8pm to 10pm slot, which is very much a family viewing slot, which still captures the dark elements of the story. It's often with the things that you don't quite see that you might see in a nine o'clock show. But it draws you in more. […] Whilst we haven't been able to go full on with any of the sort of blood and guts because of compliance issues, I think it's a real defining aspect to the show that it's got darker subject matter, it's got really challenging cases, but with Grace and Branson on the team to solve that I think will be a bit of a treat. 
Peter James had said that when he thinks of Roy Grace now he thinks of John Simm's portrayal, which is a huge honour coming from the author!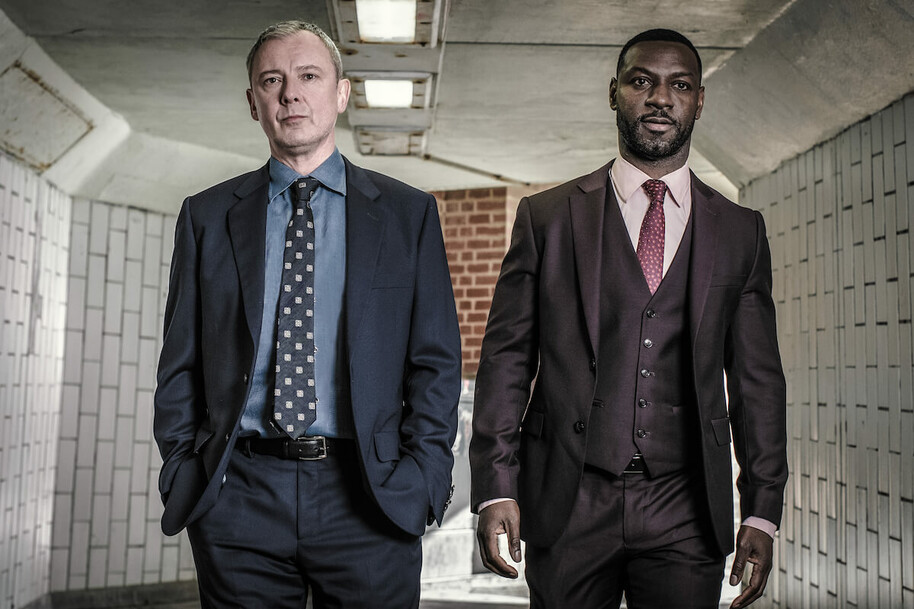 John Simm: It's a real honour, and if he's thinking of me, in a way that's really odd, because I'm so into these books, and I'm so into this character that I don't think of me when I'm reading it, I've got him in my head. And, you know, we all hope that we get to do more - all 17 books - because there's plenty of source material, and it's all really, really high quality. So, fingers crossed. 
Tell us more about Roy Grace as a character. 
John Simm: He's pretty inscrutable, he's a brilliant cop. He's had a wonderful career, but has also been visited by tragedy with his wife going missing. For such a brilliant detective, it's ironic that he can't solve that, and it's always hanging over him. He uses strange methods, but as he says in the script, it's just something in his back pocket, he wants to explore all avenues. It doesn't matter what it is. If it works, it works, and he goes for it. He just wants to get the result. He doesn't care about what people think - but having said that, he's not a maverick or anything. He's just a really, really good police officer.  
When we meet him is he's really down on his luck. He's in the middle of a trial, because he went to see a medium to try and help him - a friend of his who's helped him before - and this was picked up by the media, and it's been brought up in the trial. So he's in the middle of a really stressful trial and he's been demoted to cold cases. 
More on the relationship between Grace and Branson... 
Richie Campbell: Their relationship is what I feel attracted me to be honest. Just feeling the heart and the friendship between these two guys as well as their love for the job. You see that in the book and Russell's version. […] I do think that is the real heart of the piece, just seeing these two guys really gelling off each other and trying to solve cases.   
The way I looked at it was like Branson really admires the way Grace works. And so, it was a natural thing that he [Branson] was going to bring him [Grace] back into the fold. When Roy Grace goes to the medium there's that balance where that thing I love you for is also the thing that gets on my nerves, because you're going a little bit too far. That relationship is so real, and I think it's that push and pull which was really interesting to me.  
And of course, ACC Vosper comes into that relationship too: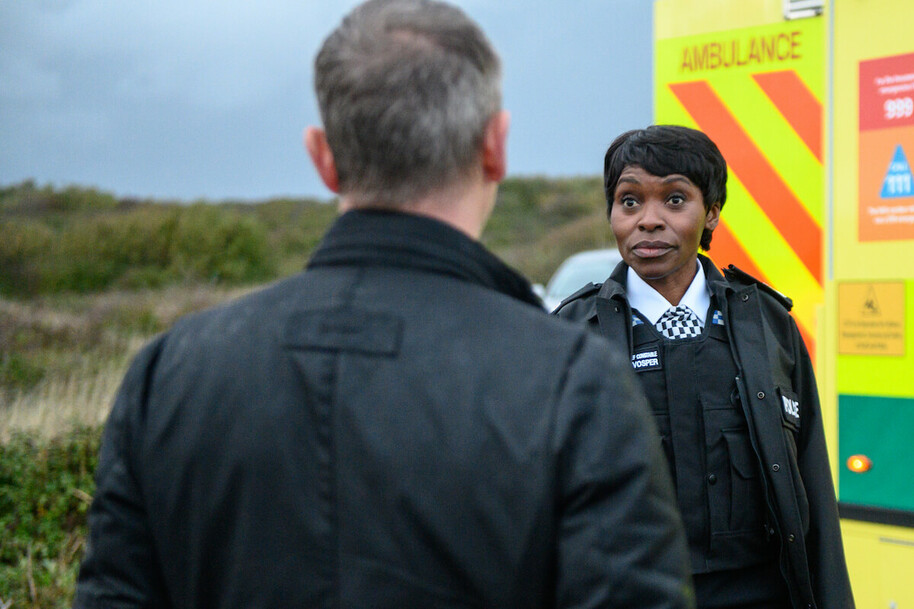 Rakie Ayola: [What attracted me to Vosper is] she's the boss. It's really nice to play the person in charge […] and I got to wear that uniform, always nice to wear a uniform! And I got to work with John. I've always really admired John's work and that was part of the appeal when I was told about Grace.  
She [Vosper] admires and respects Grace very, very much, and she knows that he's a good detective. What she doesn't love are his unorthodox methods because she has to explain them to the people upstairs and to the press. Even when they work, even when he's made the right call, policing, as far as she's concerned, is not a spiritual, new agey, otherworldly profession. […] So, it's a tricky one - he's brilliant at his job, but he's infuriating. She's having to manage that all the time. 
On the importance of diversity on TV  
Rakie Ayola: I would say that once ITV decided to change direction to open up to broaden and to let other people in, or have really gone for it, really opened open the doors to other people to get involved with the stories to be told, stories to be told differently, I feel this 8pm to 10pm slot is a huge area and a huge number of people watching whose eyes can be opened and whose minds can be opened, and we can bring other people in, those who maybe wouldn't tune into this slot because they are used to not seeing themselves, will suddenly see themselves in this prime TV slot.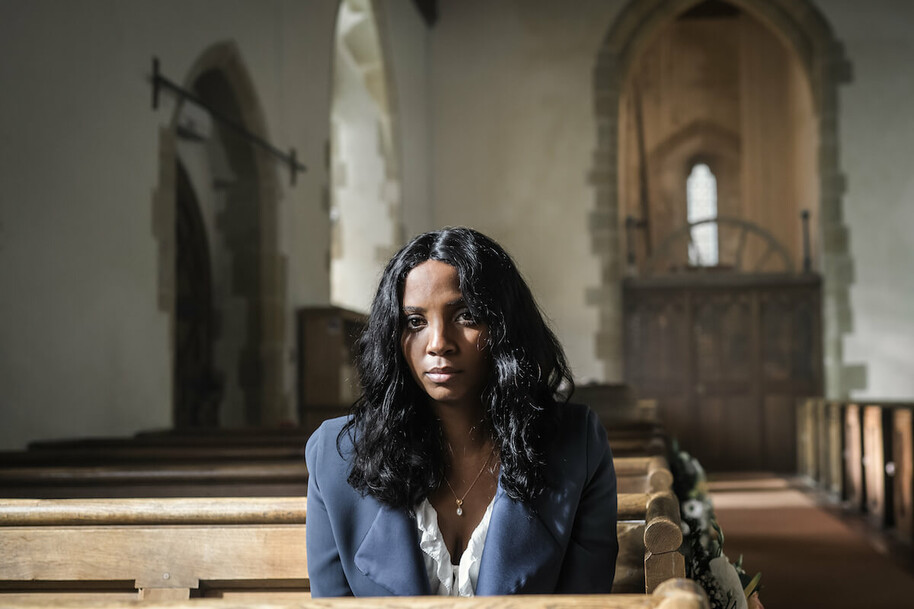 Richie Campbell: It [Grace] feels very modern in terms of inclusion and diversity. It doesn't feel forced. I did a show called Frankenstein Chronicles, which was set in 1827, and there was a lot of uproar that I was a black police officer in that period of time, but in the States people were proud to see that inclusion.  
The conversations that we've had [for Grace], it wasn't like, "we're going to do something so therefore, we're going to put the black person in here", or "we're going to put female character here." It felt like it was a natural thing. I was so happy to see Rakie in that in that role, but it's also because I know she's good for that role, it wasn't that she was just shoehorned in there. […] It feels like it's a very modern show, and a good representation of the country […] Just looking at Brighton you can see [...] a whole melting pot of people, and I think that's what's beautiful about this show. 
John Simm: Yeah, it's a diverse cast, and so it should be. They are brilliant actors, and it's a great representation, and Rakie is right - things are changing for the better, slowly but surely. 
The show is set in Brighton which is very important for the atmosphere of the story. What were the challenges of filming in Brighton during Covid-19?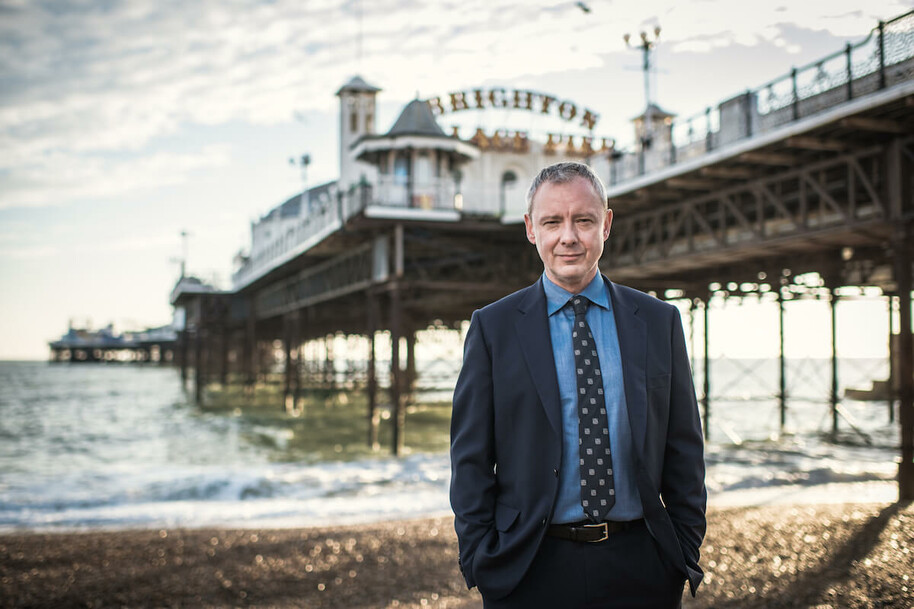 Paul Sandler: We were one of the first dramas to go back into production last summer, and the brief from ITV was that this needed to be a real COVID free world, so we didn't want to see background - we didn't want to see signs outside shops or social distancing. There was a great deal of thought that went into the protocols and the processes of how we could deliver this safely, because obviously that was the top priority for everybody.  
 We had the crew broken up into very small bubbles. Everything was done in rotation so the sets were approached and dressed in a very different way from how one would normally achieve it. And despite all that, I think what we've made looks like it's shot in a completely COVID-free world. Thanks to everyone's real perseverance and professionalism, I think we managed to pull it off, but there were certainly some very stressful moments, particularly the beginning. It was an enormous challenge, but we got through it, and hopefully it's something we won't ever have to do again. 
John Simm: I remember talking to Patrick [Schweitzer] about it, the COVID thing, and everybody saying, "it'll age it, it will put it in a certain time", and I thought, surely we have to address it? But I think they were absolutely right, absolutely bang on, because nobody wants to see anything about COVID. It was the most depressingly boring year, and we don't want to see it on film, and it really does age it and put it in a specific year, and that's not what it [Grace] is about. So it was really wonderful to see things looking normal on screen – especially the nightclub scene, that was like being on a different planet!  
Richie Campbell: At the beginning I was so nervous. I didn't really know how we were going to do it - it was all new. I like the hands-on approach, I like being a bit, "let's try this, let's try that", a little bit touchy feely, but because all that it was stripped back, I was wondering if we're going to be able to create that. But as you go through it becomes second nature.  
I really think everyone just embraced it, and just worked really hard to make sure we were COVID-free. Even the rehearsing with our masks on was a big issue for me, […] but if anything, it enhanced us a little bit more, we were able to really hone in on certain things and go right, let's do this, let's do that because we were so focused. So, it started off quite hard for me personally, but I think it became second nature to us.  
Rakie Ayola: We got used to it when we weren't filming, wherever it was on the set, and having socially distanced chairs and talking about stuff, and then maybe not talking about the work at all. We were just trying to spend time together, because we couldn't do that at the end of the day as we normally would be, there was no going to the bar. So, as Richie said, we just got used to it after the weirdness of rehearsing in masks and remembering to put them on at the end of the take, and then remembering to take them off, because you get so used to them on! So it was it was extraordinary how all that became second nature. Plus, there was no alternative - the alternative was just to not be there and not do it. So you go "okay these are the constraints, how can we tell the story the way we want to tell it?" You get beyond the strangeness because you have to. 
When and where can we watch Grace?  
Watch the first episode of Grace, entitled Dead Simple on Sunday 14th March at 8pm on ITV, and the episode will also be available on ITV Hub soon after.  
Get the scoop on what other fantastic crime dramas are out now, and have a browse of our TV Guide to find out what else is coming up this week on Freesat. Plus, check out our Facebook, Twitter and Instagram for the latest updates from our telly experts. 
Find out more about how to get Freesat for satellite TV, subscription free.