What do I need for Freesat?
Are you thinking about upgrading your TV viewing equipment but unsure about what you'd need to get Freesat? Well, wonder no more – we're here to walk you through everything you'll need  to enjoy  satellite  TV  with no monthly TV bills or contracts.
You may even find you already have most of what you need - especially if you have a Smart TV and/or a satellite dish. Some TVs are Freesat enabled and if that's the case - and you have a satellite dish - then you're ready to go without needing to buy an additional Freesat TV box. But if not, then it's easy to get yourself set up for receiving the 160+ channels1 available on Freesat...   
---
Freesat equipment: satellite dish
The first thing you'll need in order to watch Freesat is a satellite dish. The system works by beaming the best of TV into your living room from space – which means you can say goodbye to questionable reception on your digital TV or aerial issues that affect your viewing quality as Freesat offers 100% UK channel coverage2.   
Using an existing satellite dish  
If you already have a satellite dish attached to your home, then there's a good chance that it can be re-used for Freesat. Our latest 4K TV Boxes work with many UK satellite dishes – all you need to do is plug in the existing dish cables and follow on-screen instructions. Non-recordable 4K TV Boxes should work with any UK satellite dish.  
Former SkyQ customers will also be able to repurpose their dishes. SkyQ dishes tend to have a wideband LNB, which means if you purchase a Recordable 4K TV Box you'll be able to record up to four shows simultaneously.3 Sky+ customers are more likely to have standard LNB dishes and these are still fully capable of receiving Freesat but be aware that simultaneous recordings will be limited to two.  
---
Installing a new satellite dish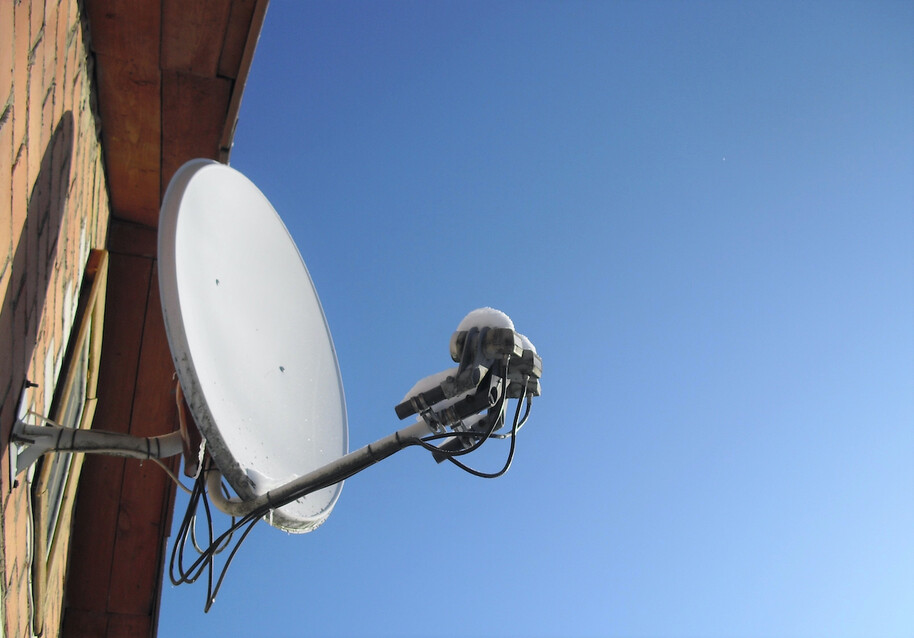 Fear not if your home is dishless - getting a dish capable of receiving Freesat is simple. You can buy your own dish from any number of retailers. Some will even come along and install it for you too!  
We recommend finding a local installer for your dish installation via www.getmeviewing.org.uk, which is powered by the CAI, the UK's representative trade association for businesses delivering home entertainment services.  
Freesat equipment: Freesat tuner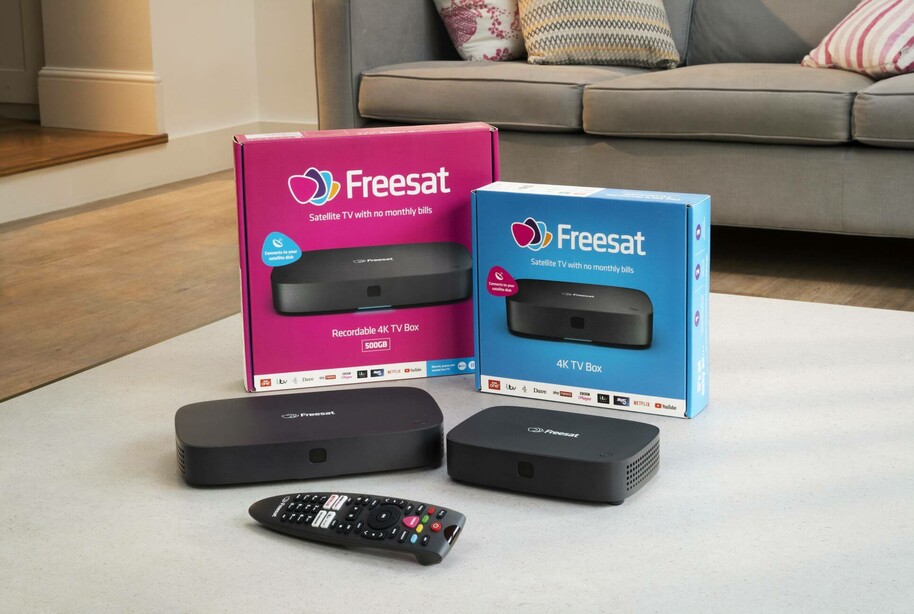 Once you've got your dish sorted, you'll need something to connect it to such as one of our lovely Freesat TV boxes or a Freesat-enabled TV. Our clever little set top boxes can translate the signals received by your dish and send them to your TV, so you can sit back and watch your favourite programme.     
We have both recordable and non-recordable Freesat 4K box options. Both require a one-off purchase fee, but they have no ongoing monthly subscription costs4, unlike Sky TV and Virgin. Both types of set top box can handle streaming and host a range of On Demand content and players5 as well as free-to-view live TV. The only difference is our recordable option allows you to record up to four programmes at once, pause and rewind live TV5 and use the Freesat mobile App to remote record. Find out more about Freesat's set top boxes.  
---
Other equipment you may need for Freesat
You'll need to check that your TV has an HDMI port. In some cases, you may find that your TV doesn't have enough HDMI ports – especially if you've already connected streaming devices or gaming consoles. A HDMI switcher can solve this issue. It connects to an available port on your TV and then all your HDMI-based devices can connect to the switcher.  Our 4K boxes come with a HDMI cable, so no need to spend extra on cables!
Finally, if you want to use your Freesat box to connect to On Demand players you'll also need an internet connection6. This can be set up either as a wireless or wired connection from the box directly into your router.    
And that's it! So who's ready to discover a world of free entertainment? 
Find out more about how to make the switch to Freesat.
---
| | | |
| --- | --- | --- |
|   |   |   |
| Get the best TV picks of the week from our team of telly experts |   | Find out what's coming up this week on Freesat's TV Guide |
---
Follow us
Get the latest telly news and updates PLUS access to competitions and exclusive content
---
1.160+ Channels: 160+ channels correct at the time of publication, including SD, HD and regional TV variants and radio channels. 2.100% UK channel coverage: Freesat is a satellite TV service for the UK and Channel Islands only. Received all satellite TV channels available on Freesat with a correctly installed, unobscured satellite dish and a HD TV. Weather conditions may affect your satellite reception temporarily. 3.Record up to four shows at once: Record up to 4 shows at the same time if your satellite dish has a wideband LNB - for more information on cabling, LNB types and how many shows you can record, visit freesat.co.uk/help. 4.No monthly subscription fees: No monthly fees for satellite TV only. On Demand subscription fees may apply. 5.On Demand: Some optional On Demand content or services (such as Netflix and Prime Video) may cost extra and require paid subscription. On demand players are broadband speed dependent [and 4K/UHD streaming requiires faster broadband connection speeds - see service providers' recommendations for details.] 6.On Demand requirements: Some optional On Demand content or services (such as Netflix and Prime Video) may cost extra and require paid subscription. On demand players are broadband speed dependent [and 4K/UHD streaming requiires faster broadband connection speeds - see service providers' recommendations for details.]