Beijing 2022 Winter Olympics
If you need a little extra motivation to keep you moving in this cold February weather, look no further than this year's Winter Olympics in Beijing! This year will mark the 24th installment of the Winter Olympics, so tune in to see the competitors ski, skate and slalom their way through the first ever Winter Olympics to be held in China, making Beijing the first city to host both the summer and winter games. 
How did the Winter Olympics begin? 
The Winter Olympics were first hosted by Chamonix, France, in 1924, and are held every four years. While they were not an aspect of the original Greek Olympics, they were heavily inspired by the Nordic Games in Sweden at the beginning of the 20th century. They have since become a crucial event in international sports, with an impressive range of activities on offer. Check out the schedule below to ensure you don't miss a thing! 
---
How can I watch the Beijing 2022 Winter Olympics?  
Tune into the Winter Olympics live on your telly across BBC One and Two, as well as on BBC iPlayer and BBC Red Button. The games will also be covered on BBC Radio 5 Live, and BBC Sounds. 
---
Winter Olympics 2022 schedule: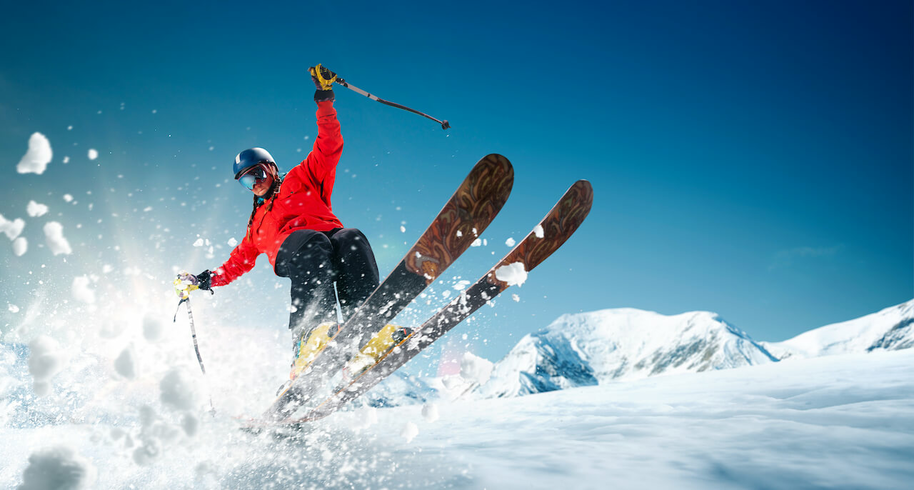 Taking place from the 4th – 20th February, this year's 2022 Winter Olympics will include a record number of 109 events, including 15 disciplines in seven sports. In 11 of these disciplines Team GB's 50 fantastic athletes will take part and go for gold.  
Don't miss the 2022 Winter Olympics opening ceremony on Friday 4th February at 11:30am on BBC One. Plus, watch Today at the Games every evening at 7pm to catch up on the news of the day. Team GB will consist of 50 athletes, competing in 11 of the 15 disciplines on offer. 
---
Daily highlights: 
Saturday, 5th February:  
Snowboard: Women's slopestyle qualification  
Ski jumping: Women's individual  
Short track speed skating: Mixed team relay final  
---
Sunday, 6th February:  
Snowboard: Women's slopestyle final  
Alpine skiing: Men's downhill  
Cross country: Men's 15km + 15km skiathlon  
Speed skating: Men's  
---
Monday, 7th February  
Alpine skiing: Women's giant slalom  
Speed skating: Women's 1500m  
Ski jumping: Mixed team normal hill  
Short track speed skating: Women's 500m  
Tuesday, 8th February  
Figure skating: Men's singles short programme  
Ice hockey: Women's group A – USA v Canada  
Curling: Mixed doubles gold-medal match  
Wednesday, 9th February  
Alpine skiing: Women's slalom   
Freestyle skiing: Men's big air final  
Snowboard cross: Women  
Thursday, 10th February  
Curling: Women's round-robin stages  
Snowboard: Women's halfpipe final  
Figure skating: Men's free programme  
Alpine skiing: Men's combined  
Snowboard cross: Men  
Ice hockey: Men's group A – USA v China  
Friday, 11th February  
Snowboard: Men's halfpipe final  
Alpine skiing: Women's super-G  
Skeleton: Men's run 3 & 4  
Saturday, 12th February  
Snowboard cross: Mixed team  
Ice hockey: Men's group A – Canada v USA  
Ski jumping: Men's team large hill 
Skeleton: Women's run 3 & 4  
Sunday, 13th February  
Alpine skiing: Men's giant slalom  
Short track speed skating: Men's 500m final  
Speed skating: Women's 500m   
Monday, 14th February  
Figure skating: Ice dance free dance 
Freestyle skiing: Women's slopestyle final   
Bobsleigh: Women's monobob runs 3 & 4  
Tuesday 15th February  
Snowboard: Women's big air final  
Alpine skiing: Women's downhill  
Bobsleigh: Two-man runs 3 & 4  
Wednesday 16th February  
Alpine skiing: Men's slalom 
Freestyle skiing: Men's aerials final  
Short track speed skating: Women's 1500m final  
Thursday, 17th February  
Alpine skiing: Women's combined 
Ice hockey: Women's gold medal game 
Speed skating: Women's 1000m  
Figure skating: Women's  
Friday 18th February  
Freestyle skiing: Women's halfpipe final  
Speed skating: Men's 1000m  
Biathlon: Men's 15km mass start   
Saturday, 19th February  
Figure skating: Pairs 
Curling: Men's gold medal match  
Freestyle skiing: Men's halfpipe  
Bobsleigh: Two-woman runs 3 & 4  
Sunday, 20th February  
Curling: Women's gold medal match  
Bobsleigh: Four runs 3 & 4  
Ice hockey: Men's gold medal match 
---
| | | |
| --- | --- | --- |
|   |   |   |
| Get the best TV picks of the week from our team of telly experts |   | Find out what's coming up this week on Freesat's TV Guide |
---
Follow us
Get the latest telly news and updates PLUS access to competitions and exclusive content