Welcome to Freesat
Discover endless entertainment
Your streaming favourites, 170+ channels and no monthly TV bills.
---
Build the
ultimate watchlist. 
Always be one step ahead, record the shows you love and make telly work for you with our Recordable 4K TV Box.
---
Small box,
giant streamer.
Love watching great TV shows on demand? There's no better way to stream your favourites, all in one place with our 4K TV Box.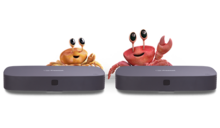 Get £30 OFF*
the 500GB Recordable 4K TV Box!
*T&CS apply. Ends 14th August 2022. See end of page for details
Channels & Apps at your fingertips
All

Children

Entertainment

Faith

Free

Movies

Music

News and Sport

Paid

Radio

Shopping
Enter your postcode to see content available for your region
Your postcode could not be found

















YouTube Kids and BritBox are only available on Freesat 4K TV Boxes. Some On Demand content or services (such as Netflix) may cost extra and require paid subscription.
No monthly TV Bills, no price hikes: Freesat is a free-to-air satellite TV service. There are no monthly fees (and so no price hikes) for satellite TV only.