Business Partnerships with Freesat
Partner with Freesat to make your service stand out

Backed by the BBC, ITV and Channel 4, Freesat knows TV.
Our partner programme enables you to provide your customers with an easy-to-install set top box, giving your customers access to a subscription-free satellite TV service that can be added to your current proposition - so your business can stand out from the competition.
Freesat allows internet service providers, utility companies and property developers to add a premium TV experience to their offering without monthly TV bills. We provide a 4K recordable set top box which allows viewers to access top-quality TV entertainment with more than 170 channels1 without sky-high subscription costs2.
The Recordable TV box has the ability to record up to four shows at once3 and provides access to On Demand services4 including BBC iPlayer, ITV Hub, BritBox and Netflix.
Partner with Freesat to give your customers all the excitement of a premium TV experience, with none of the TV bills. We've got 92% customer satisfaction5.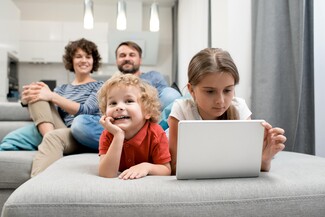 Freesat TV for internet service providers
Make sure your local or regional internet service stands out in a fast-moving market by including a set top box, providing access to a subscription-free TV service, into your broadband packages.
Regional ISPs have made huge investments in recent years to bring full fibre broadband direct to even more homes and businesses across the UK. Bolstering your broadband package with Freesat gives you the added armoury to compete with bigger ISPs and attractive multimedia packages.
Partner with Freesat now to differentiate your broadband package and maximise the value you provide to your customers. Attract new customers and keep them loyal to your brand by bundling Freesat set top boxes with your broadband service.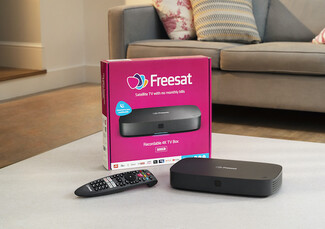 Enhance your utility bundle with Freesat
Help your customers look after their pennies and take the hassle out of managing household bills by bundling a Freesat 4K Recordable TV Box into your utility offerings.
More and more households are looking to manage their budgets. Utility companies can now help households save money and maximise their spending with combined utility and entertainment packages. Get ahead of the utility market and provide your customers with access to a subscription-free TV service to help them manage their budget further.
Don't miss out on potential utility customers. With Freesat you can offer access to a subscription-free TV service as part of your utility package and enhance your customer appeal.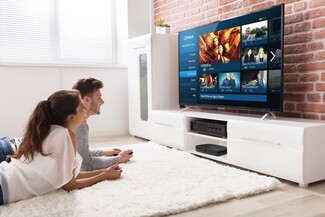 Make a new home more attractive
Whether you're building a new home to looking to let a property, a warm welcome will go a long way. So why not give your buyers or tenants a pre-installed 4K set top box providing access to a subscription-free satellite TV service?
In a competitive property market, it's important that your property or new build development keeps one step ahead of the market and providing digital services, such as TV, can help you get there.
Added offerings, such as fully furnished properties equipped with utilities and a TV service all set up for moving in day, can be an enticing package to attract new buyers or tenants, boost rental value and encourage renters to stay longer.
With Freesat you can also offer new home buyers access to free-to-air satellite TV channels, without the sky-high bills2, helping to sell your new properties faster.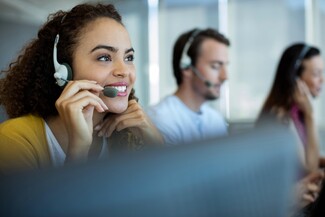 We support your customers
Freesat provides excellent UK-based customer service support for end-users.
Our partnership programme also supports providers with an onboarding plan to help your sales and marketing teams understand the benefits of Freesat and how we can help grow your customer base.
We also provide UK managed logistic services offering localised stock and supply options for our business partners.
Get in touch with our partnership team to find out how Freesat can boost your business offering today.
1. Total number of channels correct at time of publication but may be subject to change. 2. No monthly TV bills: Freesat is a satellite TV service for users in the UK. No monthly fees for satellite TV only. 3. Record up to four shows at the same time if your satellite dish has a wideband LNB – for more information on cabling, LNB type and how many shows you can record visit freesat.co.uk/help. 4. Internet connected box required. On Demand services (such as Netflix) are broadband speed dependent, may require account registration, separate subscription and/or cost extra. 5. Based on an online YouGov Plc survey, when Freesat customers were asked "Overall, how satisfied or dissatisfied are you with Freesat as a TV provider", 92% of respondents (based on a 12 month rolling average up to October 2020, calculated by Freesat) responded either "very satisfied" or "fairly satisfied". October 2019 and November 2019 figures have been interpolated by Freesat using September 2019 and December 2019 data. Freesat calculated January 2020, May 2020 and July 2020 figures by taking an average of the months they fall between. The figures have been weighted and are representative of all UK adults (aged 18+).